XRP, XLM and SNT have high chances of rising compared to other altcoins, but traders should be careful
Santiment stated that XRP, XLM, and SNT are among the top cryptocurrencies dominating social media. There is a caveat, the analysts at Santiment point out, albeit this may portend an impending price spike.
XRP Pump Chances Now Higher Than Usual
According to Santiment, a coin is more likely to see a price increase when its social influence is high. Santiment cautions that while three coins, XRP, XLM, and Status (SNT), are trending, there is also a chance that traders looking for an immediate profit will quickly sell them off.
"XRP Network, Stellar, & Status are all currently on the top trending list in #crypto Friday. These assets are all relatively even on the day, which means pump chances are higher than usual. But watch for a quick sell-off if they do while trending", Santiment reported.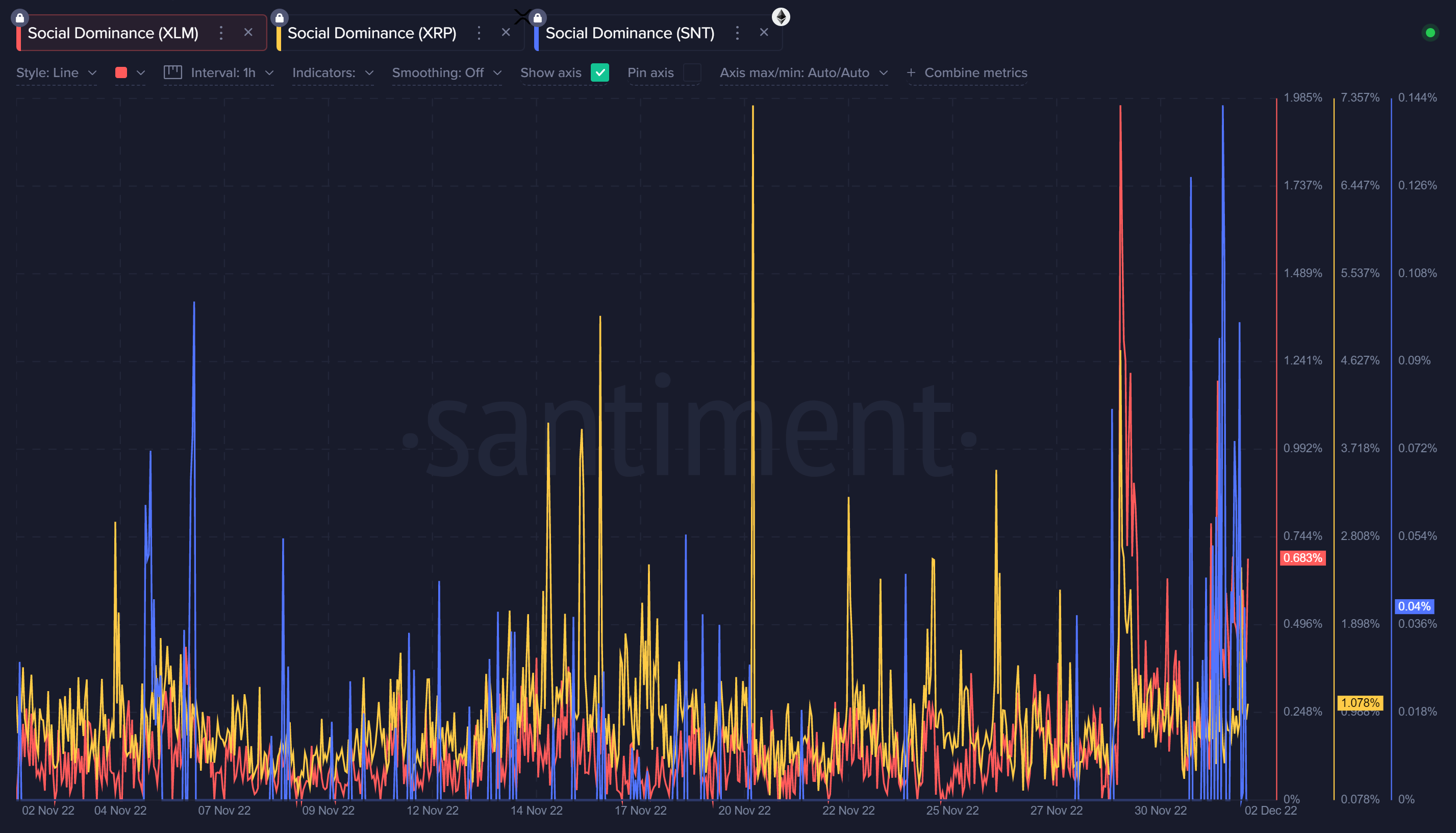 The price of the Ripple-affiliated coin XRP has increased over the previous week by about 10%, rising from $0.37316 to $0.41003 on the Luxembourg-based Bistamp exchange. However, the XRP/USD pair is currently trading at $0.39058, down 4.78 percent.
The bankruptcy of Sam Bankman-Fried, the founder of the FTX exchange, and the collapse of the exchange itself brought on the early November decline in XRP. On November 7, XPR dropped from its recently attained level of $0.4747 to the previous low of $0.3341.
A bearish wave has been generated in the cryptocurrency market due to the collapse of FTX, driving Bitcoin back below the $17,000 level and leading a plethora of altcoins to follow it into the sea of red. ETH dropped below $1,200. Because of the announcement that the Fed plans to raise interest rates more gradually than it did earlier this year, Bitcoin and Ethereum have since staged a little comeback.
Read more: