Top whales on Ethereum have sold another massive chunk of Shiba Inu, despite substantial surge in price
Over the previous 48 hours, the whales' supply of Shiba Inu (SHIB) has decreased by an additional 217 billion of these meme currencies, according to the WhaleStats service, which tracks the largest addresses on Ethereum, Polygon, BSC, and a few other networks. Over the previous two days, the hoard of the top 100 Ethereum whales has experienced more decrease.
Whales' Shiba Inu (SHIB) Holdings Keep Shrinking – Another 217 Billion Sold in 48 Hours
Two days ago, the total SHIB canine tokens stored by the 100 biggest whales on Ethereum went below the $70 million level. It happened within two days; they still owned $82-86 million worth of Shiba Inu last week. On November 23, these wallets held 8,036,305,217,856 SHIB worth $68.3 million. What they are holding at the time of this writing is $66,326,515 – the equivalent of 7,225,110,566,448 SHIB.
Shiba Inu's price has increased by slightly more than 11% over the previous three days, climbing from a low of $0.00000822 to the present $0.00000919. On an hourly chart earlier today, SHIB produced a lengthy green candle that increased the price by 3.52%.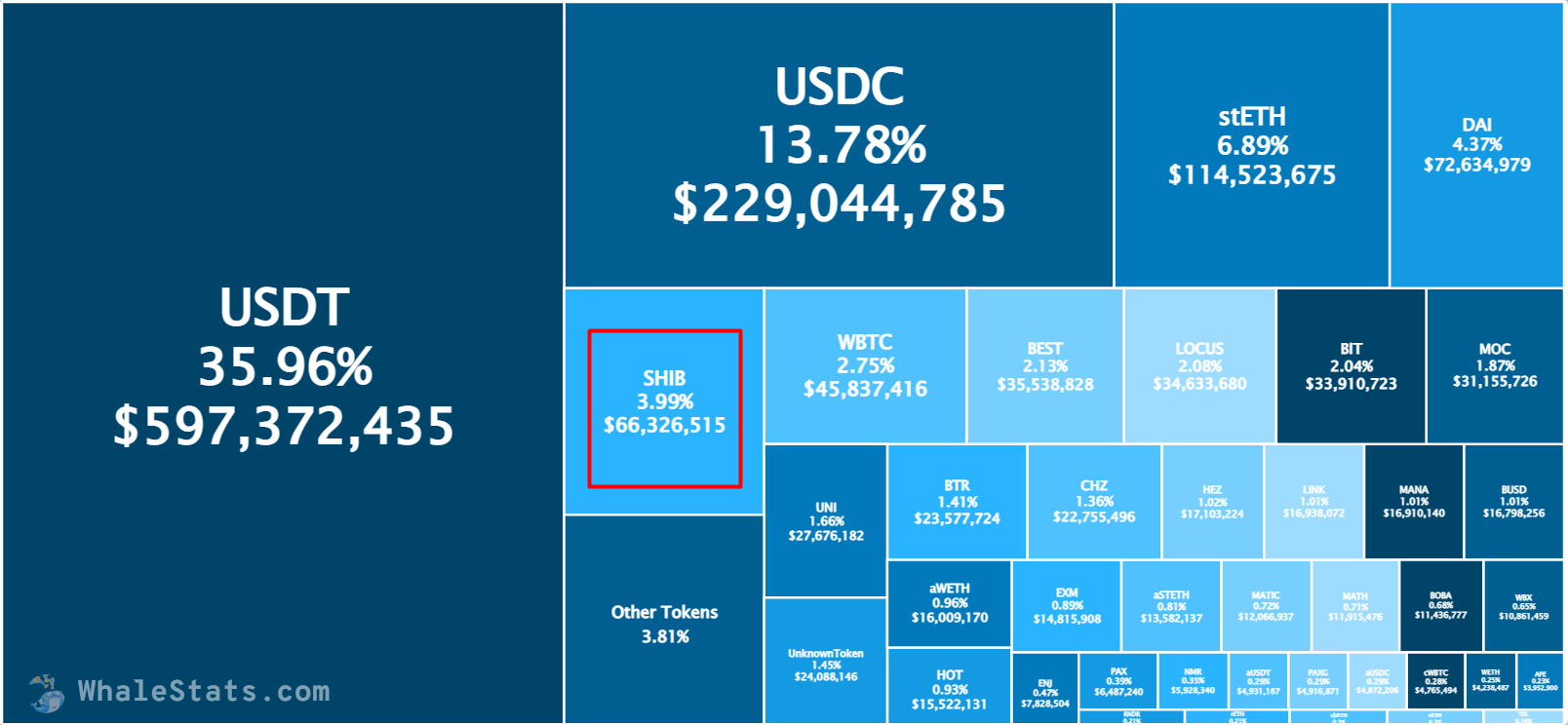 Shib-focused Twitter account @shibaplay_ has spread the word about a total of 117,474,143,624 SHIB. Data that the account picked up on Etherscan shows that this lump of canine crypto was moved from an anonymous wallet to an address of the Gate.io crypto exchange. The sender's wallet still contains the 420,117,007 SHIB it bought on Coinbase nearly two hours ago.
Whale alert 🚨: 117,474,143,624 $SHIB transferred.
check details 👇🏻 https://t.co/T9qn25ew6p

— ShibaPlay (@shibaplay_) November 24, 2022
To move forward, SHIB must confirm $0.000010 as support once more
According to recent WhaleStats data, SHIB ranked among the top 10 purchased tokens for the 500 biggest ETH whales. Notably, large transactions were up 26% on the network. The SHIB price reacted to this by printing two giant hourly candles early on Friday.
SHIB/USD 4-hour chart | Source: TradingView
SHIB's price surged nearly 8% to touch highs of $0.00000948 within two hours before a retreat. At the time of publication, SHIB was changing hands at $0.0000925, up 2% in the last 24 hours after erasing slight intraday gains.
For SHIB to burn a zero in its price, a breach above the $0.000010 level is required. Following the adverse market conditions brought on by the FTX implosion and the spread of its effects in November, SHIB fell from highs of $0.000013 at the beginning of the month to lows of $0.0000081 on Nov. 22. SHIB lost the psychological level of $0.000010 due to the constant falls, which resulted in an extra zero in its pricing.
Read more: