Shiba Inu (SHIB) burn rate has spiked after these two major new milestones were announced
According to the information posted on the shibburn.com website, the Shiba Inu (SHIB) army has begun the new week with a tremendous increase in the SHIB burn rate following the disappointing results of the previous one. Shiba Inu whales on Ethereum have since increased their holdings of this meme coin by more than $1 million.
Shiba Onu (SHIB) Burn Rate Shoots up 1,064% After These New Milestones
The SHIB community has taken 23,823,149 SHIB out of circulation during the previous 24 hours, increasing the rate of token burn by 1,064%. This burn tracking platform tweeted that this sum of meme currencies was burned in just one transaction.
Compared to the SHIB chunk burned between Saturday and Sunday, this appears to be a record high. Only 2,045,478 SHIB were obliterated at that time. SHIB burn projects have not been performing well lately, generally. A record-low number of these canine tokens—99,774,731 SHIB—were issued to dead-end wallets over the past week.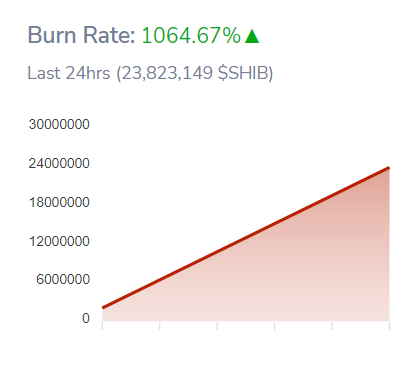 The most plausible explanation is an expansion of the bear market as a whole, driven by the recent collapse of the FTX exchange, which declared bankruptcy on Friday and was later hacked. Since Sunday, November 6, FTX token prices have dropped an astounding 92.10%, from $25.7 per token to $2.036 as of this writing.
It was revealed on Friday that SHIB had gained a record number of Twitter followers. By Friday, the figure had increased to 3.6 million. This number was significantly lower in July, with 3.4 million subscribers. Additionally, a rise in the number of Shib holders has been noted. According to WhaleStats, 1,243,804 wallets now contain SHIB, an increase from the previous number.
Read more: