Ripple wallet has shifted astounding sum of XRP to anonymous wallet, helping to move 582 million XRP
According to WhaleStats, a total of nearly 582 million XRP has been moved. This includes Ripple sending 50 million XRP.
🚨 50,000,000 #XRP (18,739,670 USD) transferred from Ripple to unknown wallethttps://t.co/rQlxhY9G9n

— Whale Alert (@whale_alert) September 20, 2022
Ripple shifts 50 million XRP to an unknown address.
Ripple giant transferred 50 million XRP to a wallet that Whale Alert tagged as an anonymous one. However, data shared by the XRP-centred Bithomp wallet tracker shows that this massive chunk of XRP was sent to its alternative address, RL18-VN. As a rule, it is used to send XRP beyond the fintech giant to institutional customers and exchanges, sell or support the coin's liquidity, and custodial wallets such as BitGo. Therefore, Ripple is getting ready to inject another 50 million tokens into circulation as its price increases.
Whale Alert recently tweeted that 581.6 million XRP were transferred between exchanges. The largest transactions here were two, carrying 150,000,000 tokens each. One of them was moved from an unknown wallet to an FTX crypto trading giant. The other 150 million were sent by whales from Binance to Bittrex.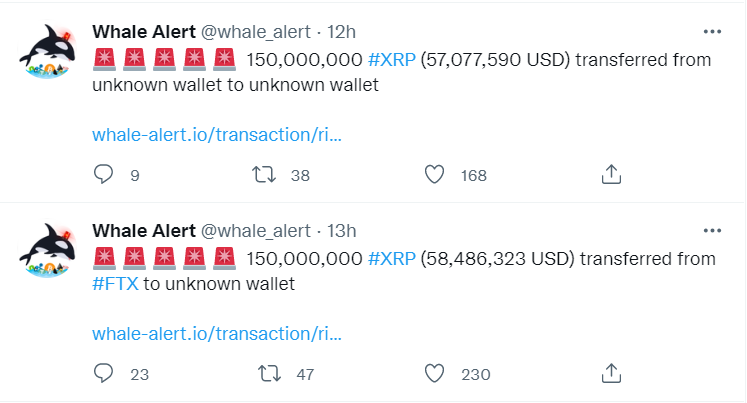 At the time of this writing, the seventh largest cryptocurrency, XRP, is changing hands at $0.3785, according to data provided by CoinMarketCap. Over the past 24 hours, the coin has risen nearly 10%. Over the past week, the same resource says, the XRP price has increased by 6.61%.
Despite poor fund flows into crypto-oriented products, XRP has seen a three-fold increase in inflows, CoinShares reported. While the week before last saw a fund inflow of $100,000 into XRP-focused crypto products, this time, it was already $300,000.
XRP remains one of the few cryptocurrency products that has continued to attract funds for the past six weeks. Despite negative market dynamics and the ongoing SEC v. Ripple litigation, with regulators' plans to have XRP recognized as a security, the project remains afloat. Funds inflows into XRP-oriented products are also up $500,000 month over month. Year over year, the data is even better, with a surplus of $8.5 million.
Read more: