Ripple has again unlocked gigantic amount of XRP, while whales moved much smaller one
According to Whale Alert, which tracks significant cryptocurrency transactions, big crypto business Ripple Labs removed three lumps of XRP from escrow that contained 500, 400, and 100 million currencies roughly twelve hours ago.
Ripple Withdraws 1 Billion XRP from Escrow, Helping Whales Shift 133 Million XRP
This totals one billion XRP tokens, which Ripple has been unlocking every month since the beginning of 2018 on the first of the month. In the interim, unidentified whales have moved almost 133 million XRP between cryptocurrency exchanges.
One billion XRP are still being released by Ripple each month from one of its escrows. Crypto researcher Leonidas Hadjiloizou refuted that the corporation has stopped doing it despite worries raised about it in November using information from @XRP EscrowBot. He claimed that tracking XRP released from Ripple's escrows cannot be done via Whale Alert.
Typically, Ripple keeps roughly 800 million XRP for future use and locks back 200 million until the next release window.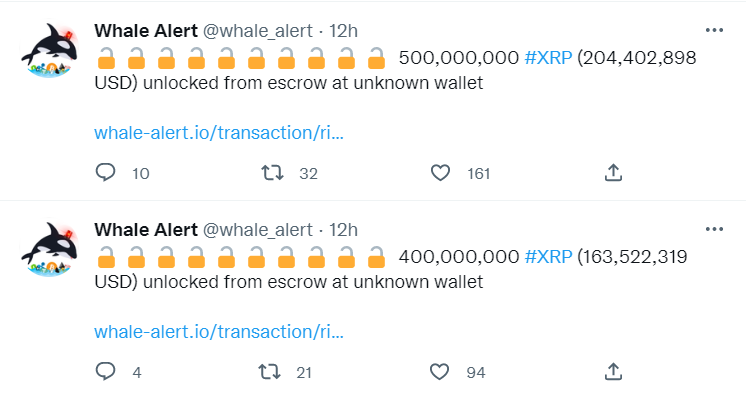 The same source states that five additional transfers moved a total of 132.7 million XRP in five different transactions. 24,000,000–30,000,000 XRP chunks were moved between cryptocurrency exchanges by unidentified whales (Bittrex, Binance, Bitstamp, etc.). One transaction, nevertheless, sticks out since it was sent from a Ripple wallet to a Binance account.
🚨 24,470,000 #XRP (10,108,907 USD) transferred from unknown wallet to #Binancehttps://t.co/fKvGvXBF6P

— Whale Alert (@whale_alert) November 30, 2022
The largest blockchain by trade volume paid 24,470,000 XRP to the biggest cryptocurrency exchange.
Read more: