The Current State of DeFi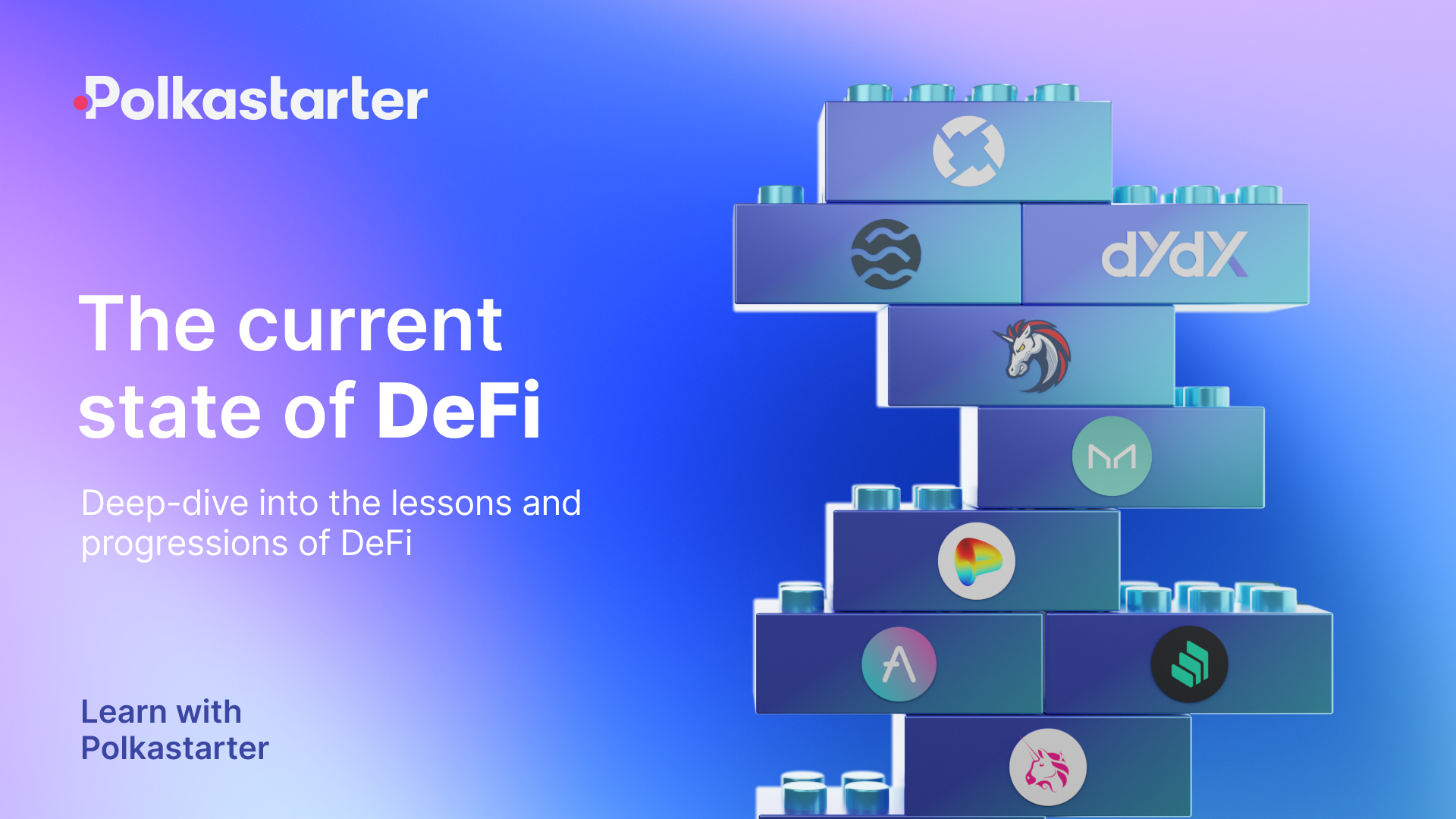 The creation of Decentralized Finance (DeFi) has taken the crypto industry by storm and shaped the nascent industries by leaps. At its peak in December 2021, DeFi had garnered a whopping $247 billion total value locked (TVL) across multiple blockchain ecosystems.
Even though DeFi space has taken hits due to an increase in DeFi hacks and various tragic events, such as the failure of Celsius and FTX, DeFi has the most complete offerings that complement other sectors – namely, GameFi, SocialFi, ReFi, and more.
And if anything, the failure of the centralized finance mechanisms proves the importance of DeFi. Next, let us delve deeper to understand how much it has gone through and how much more it can still grow and evolve.
The Birth of DeFi: Uniswap‌‌‌‌
‌‌‌‌Uniswap pioneered the:
‌‌‌‌i) Automated Market Maker model, in which users supply a set of two assets to Uniswap's "liquidity pools" and algorithms set market price in place of an order book, where buyers and sellers create orders through brokerage firms based on supply and demand;‌‌‌‌
ii) Concentrated liquidity, which allows liquidity providers to select specific price ranges for which their assets are used to settle trades. As a rule of thumb, the tighter the price range you set for your liquidity, the more transaction fees you will earn when a trade happens in your range;
iii) Permit2 & Universal Router, which jointly allows users to abstract the approval process of the execution of multiple tokens/NFTs swap from various marketplaces in a single transaction, minimizing gas fees and greatly improving user experience.
‌‌‌‌Today, it has gained a foothold in the DeFi sector as the highest fee-generating protocol.
‌‌Notably, most of the mainstream cryptocurrencies have migrated to Uniswap V3, excluding long-tail assets.
What's so special about Uniswap V3?‌‌
The defining idea of Uniswap v3 is concentrated liquidity: V3 pools allow users to supply their assets at a concentrated range along the price curve. This increases capital efficiency for the LPs whilst also improving the trading experience through reduced slippage.
More importantly, we observed that more projects have adopted Uniswap V3 as an infrastructure. By that, we do not mean those implementing liquidity mining with Uniswap Liquidity Pool (LP) ERC721 tokens but relatively much more advanced applications in the DeFi space.
For example, Perp V2 and Rage Trade have tapped on UniSwap V3 to enable market takers to perform dollar-margined trading with up to 10x leverage. Rage Trade allows its users to recycle LPs from Uniswap V3 to provide liquidity by depositing their existing LP positions into their 80-20 LP vault and capturing additional yield on their LP position while replicating the payoff of an LP in Uniswap V2.
On the other hand, Perp V2 has also released its leveraged liquidity provision, which allows liquidity providers to choose different price ranges to provide liquidity to, and rewards are tied to the transaction fees they generate.
‌‌What Uniswap means to the DeFi industry is somewhat similar to the evolution path we see in Web 2.0 applications. Apps developed on Windows OS such as Chrome and Wechat included in-app applications and plugins. Similar trends can be observed in the Capital Market protocols, which we will dive into in the next section.
Real World Assets (RWAs)
Naturally, the profile of RWAs differs significantly from traditional on-chain native assets.‌‌‌‌Intersections with the off-chain world through financing more traditional economic activity come with their own challenges. The opportunities, however, outweigh the challenges and create the potential for DeFi to create a more transparent and accessible global financial ecosystem.‌‌‌‌
Some of the most notable cases worth mentioning are:
1) MakerDAO's collaboration with Centrifuge last year to provide DAI loans backed by real assets
2) MakerDAO's investment into US treasuries and bonds with 500 million DAI‌‌‌‌Closing Thoughts‌‌‌‌"DeFi is the future." This refrain has been echoed amid the shocking events in 2022.‌‌
In our piece, we shared a sum of many moving parts, and DeFi as a whole is constantly adapting and evolving dynamically. We look forward to the next round of innovation in DeFi and Web3!‌‌