Over past 60 minutes, staggering amount of XRP has been moved from Bittrex address
Whale Alert reports that less than a dozen transactions totaling 4.124 billion XRP coins were seen during the previous hour. According to the aforementioned source, all of these funds were transferred from the renowned U.S.-based cryptocurrency exchange Bittrex.
4.1 Billion XRP Moved from Bittrex Within Hour, Here's What May Be Happening
Out of those ten transactions, seven carried a total of 500,000,000 XRP apiece, and the remaining two each carried 300,000,000 and 324,254,650 XRP. Overall, that amounts to more than 4.1 billion XRP. The estimated value of this XRP is $1.5 billion. Whale Alert has identified the sending wallet as belonging to the significant cryptocurrency exchange Bittrex. All transactions were made to wallets that Whale Alert had classified as "unknown."
However, information released by Bithomp, a tracking platform for XRP wallets, reveals that Upbit, a significant South Korean cryptocurrency exchange, put up the receiving addresses.
Unless Bittrex was acting as an XRP custodian for Upbit, and the exchange is now removing its Ripple-affiliated tokens and relocating them to their wallets, the incredible amount of XRP transferred here looks to be more than just a withdrawal of cash by an individual.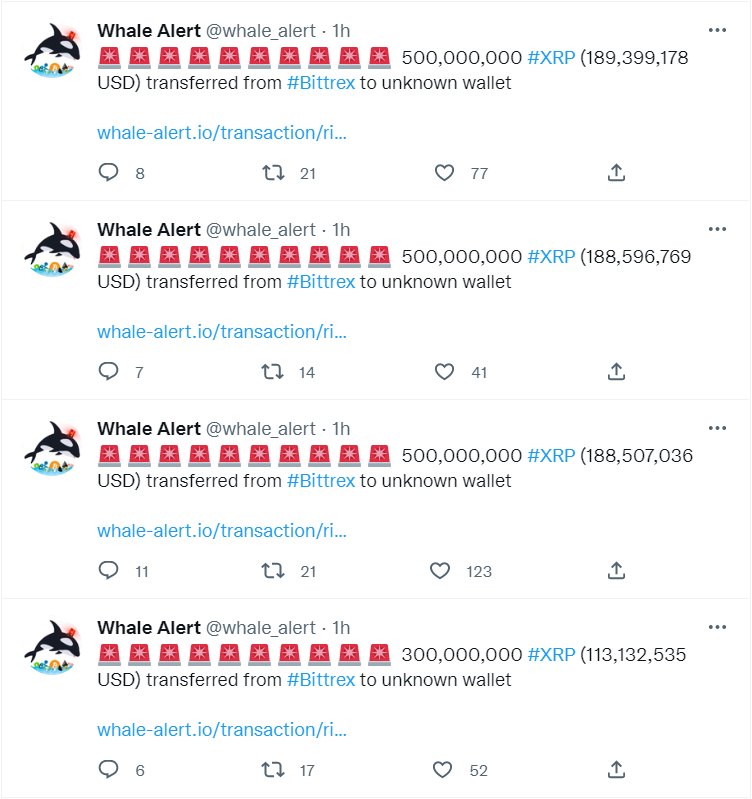 The financial powerhouse Ripple made a scheduled automated withdrawal of 1 billion XRP from escrow. To support the coin's liquidity on exchanges and transfer a share to Ripple's partners and customers, it was one of the numerous escrows the business set up in 2017. Regular monthly withdrawals started in early 2018. Ripple initially made 55 escrows for a withdrawal of $55 billion. This places the timing of the ultimate release somewhere around the middle of this year, but Ripple is still taking a billion XRP out of escrow wallets every month.
Ripple has been infusing about 800-700 million XRP into the market over the past couple of years by locking 300,000,000 or 200,000,000 XRP back in escrow after each withdrawal.
Read more: