Nearly 90 million XRP have been moved to these ODL platforms of Ripple
Over the past 10 hours, Whale Alert has detected multiple significant XRP transactions, totaling over 90 million of this digital currency connected to Ripple. The seventh-largest cryptocurrency has increased in price by roughly 4% during the past 24 hours.
Millions of XRP Shoveled to Ripple ODL Exchanges, Here's Who's Behind This
Blockchain data from the source above indicates that two lumps of XRP were sent to the Bitstamp exchange by wallets that Whale Alert classified as "unknown." This platform is also one of the ODL corridors that the financial firm Ripple collaborates with to carry out quick and affordable international payments using XRP.
According to information provided by BitGo, the largest cryptocurrency custody operator in the United States, both transactions were conducted from addresses of the XRP-focused analytics website Bithomp. It collaborates with financial institutions, including Ripple and all of its clients.
One of these XRP transfers to Bitstamp included a transaction carrying $30,400,000 to one of Ripple's ODL platforms: the Mexico-based Bitso cryptocurrency unicorn. The biggest cryptocurrency exchange in Latin America is this one. According to Whale Alert's information, this involved transferring money from one Bitso wallet to another wallet from the same exchange.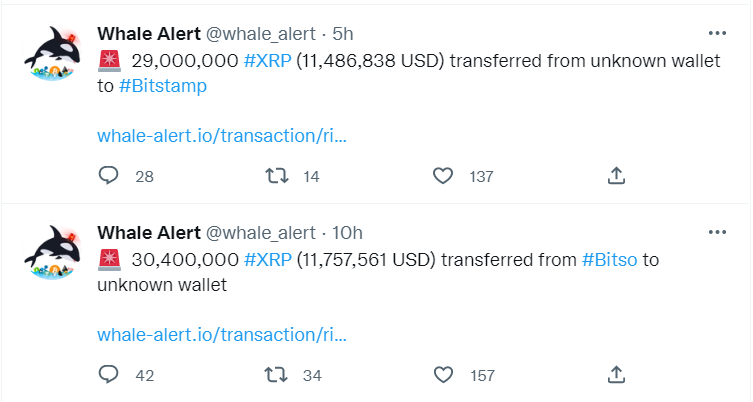 According to CoinMarketCap's top 10 list of coins, XRP has recently maintained its position despite a protracted legal battle against the firm, its creator Chris Larsen, and its current chief executive Brad Garlinghouse, according to CryptoLaw founder John Deaton.
The SEC's lawsuit, however, is not limited to Ripple sales. The SEC has alleged that all #XRP no matter who sells it, is always a security. This is what caused @coinbase @krakenfx, and others to suspend/delist #XRP. Yet, despite all of this, #XRP remains a Top 10 Crypto today.

— John E Deaton (@JohnEDeaton1) November 25, 2022

The SEC filed the action in December 2020 and asserts that XRP is an unregistered security in its complaint. Additionally, it claims that the aforementioned top Ripple Labs executives made roughly $2 billion from the sale of XRP to institutional investors. Deaton reminded the cryptocurrency community that XRP was one of the top three cryptocurrencies prior to the lawsuit, from 2015 until the day it was targeted by the SEC.
Read more: