FTX is filing for bankruptcy, Sam Bankman-Fried is bowing out following its liquidity crunch
John J. Ray III will replace Sam Bankman-Fried as CEO.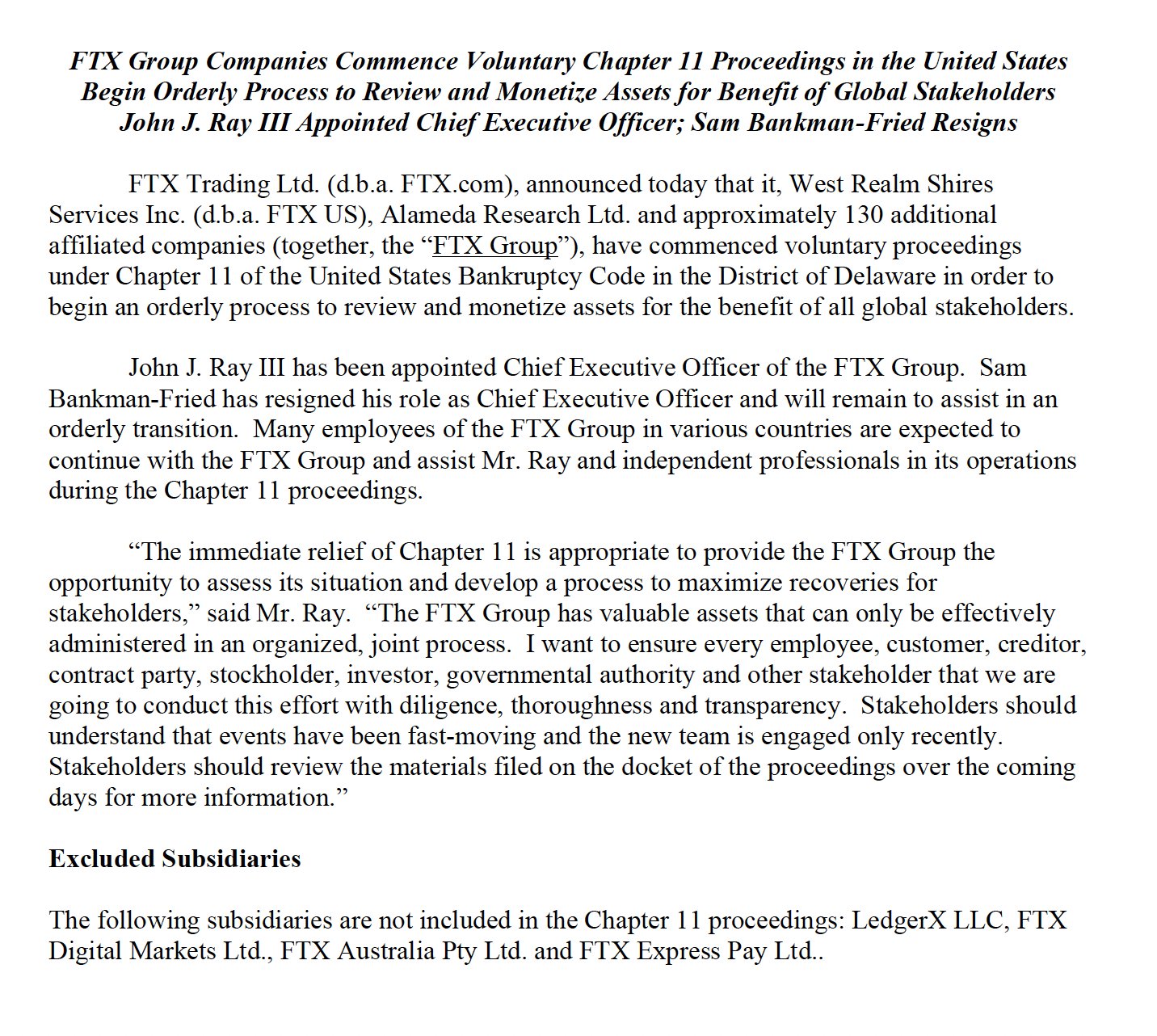 Press Release
FTX Ready for Chapter 11
FTX is filing for bankruptcy. The embattled crypto exchange announced the news on Twitter Friday, saying it was preparing for a Chapter 11 filing. The statement added that Sam Bankman-Fried, the exchange's CEO and a central figure in its demise, is stepping down. John J. Ray will replace him.
"The immediate relief of Chapter 11 is appropriate to provide the FTX Group the opportunity to assess its situation and develop a process to maximize recoveries for stakeholders," said Ray. "I want to ensure every employee, customer, creditor, contract party, stockholder, investor, governmental authority and other stakeholder that we are going to conduct this effort with diligence, thoroughness and transparency."
The news comes after a week of chaos that's seen FTX and Bankman-Fried suffer a catastrophic meltdown due to a liquidity crunch. The exchange's issues came to light after it emerged that Alameda Research, a trading firm co-founded by Bankman-Fried, suffered from insolvency issues. FTX then suffered from a bank run scenario accelerated in no small part by an announcement from Binance CEO Changpeng "CZ" Zhao, causing a crisis for both FTX and Alameda as customers took flight with their funds. FTX then halted withdrawals, sparking primary concern. Binance announced a plan to buy the exchange for a rumored $1 fee, but it backed out of the arrangement hours later.
It's since emerged that Bankman-Fried misappropriated customer funds on the exchange, sending billions of dollars worth of assets to Alameda to bail them out in the fallout from Terra's May blow up. The disgraced founder is now facing potentially devastating repercussions, and U.S. agencies like the Department of Justice and Securities and Exchange Commission are now probing FTX.
The crypto community has called for Bankman-Fried and other insiders at FTX and Alameda to face legal consequences. At the same time, most FTX users can still withdraw their funds.
The incident caused a market selloff that sent the global value of the crypto market below $900 million for the first time in months, and it's likely to have significant ramifications for years.
Now that FTX is bankrupt, the chances of customers retrieving their assets anytime soon have got even slimmer, despite what the company has previously claimed.
Read more: