Fake Cristiano Ronaldo NFTs offered on Twitter
The 2022 FIFA World Cup will increase interest in cryptocurrency projects with a soccer theme, and more con artists are trying to capitalize on this fleeting frenzy.
Fake Cristiano Ronaldo and Binance NFT Drop Promoted on Twitter
Since November 30th, 2022, a risky fraud campaign has been active on Twitter. To promote phony non-fungible tokens purportedly backed by football legend Cristiano Ronaldo, fraudsters set up several accounts and phishing websites.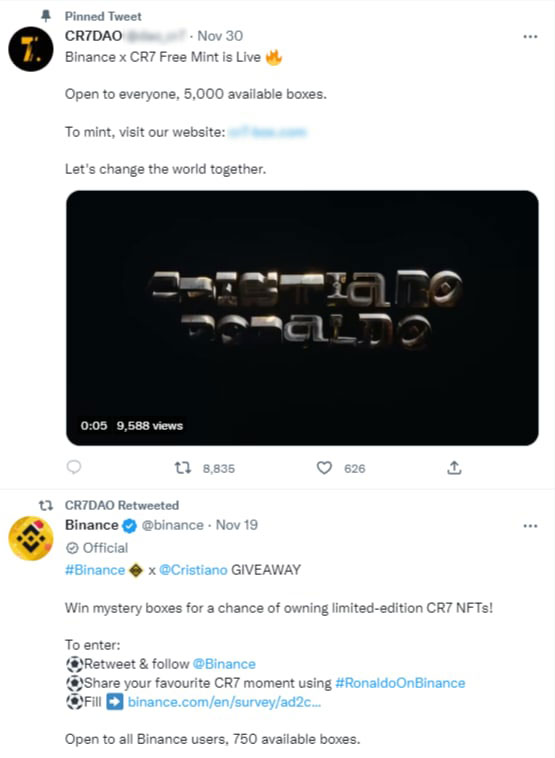 This scam's primary Twitter account garnered close to 30,000 followers. The fact that Cristiano Ronaldo is featured in an actual video he produced for a recent NFT release on Binance makes it the most hazardous. This film was copied by scammers who used it to entice investors.
To mislead prospective investors and soccer fans, they are also actively retweeting the news regarding the gathering of CR7 NFTs on Binance's NFT marketplace.
Fortunately, the Metamask protection system has already flagged the website as a scam, as it cannot be accessed with a single click from a browser when the MetaMask wallet is active. This website probably collects seed phrases and passwords from the Ethereum (ETH) wallets of duplicitous football lovers. Someone made an unofficial duplicate of the Saudi Arabia fan token to commemorate Saudi Arabia's stunning victory over Argentina.
There has already been a lot of excitement about fan tokens on the Socios platform during this FIFA World Cup. For instance, in the 24 hours leading up to the tournament's start, Argentina's ARG recorded a double increase in its trade activity.
Read more: