Ethereum reports increased network usage, whales have been actively transacting ETH in last 24 hours
According to Nansen, Ethereum's gas costs skyrocketed to 1000 Gwei as the network faced a massive increase in usage after lending and borrowing platforms reported a 300% increase in consumption.
Ethereum gas costs are spiking as reported increased gas consumption
Among the biggest gas users on Ethereum are platforms like 1-inch token contracts, Uniswap, and Tether. The spike in consumption reflects the current sentiment in the market as traders are actively moving their funds away from crypto and looking to exit to fiat.
Source: Nansen
Lending and borrowing platforms are also being hit hard as investors are rapidly losing confidence in any leading stablecoin or DeFi solutions and are moving money out of illiquid contracts difference.
After the drop of the UST, the market saw massive outflows from the entire DeFi industry. According to DefiLIama, the decentralized solutions industry has seen a severe drop in TVL as it lost 24% of the total value of coins locked in contracts in the last 24 hours.
Within a week, total TVL across various chains dropped from $204 billion to $115 billion. Such a dramatic drop sends the DeFi industry back to July levels when Bitcoin and other cryptocurrencies bottomed out just before the start of a fresh rally.
AAVE, ADA, and ATOM are also falling as they lost more than 60% of their value in a few days. But DeFi isn't the only industry to report a sharp drop in net inflows, as cryptocurrencies like Bitcoin have also posted double-digit losses over the past few days.
According to Santiment, Ethereum whales have been actively trading ETH over the past 24 hours at a rate last seen in January. According to the chart provided by Santiment, Ethereum whales made a total of 2,956 transactions, each with a value of $1 million or more, on May 11, marking the highest whale trading day in the last five months.
"Ethereum's whales have been extremely active today, firing off 2,596 transactions valued at $1M or more. This is the highest day of whale transactions since January and something to monitor if ETH drops below $2k for the first time since last July", Santiment reported.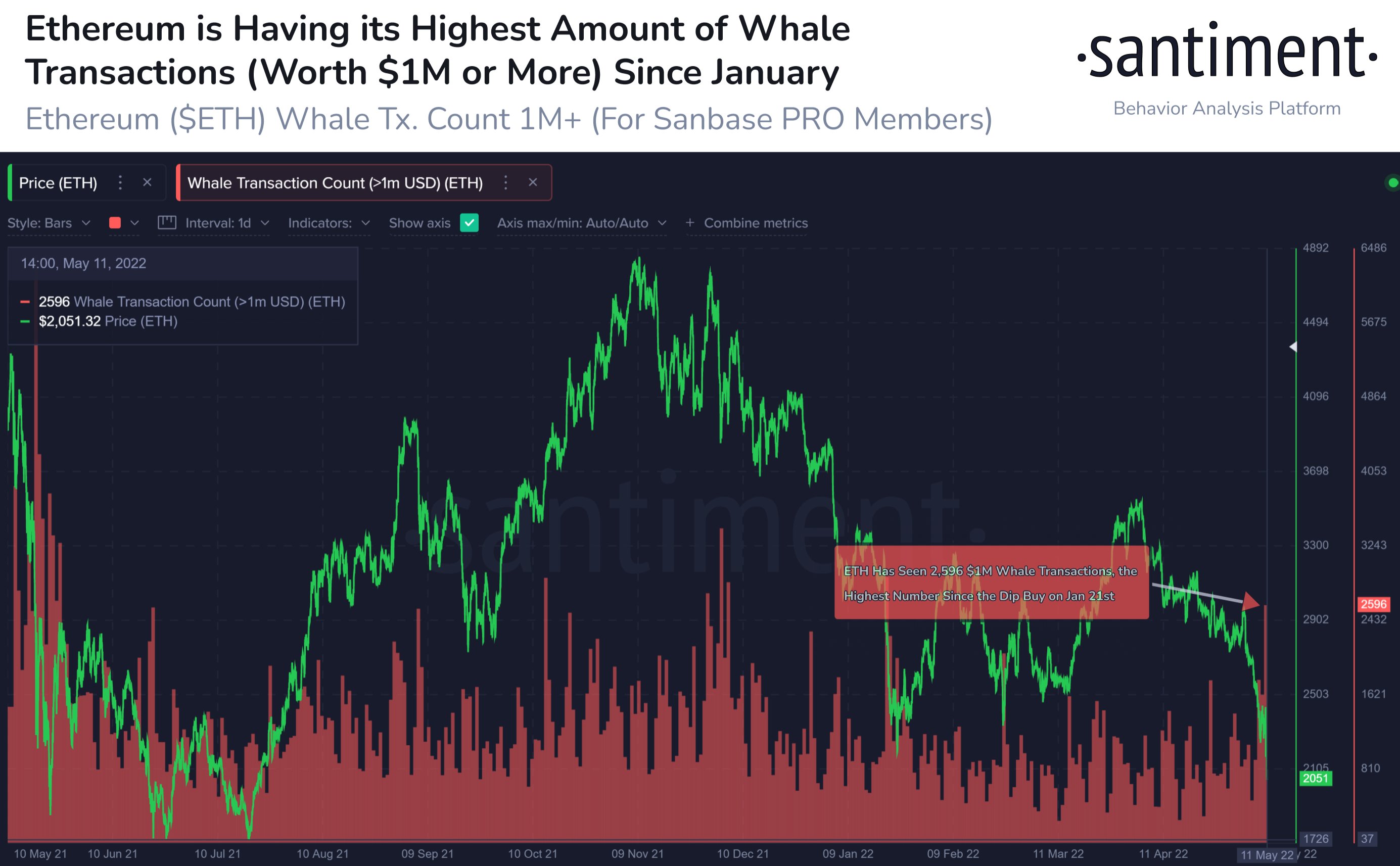 Santiment notes that this type of whale trade could be something to watch as Ethereum dips below the $2,000 mark. Amid the recent market sell-off, Ethereum has dropped more than 10% in the past 24 hours to hit as low as $1,701 seen at press time. Ethereum is currently trading at $1,951.
Read more: