Ethereum price could soar higher after the merge upgrade and on its way to $2,100
According to Arthur Hayes, the former CEO of the BitMEX cryptocurrency exchange, claims that the current Ethereum futures term structure may point to a significant rally after the merge. Backwardation described a term structure where futures contracts trade lower compared to the Ethereum spot price.
"The curve is in backwardation, that is futures < spot, out until Jan '23. My guess is because traders are hedging out $ETH exposure pre-merge just in case … tech is hard", Hayes stated.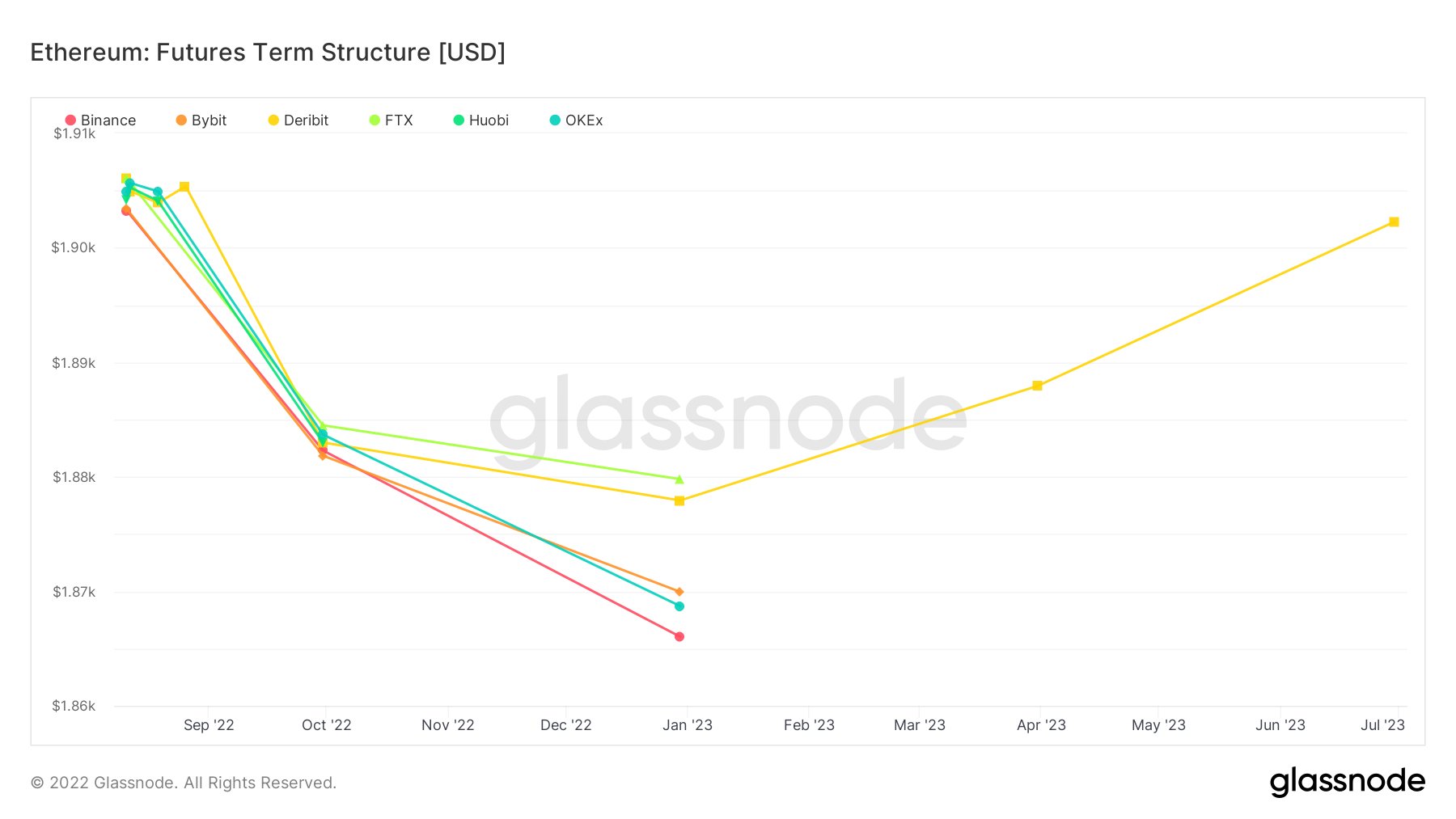 Ethereum Price to Soar After Merge If This Scenario Plays Out
While it might be seen as a reason to be bearish on the Ethereum price, Hayes believes that Ethereum traders are hedging out Ethereum exposure on the cusp of the much-anticipated merge event. This adds additional selling pressure to the Ethereum spot market, according to the controversial entrepreneur.
The former BitMEX CEO, Arthur Hayes
After years of disappointing delays, some market participants believe that the upgrade could still go awry due to how monumental and technically challenging it is. At the same time, Hayes is convinced that hedgers will have to cover their shorts, becoming net long again if Ethereum's transition to proof-of-stake ends up being successful Speculators will also likely buy into the "triple halving" narrative. Market makers will have to reverse their positions by going long spot and shorting Ethereum futures. Such a scenario could potentially push the price of Ether sharply higher.
Ethereum developers recently confirmed that the merge is now on track the merge upgrade is going to take place on Sept. 15. Last week, Hayes predicted that the price of Ethereum would be able to soar back to the $3,500 level after a successful merge event. In fact, he believes that the second-largest cryptocurrency could even touch $5,000 if this is accompanied by a Fed pivot.
ETH may finally be on track to reclaim $3,000 level
Scott Redler, chief strategist officer at T3 Trading Group, argues that ETH is on course to hit the $2,100 level. If Redler is correct, his bullish price target means that the second largest cryptocurrency is on track to spike by another 10%.
Scott Redler, chief strategist officer at T3 Trading Group
The technical analyst is confident that the second largest cryptocurrency may march higher after it recently cleared the $1,792 level. Holding above that pivotal price point could subsequently open the door to the $2,100 level. In addition, Redler believes that Bitcoin is on its way to reclaiming the $26,000 level.
Ethereum recently experienced a significant relief rally in the run-up to the highly anticipated Merge event. Goerli, the last of the three testnets, successfully transitioned to proof of stake earlier today, which was the final test before the Ethereum mainnet finally merges with the Beacon Chain in September. Leading cryptocurrencies also benefited from cooler-than-expected inflation data, together with U.S. stock and bond prices.
Redler accurately predicted that Ethereum would collapse below $1,400 in early June. Related California Tech Mogul Slams Dogecoin as One of Elon Musk's Scams On June 18, the price of Ethereum slipped to $879, but it has now more than doubled since hitting the yearly low because of the "Merge" narrative and the recovery of stocks. On Nov. 10, the second largest cryptocurrency hit $4,867, but it then lost 25% of its value within less than a month. After that, the sell-off continued to exacerbate due to macroeconomic headwinds.
Read more: