ETH price dropped below $1,500 after The Merge, Coinbase & Lido dominate Ethereum staking
From a technical standpoint, the Ethereum Merge went through without a hitch, but the attitude towards ETH following the switch to a more environmentally friendly consensus architecture may be waning. Today marked the first day in more than a week when the price of ETH plunged below the $1,500 threshold.
Ethereum price crashes under $1,500 as price falls after successful Merge
According to data from CoinGecko, ETH is down almost 8% over the last 24 hours to a current price of $1,490. That's a sharper drop than the rest of the crypto market right now, which CoinGecko says is down about 3% on the whole, with Bitcoin down about 2%.
ETH/USD 4-hour chart | Source: TradingView
After the overnight integration, the price of ETH initially stayed mostly stable, fluctuating sporadically around the $1,600 level. However, the price quickly dropped from roughly $1,585 to its present level this morning. The action is not entirely unexpected.
Meanwhile, investors who do not own 32 ETH have been delegating their Ether to centralized and decentralized intermediary platforms since the end of 2020. Currently, 4 entities are leading the way, collectively holding as much as 59.3% of the total supply of staked ETH.
These are the decentralized platform Lido (4.17 million ETH) and 3 large centralized cryptocurrency exchanges: Coinbase (1.92 million ETH), Kraken (1.14 million ETH), and Binance (905 thousand ETH). The total amount of ETH staked, on the other hand, is 13.7 million.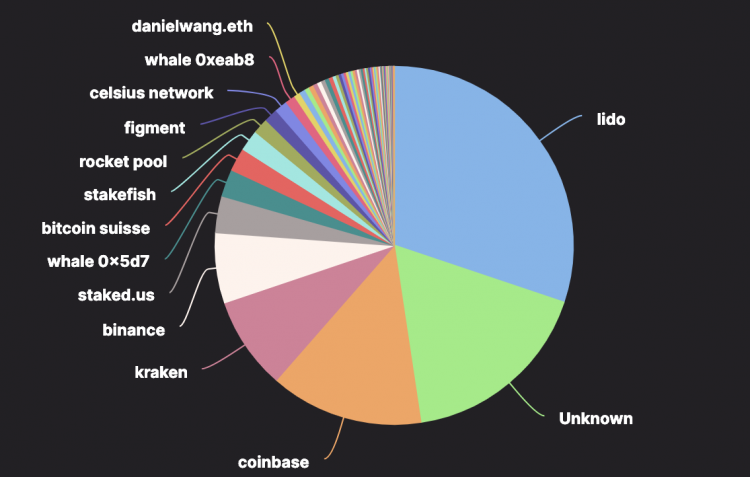 In a report in early August, crypto analytics firm Glassnode flagged data on derivatives exchanges that indicated that the merge was shaping out to be a "sell the news" event. The hype around the merge appeared to be generating bullish sentiment around Ethereum in July, but sophisticated derivatives traders were already hedging their bets, expecting the price of ETH to drop after the event, according to Glassnode.
While many Ethereum proponents were in favor of The Merge, some ecosystem participants were less thrilled. For example, some have forked the previous version of the network to create the new EthereumPoW (ETHW) network, which will retain mining, while other miners have instead started mining coins like Ethereum Classic (ETC) or Ravencoin (RVN).
Read more: