ETH billionaire whales hit new all-time high holdings after adding 3.5 million coins since Sep. 11
Whale investors in Ethereum have continued to acquire the second-largest cryptocurrency by market capitalization. According to Santiment, starting September 11, Ethereum whale addresses with one million or more ETH has added 3.5 million extra coins.
Large Ethereum Whales Add Whopping 3.5 Million ETH to Their Bags
The addition represents a 14% rise in the rich whales' ETH holdings since the Merge. It also brings the total holdings of this cohort's 132 wallets to an all-time high of 28.55 million ETH – about $36 billion.
"Since September 11th, Ethereum billionaire whale addresses holding 1M or more ETH have collectively added 3.5M more coins. This has increased their cumulative bags by +14%. There are currently 132 such addresses in existence", Santiment reported.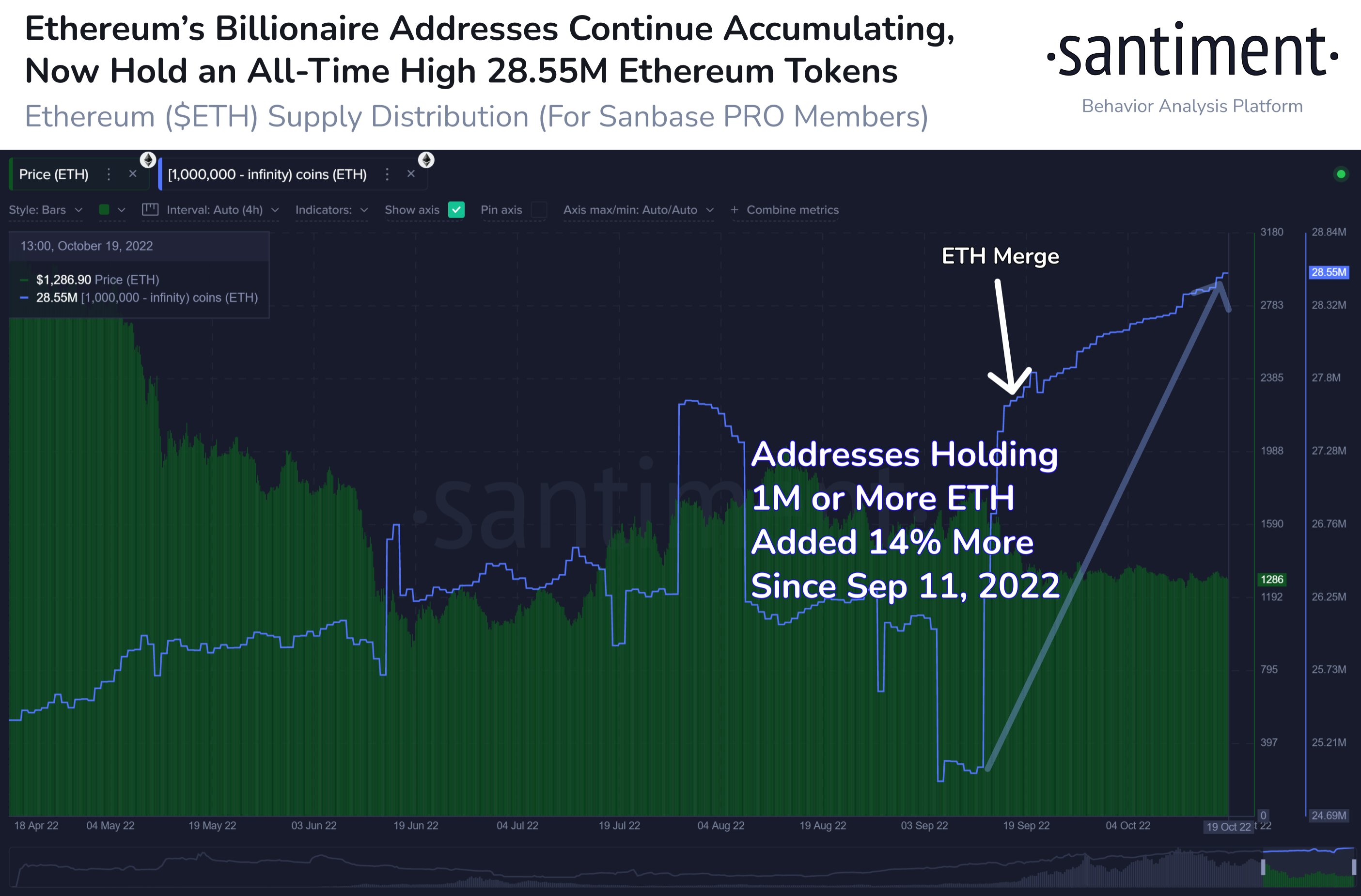 According to earlier Santiment statistics, ETH sharks and whales – the group of investors below billionaire whales who possess between 100 and 1 million ETH tokens — have been selling off their ETH holdings. According to earlier research, the redistribution pattern began immediately after the Ethereum blockchain switched to a proof-of-stake consensus method.
Despite the significant whale activity and novel blockchain dynamics brought about by the Merge, the price of ETH has remained substantially negative. According to CoinMarketCap statistics, ETH has been down roughly 6.21% in the last month. The coin is now trading at about $1,270, down 1.9% daily.
On the plus side, researchers believe that the price of ETH will rise when whales that are now dispersing return to active accumulating. Similarly, they believe that optimistic indications remain in the network's fee-generating performance, which is at a one-month high.
Read more: