Down for the eighth consecutive day, Bitcoin price regained 5% after falling to a 30-month low of $20,834
Bitcoin recently traded below $22,000, down roughly 2% during the last 24 hours. The decline was Bitcoin's eighth consecutive day of losses. The largest cryptocurrency by market capitalization has now dropped nearly 30% of its value over the past month. It is threatening to test the not-long-ago, unthinkable idea of support below $20,000, roughly where it stood in 2017. At the time of writing, Bitcoin price is changing hands at $22,016.
BTC/USD 4-hour chart | Source: TradingView
Bitcoin price and Ether continue to struggle
Bitcoin stabilized Tuesday at about $22,000 after crumbling Monday amid inflation fears and wider macroeconomic weakness. The largest cryptocurrency by market capitalization had followed major Asian indices which continued their own recent spiral, closing at least 1% lower.
"Bitcoin's network had 12,969 whale transactions exceeding a value of $100k+ between 2pm UTC yesterday, and 2am UTC today. This was the largest amount since May 2021, indicating whales are acknowledging $22k as a major BTC level of interest", Santiment reported.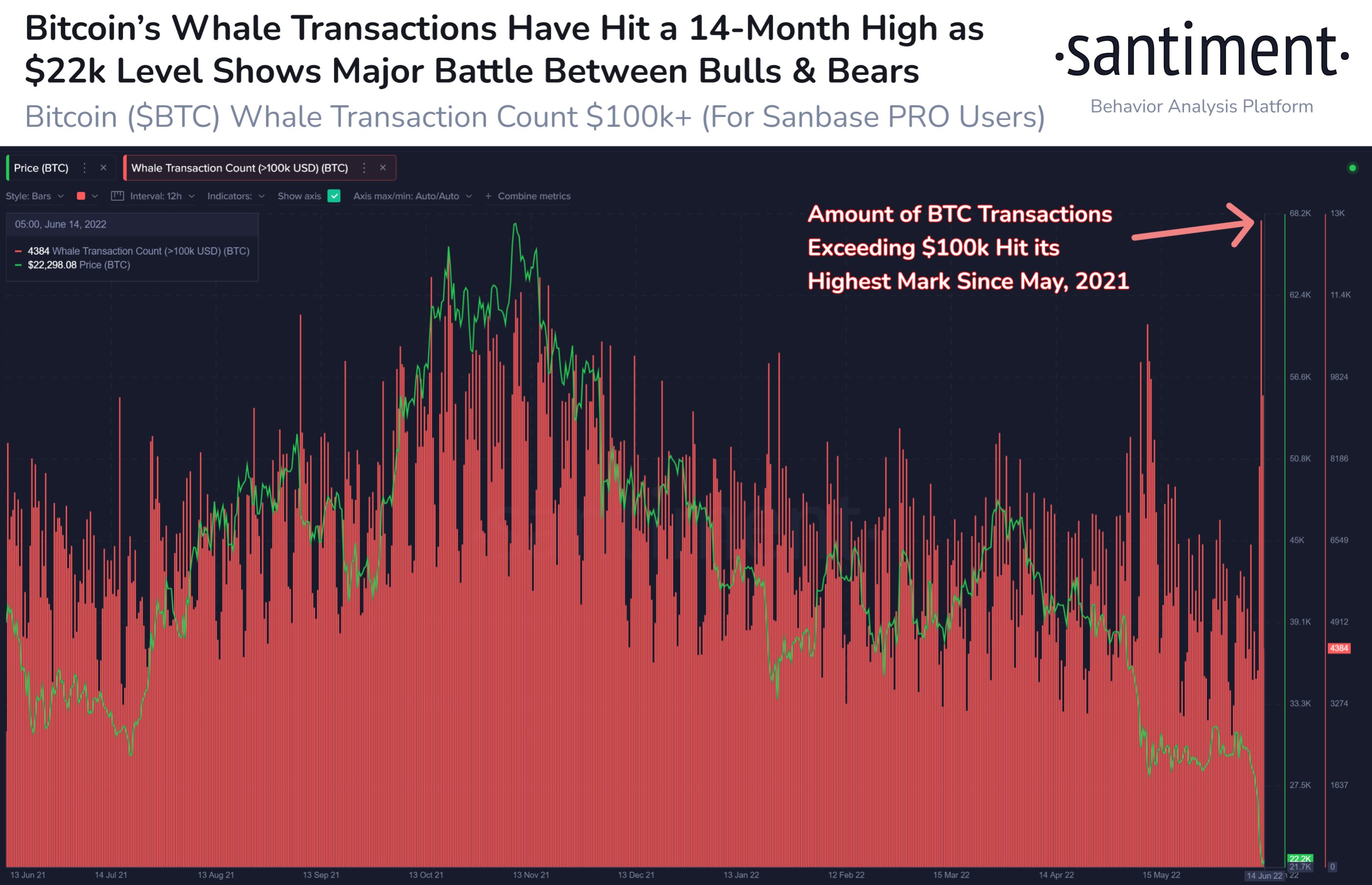 Ether, the second-largest crypto by market cap, was changing hands at roughly $1,200, about flat from Monday when it hit a more than 18-month low. Among altcoins, SOL and XLM were recently up more than 5% after plunging on Monday, but WBTC and TRX continued to suffer from the latter off by over 13% at one point.
Crypto investors are nervously awaiting the U.S. central bank's latest interest rate increase, which many observers now believe will be .75 basis points, harsh, inflationary medicine that seemed unlikely until the Consumer Price Index showed inflation continuing at four-year highs. Whether hawkish policy can tame inflation without sparking a recession remains uncertain.
Data on Tuesday also showed that crypto-tracked futures had lost over $1 billion over 24 hours, a victim of the fraught investment environment. Liquidation is when an exchange forcefully closes a trader's leveraged position due to a partial or total loss of the trader's initial margin. It happens when a trader cannot meet the margin requirements for a leveraged position (fails to have sufficient funds to keep the trade open).
The overall cryptocurrency market cap stands at $945 trillion, and Bitcoin's dominance rate is 44.7%.
Read more: