[Coinlist] CoinList Gives Back For Giving Tuesday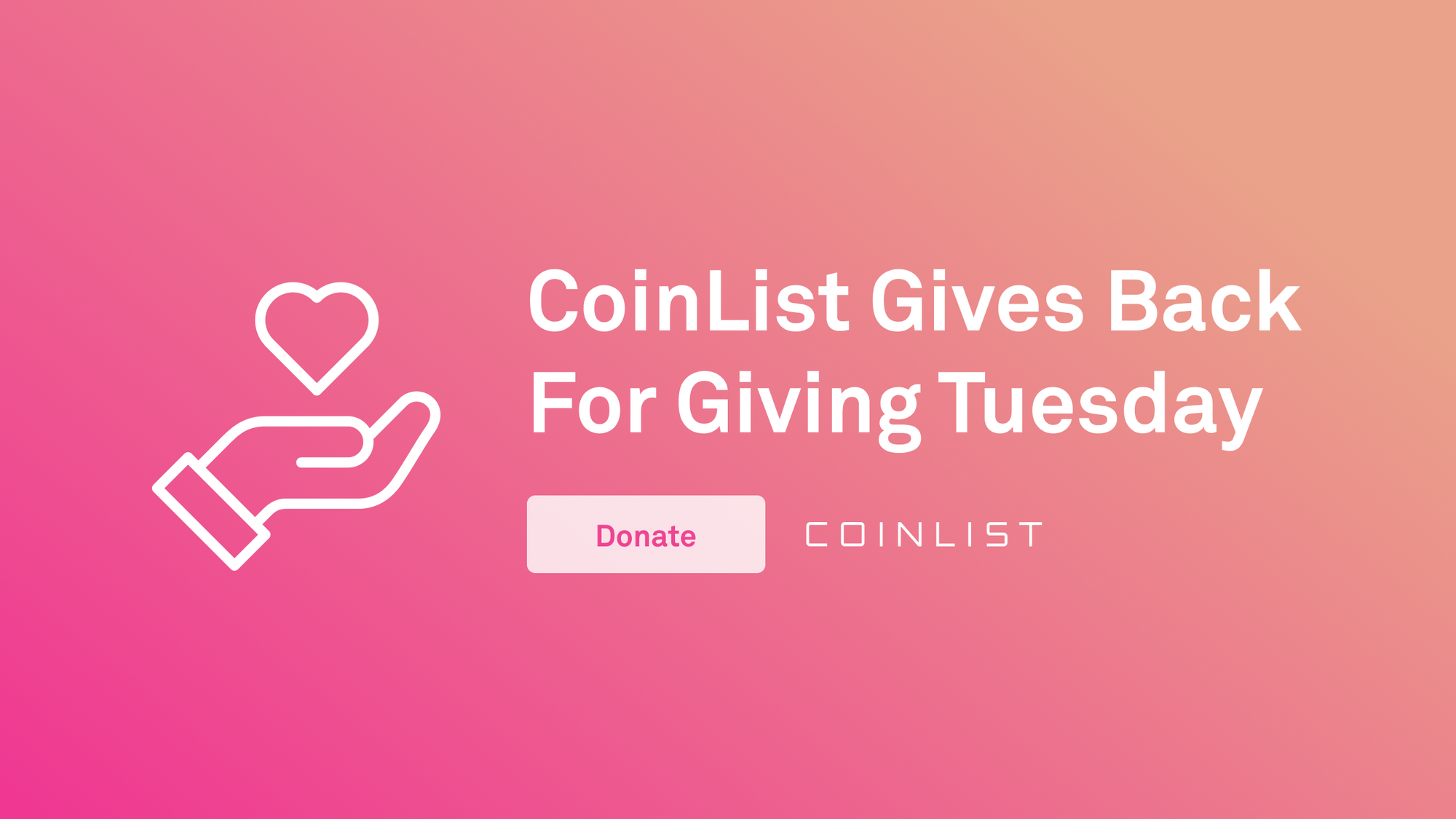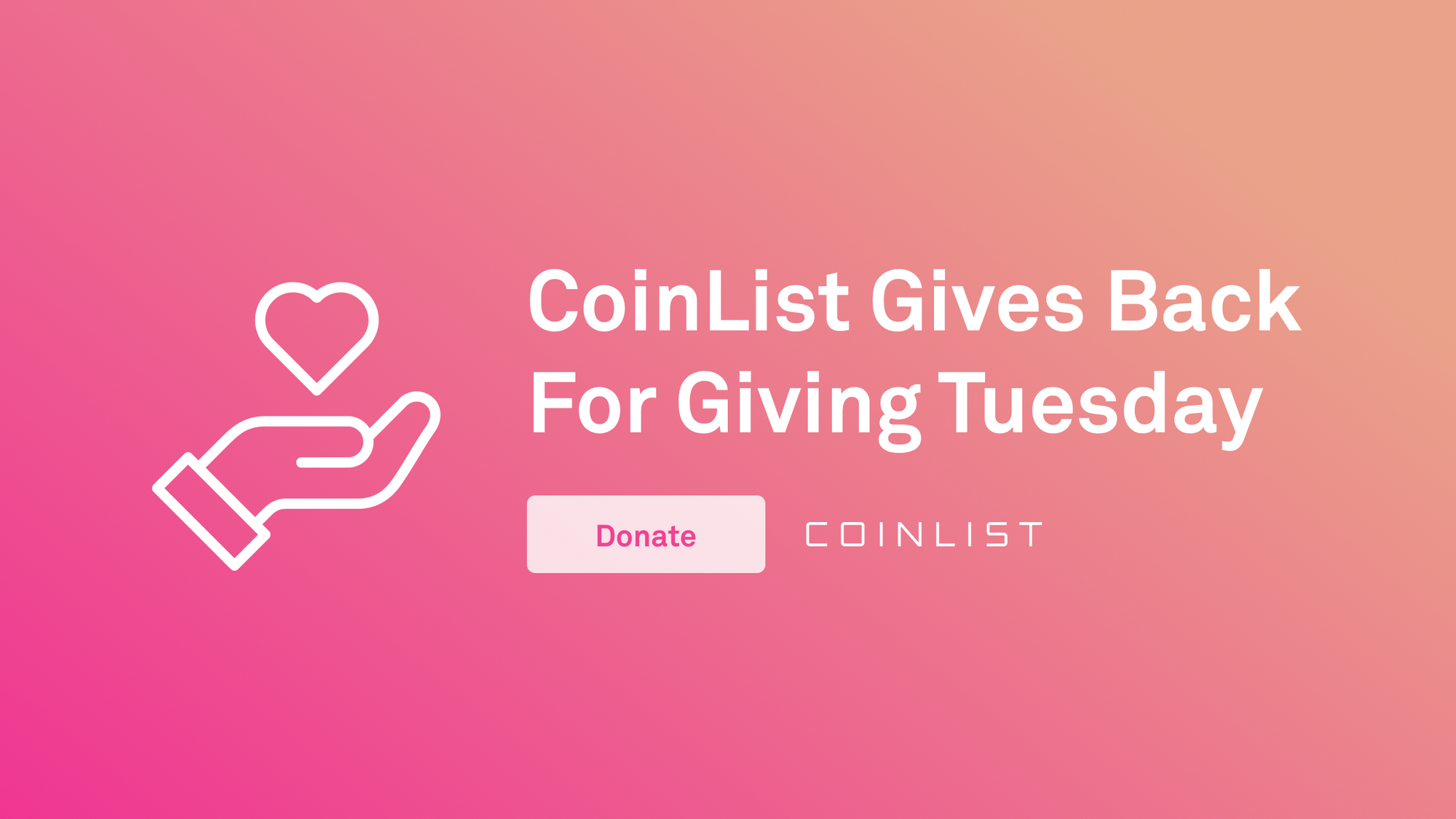 This Giving Tuesday, we are proud to donate to ten organizations that CoinList employees are actively involved with and that improve employment outcomes for underprivileged and disadvantaged communities.
Earlier this year, we supported U.S. Representative's Patrick McHenry's office on the Clarity of Digital Tokens Act which takes up the work of SEC Commissioner Peirce in proposing the creation of a "token safe harbor" and creating thousands of crypto-related jobs in the U.S. This Giving Tuesday, we are proud to continue our commitment to empowering meaningful job creation.
Giving Tuesday is a global movement that has encouraged individuals to do good over the past several years and has inspired millions of people to engage in a simple act of generosity and give back in whatever ways they can. Often stylized as #GivingTuesday for hashtag activism, Giving Tuesday is the Tuesday after Thanksgiving in the United States.
We are honored to support the ten organizations described below that drive job creation in both the United States and globally, and we invite you to donate to them as well:
1. FareStart (https://www.farestart.org/) – People experiencing poverty struggle to escape the cycle they are in and often face other compounding barriers to getting and keeping a job. FareStart helps people overcome barriers by teaching work and life skills needed to succeed in employment and in life. By investing in people, providing meals and facilitating job placement, they transform homelessness, hunger and poverty into human potential. Donate »
2. Biotech Partners (http://www.biotechpartners.org/) – Biotech Partners exists to educate underserved youth with personal, academic and professional development experiences that increase participation in higher education and access to fulfilling science careers. The organization provides a compelling pipeline for underrepresented youth to enter into technical positions in biotech. Donate »
3. Coalition for Rainforest Nations (https://www.rainforestcoalition.org/) – The Rainforest Coalition unites the world in tackling the climate emergency. The organization works to promote environmental sustainability while creating opportunities for economic advancement within tropically forested developing countries. Donate »
4. The National Stuttering Association (https://westutter.org/donate/) – The NSA is the largest non-profit organization in the world dedicated to bringing hope and empowerment to children and adults who stutter through support, education, advocacy, and research. For adults, the NSA seeks to eliminate the many workplace stigmas to improve employment outcomes for people who stutter and help them find career success. Donate »
5. Dress For Success (https://dressforsuccess.org/) – Dress for Success is a global not-for-profit organization that empowers women to achieve economic independence by providing a network of support, professional attire and the development tools to help women thrive in work and in life. The organization helps women in poverty and other bad situations get out by helping them seek out and acquire jobs through mentorship, upgraded attire, and training. Donate »
6. The Last Mile (https://thelastmile.org/) – The Last Mile prepares incarcerated individuals for successful reentry through business and technology training, preparing returning citizens for success in top tier tech companies. They have successfully implemented coding program in men's, women's, and youth facilities, pioneering the U.S. prison education program of its kind. Donate »
7. St. Anthony's (https://www.stanthonysf.org/) – St. Anthony's mission is to feed, heal, shelter, clothe, and find employment. They offer a tech lab and trainings to help those in poverty learn to use computers, create resumes, and apply for jobs. There is also a clothing program allowing those in need to get wardrobes necessary for interviewing and jobs. Donate »
8. Rancho Cielo (https://www.ranchocieloyc.org/) – Rancho Cielo is a comprehensive learning and social services center for underserved and disconnected youth in Monterey County (California) that strive for career success. The organization trains and helps find employment opportunities for at-risk youth in well-paying jobs across culinary, agriculture, technology, and construction fields. Donate »
9. Rubicon Programs (https://rubiconprograms.org/) – Rubicon exists to transform East Bay (California) communities by equipping people to break the cycle of poverty. They work with underserved communities and formerly incarcerated individuals to build the skills they need to find meaningful employment and move out of poverty. Donate »
10. Darüşşafaka Society (https://www.darussafaka.org/en) – Founded in 1863 in Turkey, Darüşşafaka is one of the first non-governmental organizations in the world to support underprivileged and orphaned children through education and career support. Nearly 1,000 children from all over Turkey who qualify by passing an entrance exam are able to continue their education in Darüşşafaka Schools with full scholarship for 8 years from the first year of secondary school through to university education. The Society gives students a monthly allowance as well peace of mind to study without financial worries, setting them up for successful careers. Donate »
---
Prefer to donate in crypto?
If you prefer to donate crypto, we encourage you to participate in #BitcoinTuesday (a crypto take on Giving Tuesday) and donate to over 600+ charities through The Giving Block. By supporting these nonprofits with a crypto donation you can bolster cryptocurrency adoption and lower your tax burden while supporting good causes around the world.
Happy Giving Tuesday!
---
Legal Notice
This blog post is being distributed by Amalgamated Token Services Inc., dba "CoinList," or one of its subsidiaries. This blog post and use of the CoinList website is subject to certain disclosures, restrictions and risks, available here.