Close to trillion Shiba Inu have been transferred, but top Ethereum whales have bought many times more SHIB than that
Two amazing chunks of Shiba Inu (SHIB), totaling close to 800 billion meme coins, have been exchanged in the last 20 hours. As SHIB is once again among the top 10 held cryptocurrency coins, it appears that the top 100 Ethereum whales' interest in that coin has returned.
760 Billion Shiba Inu (SHIB) on Move as SHIB Returns to Whales' Top 10 Holdings
A total of 760 billion SHIB were sent in two chunks, along with a few considerably smaller transactions carrying 50 billion meme coins apiece, according to Etherscan, about 20 hours ago.
The largest one was shoveled between its wallets by the Binance exchange, containing 419,497,861,322 SHIB. That was probably done as part of the proof-of-reserves audit that CZ recommended for Binance and other cryptocurrency exchanges after Sam Bankman-Fried, the founder of the FTX crypto behemoth, filed for insolvency in the first few days of November.
From one anonymous wallet to another, 339,397,509,444 SHIB were transferred in the second transaction. The SHIB tokens in the sender's wallet are now gone, and the recipient's address only has the SHIB acquired in the previous transaction. This might be a sale or money transfer to a different wallet.
According to WhaleStats, the scenario for Shiba Inu and the top 100 wallets on the Ethereum chain has drastically shifted during the last 24 hours. SHIB, which was not in the top 10 or top 20 assets held by these whales for the previous three days, is now back in the top five after Ethereum, USDT, USDC, and stETH.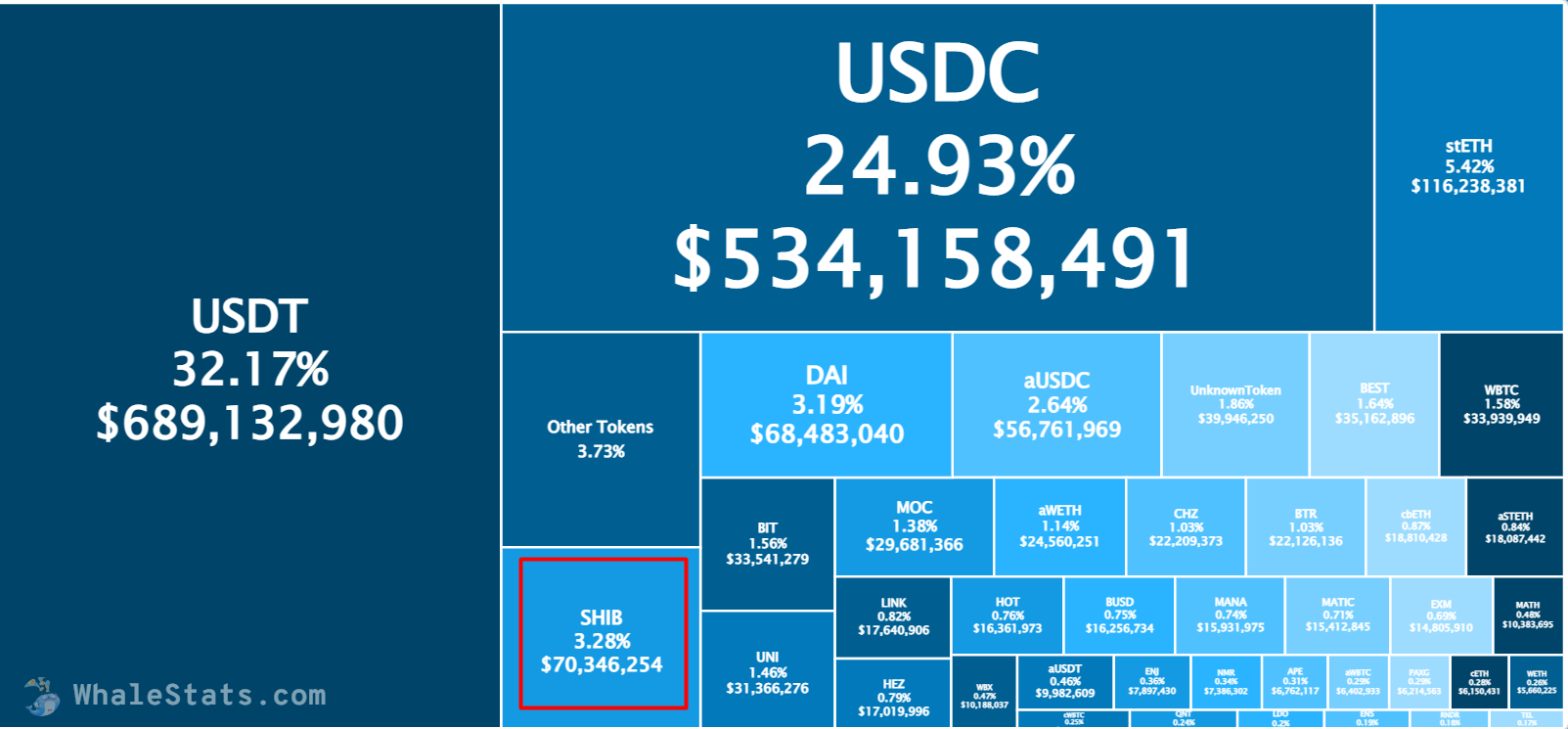 At the time of this writing, these largest whales on ETH contain $70,346,254 in meme crypto. This is the equivalent of a whopping 7,730,357,582,417 Shiba Inu.
Read more: