Chinese Crypto Scams Plus Token Create A Long-term Decline Chain On All Exchanges
Bitcoin may have a tough time getting out from under the fallout from one of the biggest cryptocurrency scams ever, according to researcher Chainalysis Inc.
The largest cryptocurrency is likely to remain under pressure as perpetrators of the estimated more than $2,9 billion PlusToken scandal dump coins to cash out, the New York-based firm said Monday in the wake of a five-month investigation that continues to track the tokens as they filter through various blockchain ledgers.
Bitcoin has tumbled almost 50% from its 2019 peak in late June when Chinese authorities arrested multiple suspects in the pyramid scheme that promised returns as high as 600% and guaranteed that investors would be rewarded for inviting new members. Since that time, market observers have often pointed to possible sales tied to PlusToken suspects not in custody as one of many reasons for price declines.
The Crypto market most vulnerable to network attacks
Paul Jackson, head of Asia-Pacific cybersecurity and investigations at Kroll, told that China is facing an increase in cyber-related fraud as the country is rapidly adopting new technology and new mobile payment methods. These innovations have made it more convenient for the daily lives of the general public, but it has also led to new risks of cyber fraud and scams. As a former head of the Hong Kong police's cybercrime investigation team, Mr. Jackson also added that Bitcoin and other cryptocurrencies have become a target for hackers and cyber-fraudsters who are attracted by the huge sums invested in these platforms.
Violet Ho, head of Kroll's Greater China investigations and dispute practice, claimed that Chinese companies mainly suffered from fraud related to the involvement of employees and external suppliers. Many Chinese companies do not conduct proper background checks on their staff and lack sufficient supervision to ensure their behavior after the hiring.
Cryptocurrency is down about 50% since the fall
Chainalysis estimates that PlusToken conspirators have sold about 25,000 Bitcoins and another 20,000 Bitcoins are spread out across more than 8,700 anonymous crypto addresses. Additional coins such as Ether were also used to bilk investors. Kim Grauer, the senior economist at Chainalysis, said according to their research, the price could be continued going down.
While the transparency of the decentralized ledger technology that powers cryptocurrencies makes it easier to monitor transactions, criminals still take advantage of the anonymous nature of the accounts to mask movements. Many of the transactions were conducted through so-called mixers such as Wasabi Wallet that offer coin shuffling services that make it almost impossible to identify the user.
Chainalysis suspects that over-the-counter trading desks that deal directly with individuals outside of exchanges are helping to launder the proceeds and cycling the coins through exchanges in China such as Huobi. Previously, a CoinDesk contributor Dovey Wan believed Plus Token disbursed parts of the vast sum of cryptocurrency to exchanges including Huobi, Bittrex and Binance, and attempting to launder the remainder of the coins by splitting the sum between a number of wallets not knowingly associated with the company.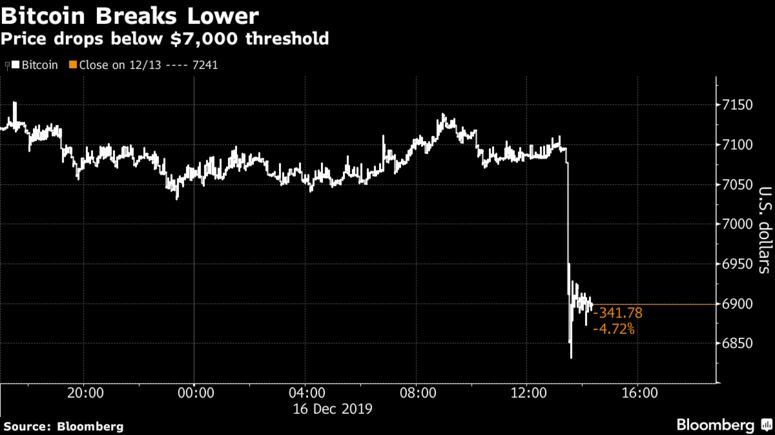 Bitcoin slumped as much as 5.7% to $6,831 in New York trading, dropping below $7,000 for the first time since Nov. 27.
Read more: