Cardano marked double-digit gains at its exit from $0.3 range
According to information provided by Cardano daily, Cardano outperformed several blockchains in the last few days, seeing a nearly $2.3 billion increase in its market worth. With a gain of up to 15% on October 26, Cardano (ADA) was the highest gainer among the top 10 cryptocurrencies. According to the on-chain analytics company Santiment, Cardano has never been discounted as much as it has been since January 2019.
Cardano Sees $2.3 Billion Inflow into Its Market Cap in Days
"TOP MONEY FLOW IN LAYER 1 BLOCKCHAINS. In the last few days, the market has been hyped with the rise of Ethereum, leading the growth of all other layer 1 blockchains. Except for Ethereum, Cardano is the layer 1 that witnessed the largest growth!", Cardano Daily stated.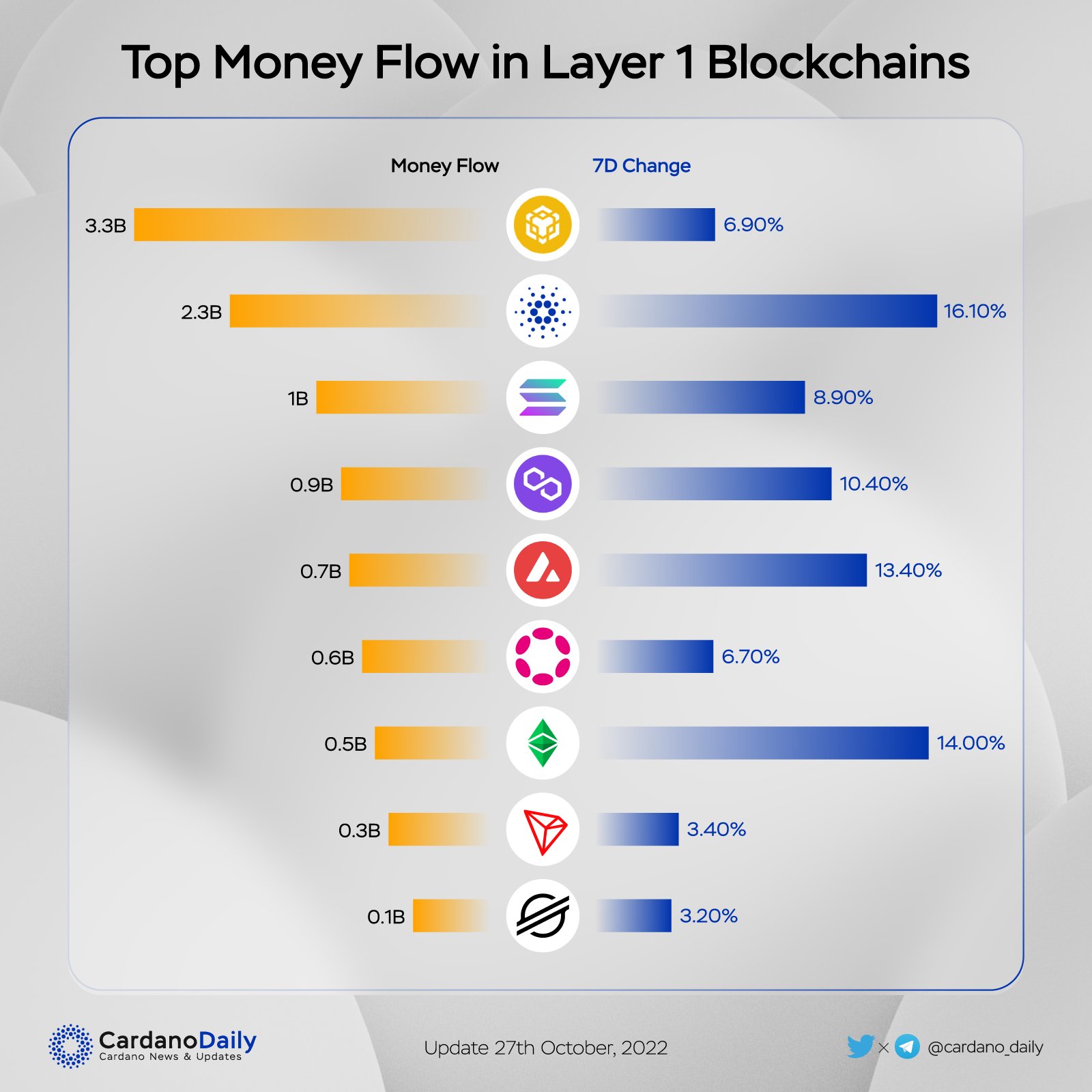 Santiment commented on October 22: "Cardano is currently in its most advantageous position relative to its realized value since January 2019. Based on typical trading losses, this indicates that the market is undervalued. The previous time that ADA's MVRV Z-Score reached this level, its price doubled over the next three months." Cardano recorded double-digit gains with its escape from the $0.3 area after trading sluggishly for weeks. In addition, Cardano increased its market value by nearly $2.3 billion thanks to a 16% rise over the previous seven days. In terms of market value, Cardano is still the eighth-largest cryptocurrency.
Apart from Ethereum, which had inflows of $3.3 billion over seven days, Cardano outperformed Layer 1 blockchains by experiencing the most growth, according to Cardano daily. In the last week, Cardano also observed good social numbers. Cardano's social mentions increased by 8.44%, and its social engagement increased by 12.78%, according to LunarCrush.
ADA/USD 4-hour chart | Source: TradingView
At the time of publication, Cardano had lost most of its most recent gains and was trading at $0.40, down 1.21% in the previous 24 hours. Cardano is presently experiencing a bull market regarding daily transactions and network activity. As NFT volumes reached new benchmarks in recent weeks, the Cardano NFT market was spotlighted.
Read more: