Bitcoin price was fall to $25,500 and then fell some more
Still stinging from Friday's inglorious consumer price report that showed inflation rising, crypto investors spent much of the weekend in a defensive crouch. Bitcoin recently traded around $26,700, off more than 8% since the late weekend. The largest cryptocurrency by market capitalization had been lingering at around $30,000 a month. At the time of writing, the Bitcoin price is changing at $25,459.
BTC/USD 4-hour chart | Source: TradingView
Bitcoin price tumbles below $26,000 amid heightening inflation concerns
Cryptos' declines tracked equity markets, which plummeted Friday after the latest CPI, which some observers thought would tick slightly better for consumers, rose to 8.6% annually, a more than 40-year high that suggested rising prices would be around for a while. The tech-focused Nasdaq plunged 3.5%, while the S&P 500 and Dow Jones Industrial Average were off over 2.5%.
In the CPI, airline fare prices jumped over 12% due to rising fuel prices that have worsened since Russia invaded Ukraine in February. U.S. gasoline prices topped $5 per gallon. As demand increases during the traditional summer travel season, it seems likely to ripple through family budgets and businesses that must now factor additional fuel costs into their pricing. The University of Michigan's consumer sentiment plunged more than eight points to its lowest level in 14 years, with more than half of those surveyed tying their opinions to rising prices.
Investors are widely expecting the U.S. central bank to boost interest rates a half percentage point later this week as part of an ongoing effort to quell inflation. Last week, the central banks of Australia and Canada, where inflation has also soared, increased rates 50 basis points. The European Central Bank said it would end asset purchases and begin rate hikes later this summer.
"With the major altcoin price pullbacks and mild Bitcoin drop, the average network returns of traders have fallen into negative territory again. ADA 30-day returns are still neutral, BTC and BNB are negative, and ETH is back in an opportunity zone", Santiment reported.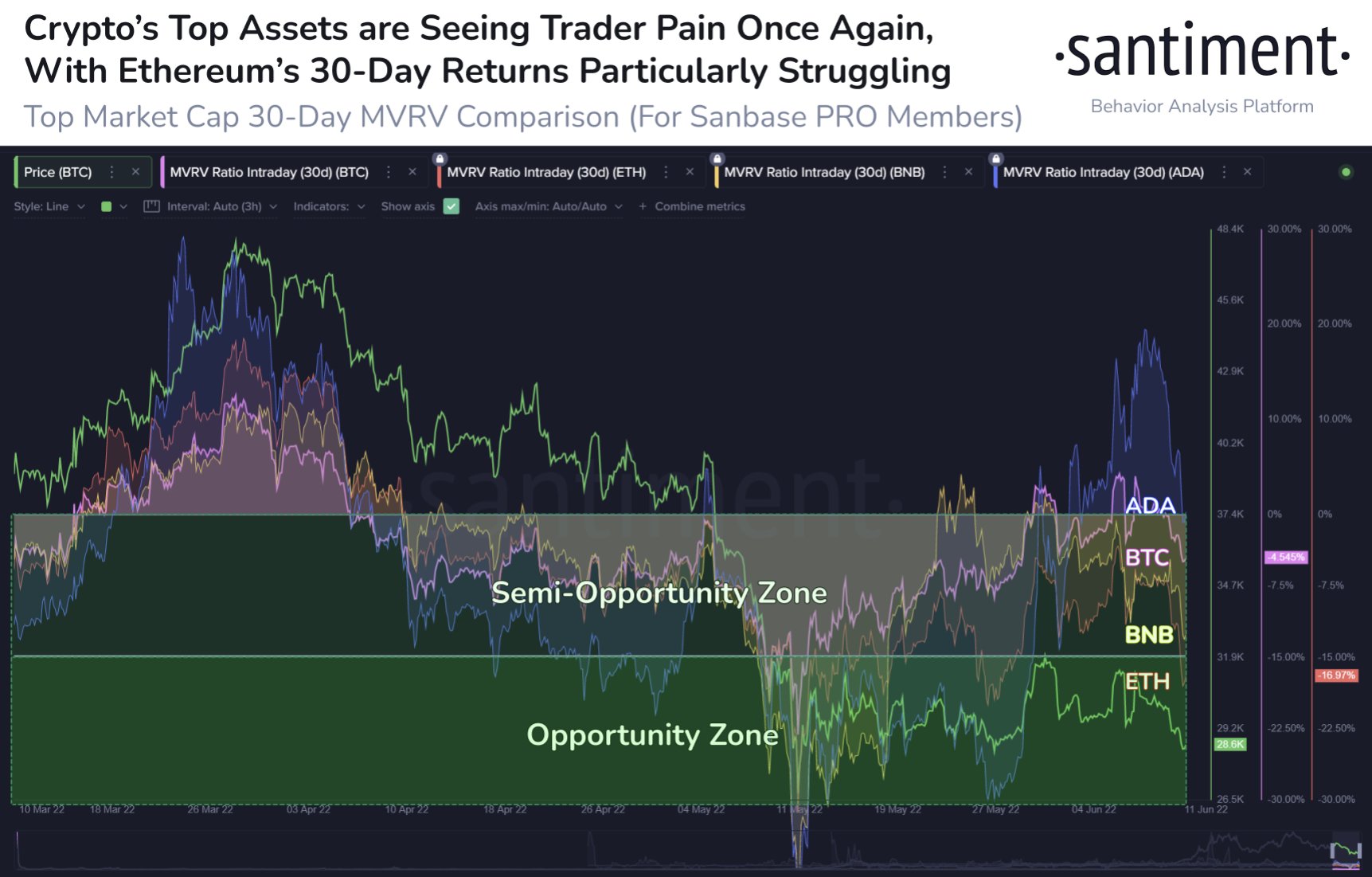 Altcoins were harder hit, with Ether falling to its lowest level in more than 14 months. The second-largest crypto by market cap was trading at roughly $1,357, off more than 15% over the weekend. Ether had spent much of the past month at roughly $1,800. AVAX and AXS were each recently down by over 20% since Friday. The price plunges underscored investors' risk wariness – the riskier the asset, the warier.
The overall cryptocurrency market cap stands at $1.025 trillion, and Bitcoin's dominance rate is 47%.
Read more: