Bitcoin price tumbles amid continued crypto industry stress
Bitcoin price fell for a fifth straight day, heading toward the worst half-year loss on record. An adverse regulatory decision late Wednesday from the U.S. Securities and Exchange Commission (SEC) squelched what little hope traders might have had of a quick rebound. As of press time, the largest cryptocurrency by market capitalization was changing hands just below $20,291 down 5.6% over the past 24 hours.
BTC/USD 4-hour chart | Source: TradingView
Bitcoin price heads for a record half-year loss of 59%
BTC slipped below $19K for the fifth straight daily price decline. Stocks are headed for their worst first half since the 1970s as a consumer spending slowdown stokes fresh recession concerns.
Already rocked by four days of discouraging economic indicators, bitcoin, the largest cryptocurrency by market capitalization, which had held on stubbornly above the $20,000 threshold for much of the past two weeks, fell below $19,000, and was recently down nearly 6% over the past 24 hours. A number of analysts earlier in the week had been expecting bitcoin to break its support even as they admired its resilience.
"The close of Thursday's trading saw a major +8% Bitcoin recovery in just an hour and a half. On the short-term time scale, this made sense with traders attempting to #short the markets, and transactions at a loss dramatically overshadowing profits", Santiment reported.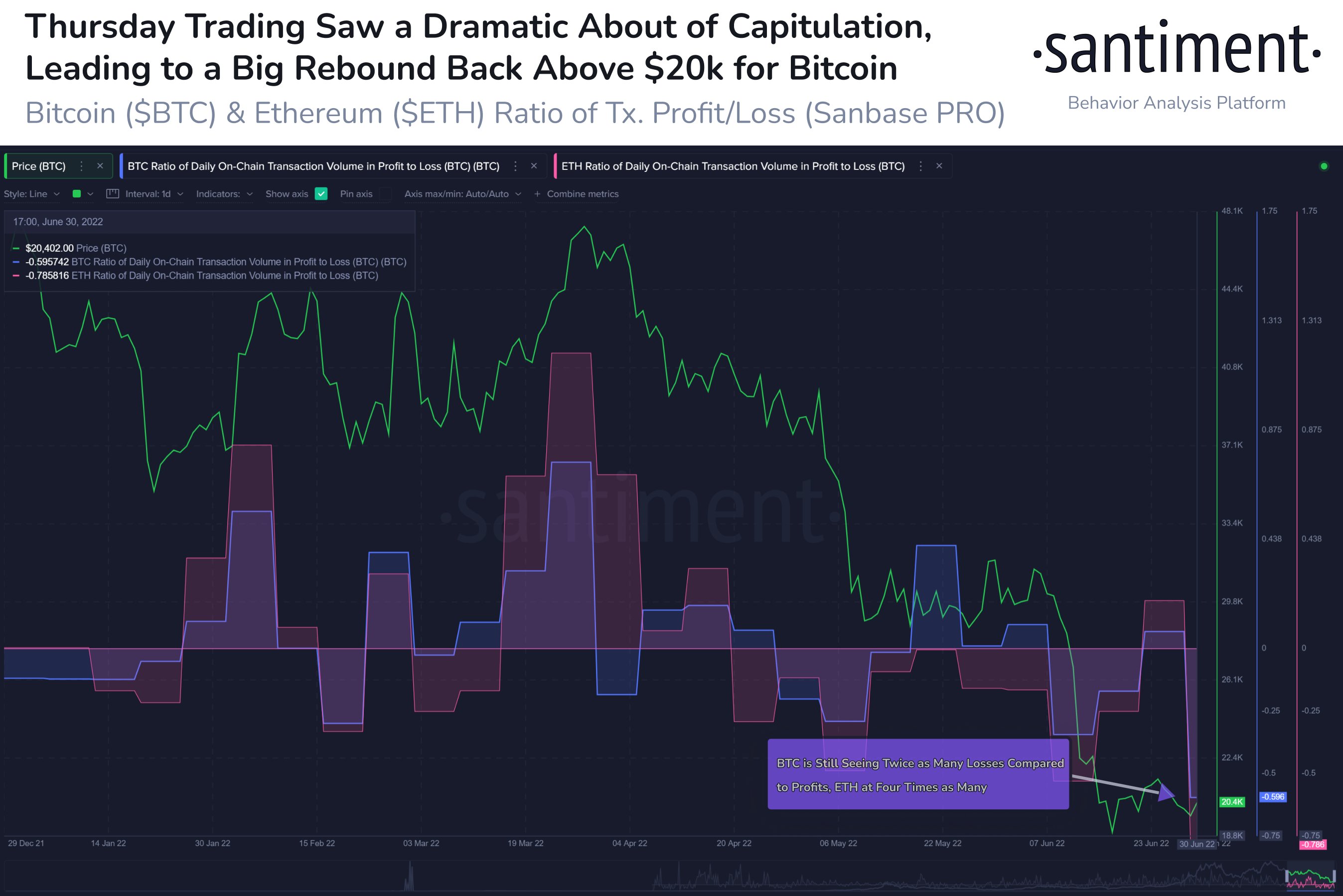 Ether, the second-largest crypto by market cap, also plummeted and was recently trading just above $1,000, down almost 7%. Other major altcoins assumed various shades of red, including the tokens from troubled protocols Terra (UST) and Celsius (CEL), which tumbled over 40% and 19% at one point. MATIC and DOGE were both off about 8%.
The overall cryptocurrency market cap stands at $902 trillion, and Bitcoin's dominance rate is 43.1%.
Read more: