Bitcoin price trades sideways to hold above $23,000; altcoins surge
Bitcoin returned recent gains as the largest cryptocurrency by market capitalization declined 2.9% to $22,850. Thursday's decline followed an 11% increase over the previous seven trading days. Bitcoin price was recently trading at about $23,100, down more than a half percentage point over the past 24 hours.
BTC/USD 4-hour chart | Source: TradingView
Bitcoin price stalls at $23,000
Bitcoin's price remains stubbornly close to its 50-day exponential moving average (EMA), but has yet to surpass that level. BTC was down on the day, albeit on lower-than-average volume. It's worth noting that BTC breached overbought levels on July 19, using the 10-period relative strength indicator (RSI) as a proxy for measurement. The RSI is a technical tool that measures the speed and change of price movements and is often used as an indicator of momentum. Levels of 70 and higher often indicate "overbought" conditions, while levels of 30 and below imply "oversold" conditions.
Bitcoin fell slightly in Thursday trading as investors continued to absorb the aftershocks of Tesla's (TSLA) decision to shed $936 million in bitcoin from its balance sheet during its second quarter.
The largest cryptocurrency by market capitalization was recently trading at about $23,100, down more than a half percentage point over the past 24 hours. The second consecutive daily decline following an early week rally underscored Tesla CEO Elon Musk's influence among digital asset investors. Musk's utterances about Bitcoin and Dogecoin (DOGE) have sent markets for those assets intermittently soaring and plunging for much of the past two years.
"Bitcoin is +12% & has jumped back over $23k this week. The bigger story has been Ethereum (+33%) & altcoins like ETC (+69%), APE (+39%), FTM (+33%), & RUNE (+31%). As long as social volume stays down, the crowd isn't having FOMO fever just yet", Santiment added.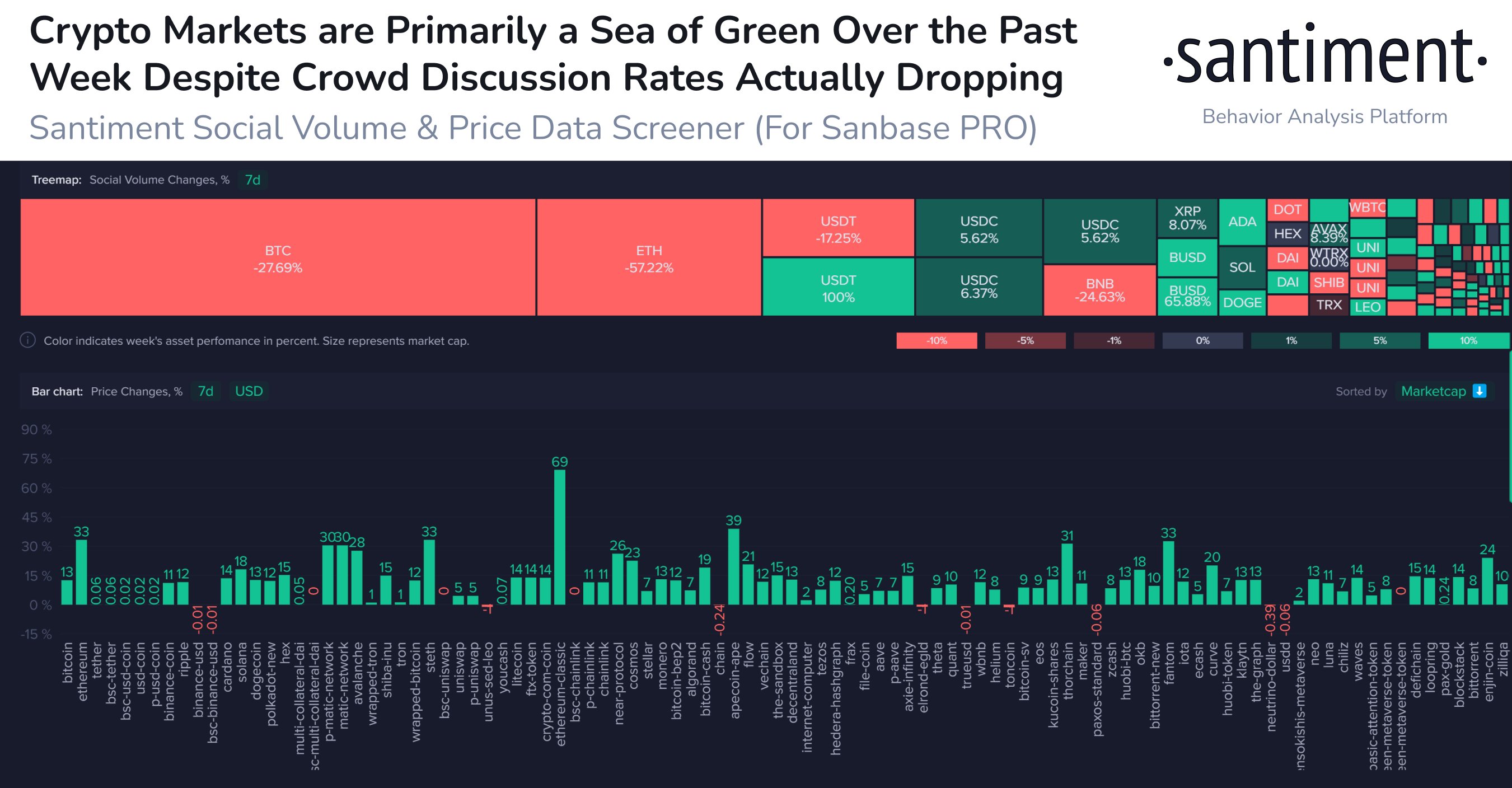 Ether, the second-largest crypto by market cap, was changing hands just below $1,600, up more than 3% over the same period. Other major altcoins were in the green of a mostly dark shade, with Cosmos' ATOM and Polygon's MATIC climbing more than 13% and 8%, respectively, at one point.
"Ethereum's richest traders have shown interesting behavior on this rise, with declines on their portions of ETH's total supply. However, it can be deceptive with liquidity pools & exchange addresses among the groups", Santiment reported.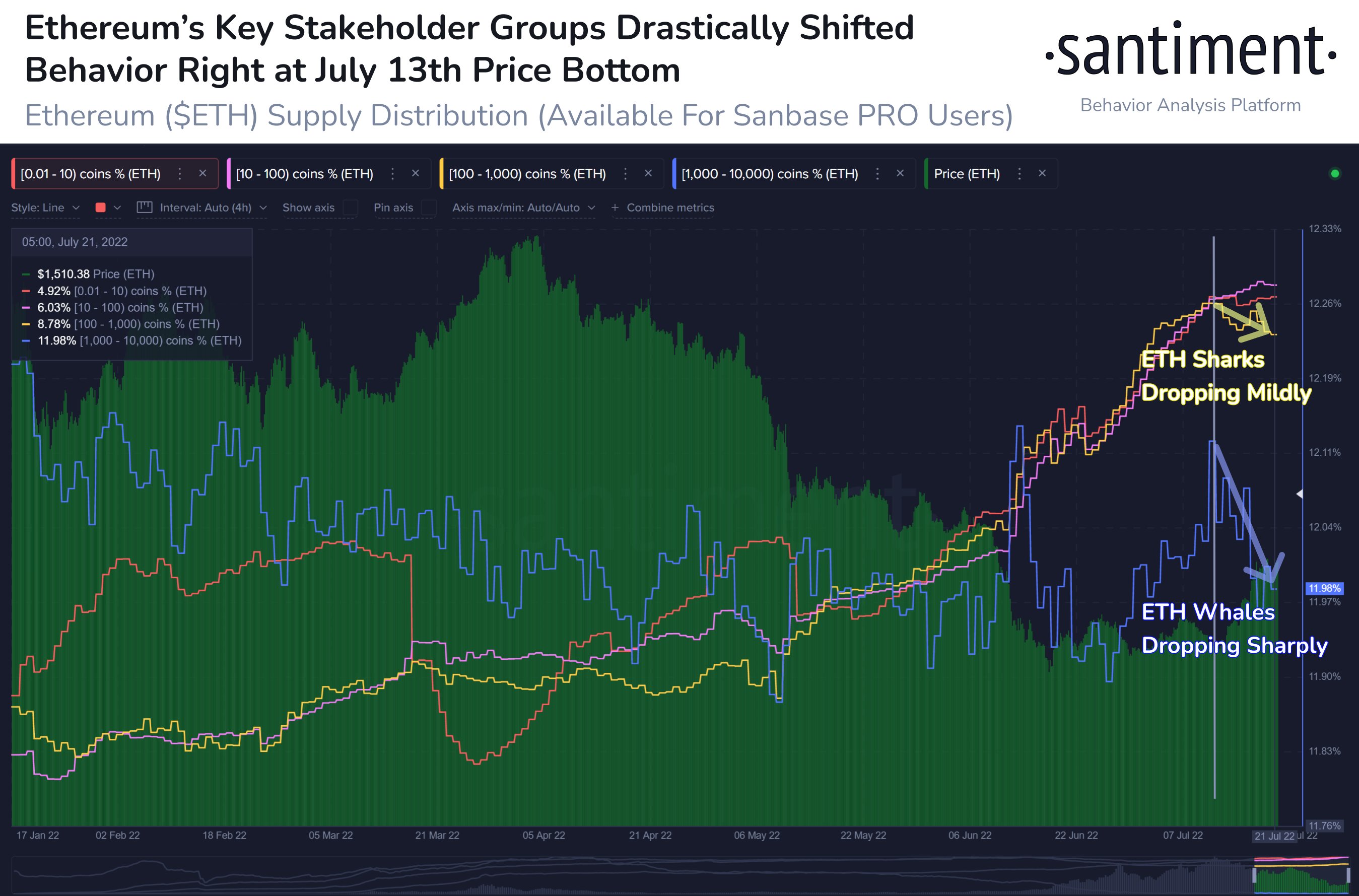 Dogecoin (DOGE) regressed from Wednesday's gains after developers behind the meme coin released its Core 1.14.6 upgrade in early Asian hours on Thursday. The upgrade introduced essential security updates and changes to network efficiency. Other news was more upbeat, with banking giant JPMorgan saying in a report that demand among retail investors in the crypto market was improving and that the "intense phase" of deleveraging appeared to be over. And decentralized finance (DeFi) trading platform Hashflow closed a $25 million Series A funding round at a valuation of $400 million.
The overall cryptocurrency market cap stands at $1,052 trillion, and Bitcoin's dominance rate is 42%.
Read more: