Bitcoin price trades lower on renewed macro fears as Ether gets little relief from Merge optimism
Bitcoin (BTC) was in decline for much of the day, with prices contracting 1%. Should prices be in negative territory this would mark the fifth consecutive day of declines, with each coming on below-average volume (based on the 20-day moving average). The average true range (ATR) of the BTC movement has been in decline over this period as well, indicating that Bitcoin is trading fairly tightly. At the time of writing, the Bitcoin price is changing hands at $22,803.
BTC/USD 4-hour chart | Source: TradingView
Bitcoin Price Wavers in Narrow Range as Cryptos Trade Weaker
Low trading volumes in conjunction with narrowing trading ranges can indicate a lack of conviction, whether bullish or bearish. At the very least they can signal that investors are taking a wait-and-see approach. The Federal Reserve is nowhere near finished in its fight against inflation, while Nancy Pelosi's visit to Taiwan puts a damper on investor sentiment. Suddenly, the market for risky assets from bitcoin to stocks is under pressure again.
Bitcoin slid below $23,000, dropping for a fifth straight day, diminishing hopes embraced as recently as last week that a fresh rally might be in the offing. The decline in bitcoin and other cryptocurrencies mimicked similar movements in global markets. Speculation was mounting last week that the Fed would ease off its inflation-fighting campaign after a report showing that the economy had contracted for a second straight quarter, viewed by many traders as a sign of a recession.
"Bitcoin and Ethereum have declined mildly the past 48 hours, enough for traders to see this as a slight buy-the-dip opportunity. After a somewhat surprisingly impressive July, there will be a lot of uncertainty until the next major price tilt occurs", Santiment added.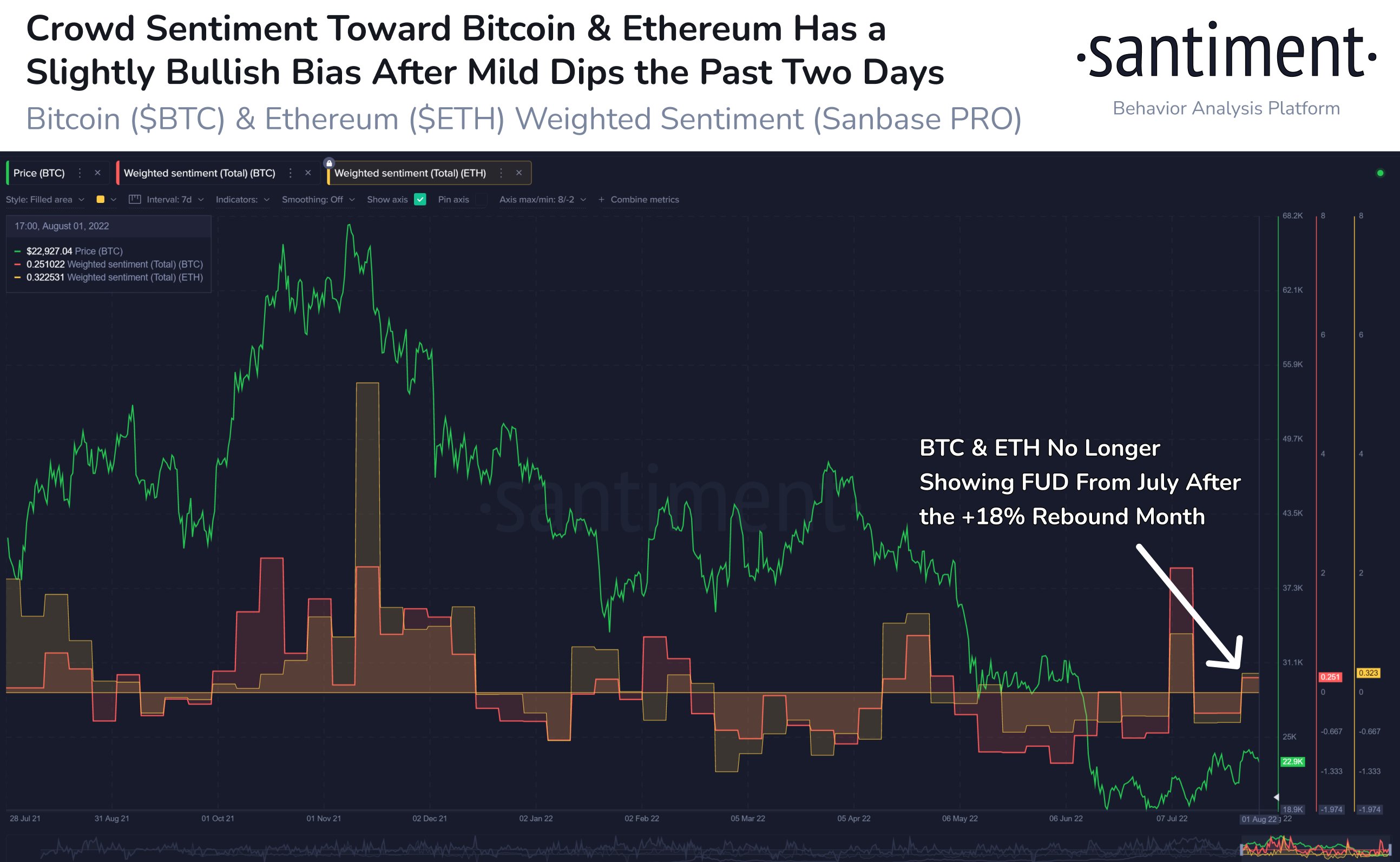 Ether (ETH) increased 1.4% on the day, reversing its 3% decline from a day prior, and ending a streak of four consecutive down days. ETH traded slightly higher during afternoon hours, up 2.19%, but the second-largest cryptocurrency continues to search for direction after its "shadow fork" went into effect one week ago.
"Ethereum's transaction fees have remained ultra-low despite the price jump since mid-June. Scarcer circulation has played a big role in the lower costs, and fees can be expected to remain reasonable until a fair degree of FOMO kicks in from the crowd", Santiment reported.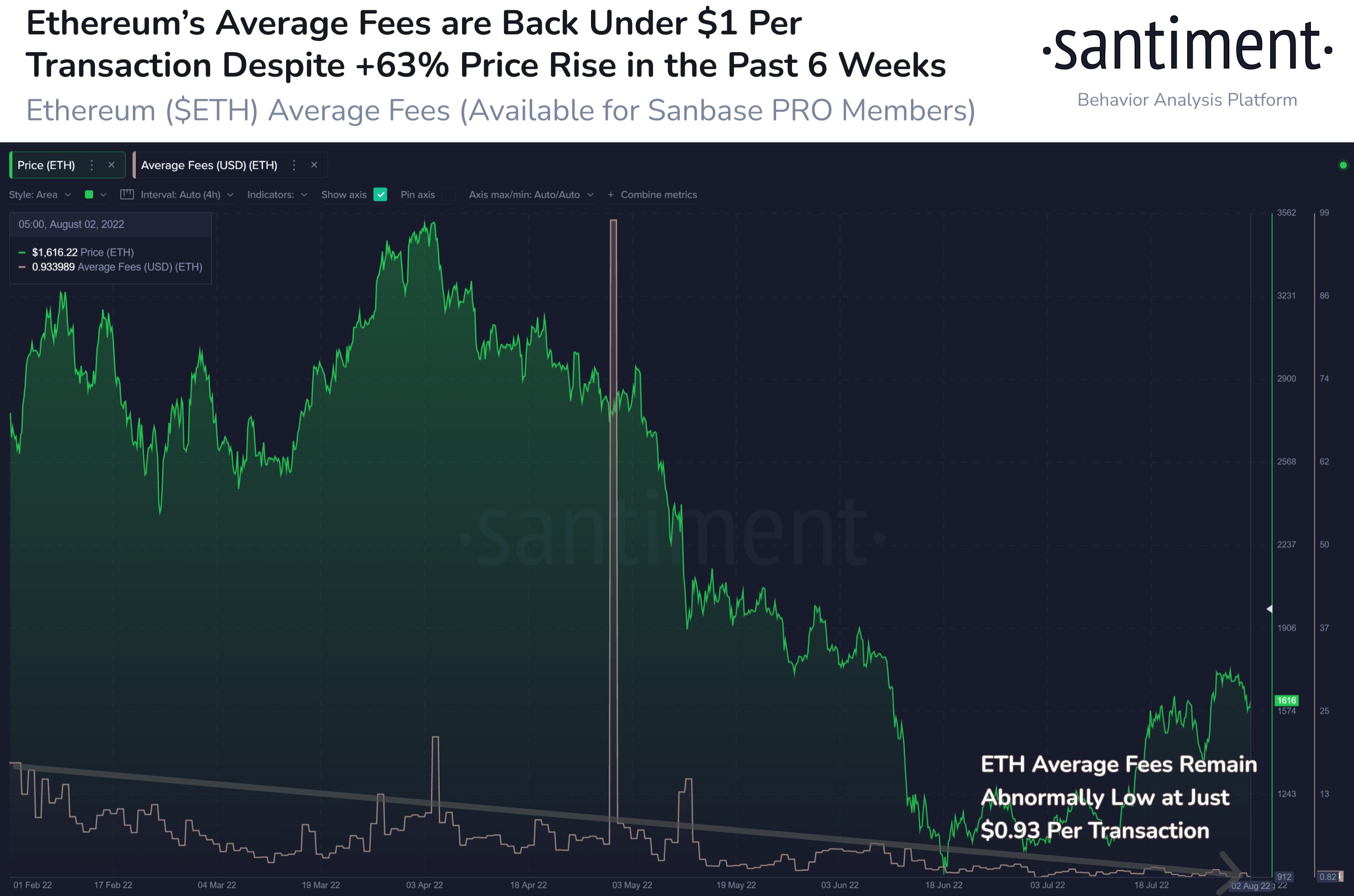 Altcoins were also in decline, with Polkadot's DOT token falling 3% while Polygon's MATIC and Chainlink's LINK fell 1.62% and 3.25%, respectively.  The overall cryptocurrency market cap stands at $1,055 trillion, and Bitcoin's dominance rate is 41.3%.
Read more: