Bitcoin price traded in a choppy range over the past week as volatility ticked higher
Bitcoin price was down by 3% over the past 24 hours and is roughly flat over the past week. At the time of writing, the leading cryptocurrency is changing hands at $29,153.
BTC/USD 4-hour chart | Source: TradingView
Bitcoin price drifts lower, support at $25,000 – $27,000
Bitcoin continues to struggle around the lower end of a yearlong trading range. The cryptocurrency could find support at $25,000 and $27,000, although there is a risk of additional breakdowns in price. Recent returns reflect choppy trading conditions with no sense of direction.
Momentum signals remain mixed despite oversold conditions on the charts. That suggests a neutral to bearish outlook over the next few days. Lower support is seen at the 200-week moving average, currently at $21,954. A break below that level would yield a downside target toward $17,673, a 74% drop from the all-time high of nearly $69,000 achieved last November. Bitcoin fell 83% peak-to-trough in the 2018 bear market.
"Bitcoin is back in the $28k's again after its positive momentum on Wednesday and Thursday was halted by another slide by equities. Bulls will ideally want to see that exchange funding rates are heading into the short territory to indicate FUD", Santiment reported.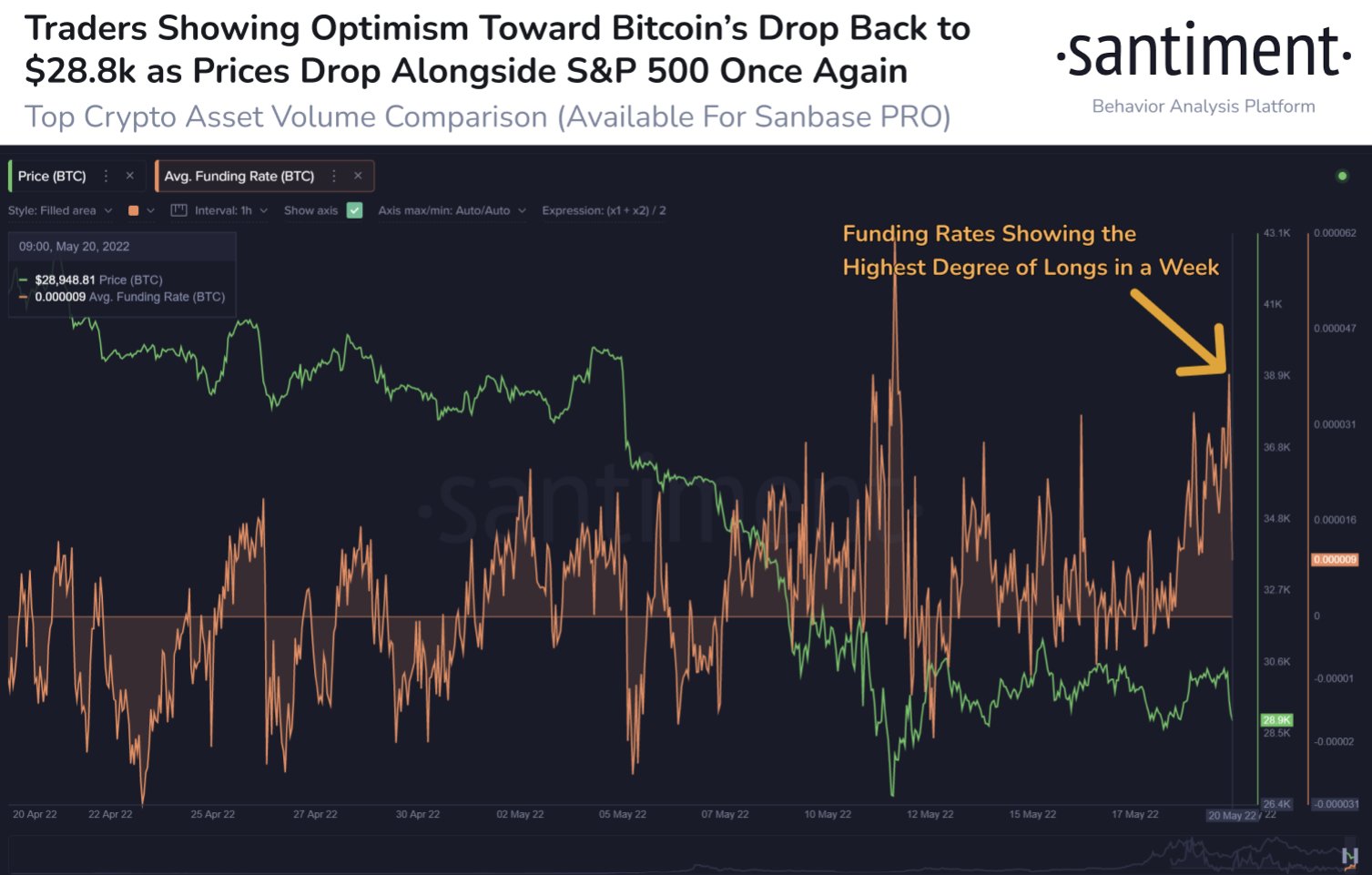 Meanwhile, several altcoins underperformed today. For example, Solana (SOL) was down by 5%, and Avalanche (AVAX) decreased by 4% over the past 24 hours.
Avalanche, a smart-contract blockchain, said in a tweet that Luna Foundation Guard (LFG) – the entity behind the reserve fund set up to backstop the Terra blockchain's now-failed UST stablecoin – has disclosed no plans for the 2 million AVAX that are now sitting in its treasury. With the token's price fluctuating at around $30, the market value of the AVAX stash is about $60 million, making it the second-largest holding in LFG's dwindling $240 million treasury.
The overall cryptocurrency market cap stands at $1.245 trillion, and Bitcoin's dominance rate is 44.6%.
Read more: