Bitcoin price traded at about $20,600, paring some of its gains from last week
Bitcoin price fell but remained comfortably above the $20,000 threshold it crossed more than a week ago. The largest cryptocurrency by market capitalization was recently trading at about $20,568, down over 1% in the past 24 hours.
BTC/USD 4-hour chart | Source: TradingView
Bitcoin price falls but stays well above $20,000, altcoins are in the red
After climbing to a weekend high of $21,868, BTC retraced its gains today. The largest cryptocurrency by market capitalization was recently trading at $20,737, down 3% over the past 24 hours. Fizzling bitcoin rallies likely reflect downbeat sentiments in the current market, which have curbed upside momentum due to higher interest rates and widespread risk aversion. Traders are clearly taking a very conservative view of the space and that may not change any time soon.
"Bitcoin is seeing increased discussion in the latter half of June after the majority of altcoins have dropped 80% or more from their November market cap values. Historically, declining interests in inorganic alt pumps are a positive sign for crypto", Santiment reported.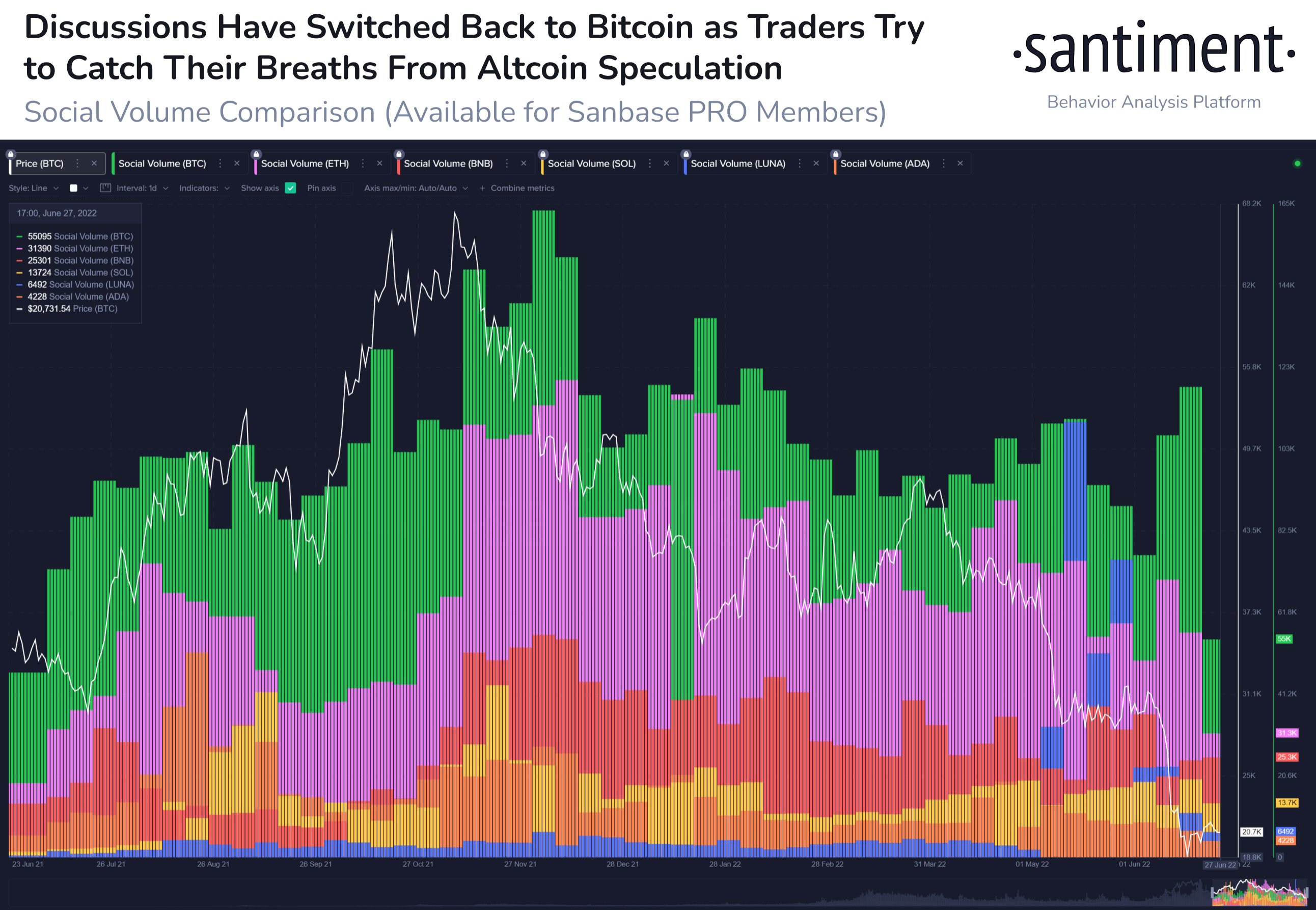 Ether, the second-largest crypto by market cap, was changing hands at roughly $1,200, down less than a percentage point but about the same level it has held for the past week, as investors continued their cautious approach to riskier assets. Trading was light.
Other major cryptos were also in the red with Celsius (CEL), the token of Celsius Network, a troubled crypto lender, falling by as much as over 16% and UNI dropping nearly 11%. MATIC – a big winner last week after Polygon, the project the token represents, introduced a privacy product for DAOs – returned a sizable portion of its gains, also tumbling about 11% at one point.
The overall cryptocurrency market cap stands at $925 trillion, and Bitcoin's dominance rate is 42.5%.
Read more: