Bitcoin price stabilized at around $30,000 – the bottom of a year-long trading range
Bitcoin's roughly 1.4% upturn represented an improvement over the previous day when the leading cryptocurrency by market capitalization dove below $30,000 early today – the first time since July 20 that it had fallen below this threshold. At the time of writing, Bitcoin price was recently trading at $30,742.
BTC/USD 4-hour chart | Source: TradingView
Bitcoin price holds; other cryptos are mixed
Bitcoin stabilized at around the $30,000 support level, which could keep short-term buyers active. Still, the upside appears to be limited, initially toward the next resistance level at $35,000.
BTC rose by as much as 4% over the past 24 hours. It's down by 16% over the past week. Several alternative cryptos (altcoins) have outperformed BTC over the past 24 hours, suggesting a greater appetite for risk among short-term traders.
Typically, BTC declines less than altcoins during market recoveries because of its lower risk profile than smaller tokens. The daily chart's relative strength index (RSI) is rising from extreme oversold levels, which could support a brief relief rally similar to what occurred in late January. However, this time, negative momentum signals have increased the chance of additional breakdowns on the chart. Further, the 14-day moving average of volume (based on Coinbase exchange data provided by TradingView) ticked higher, which could be an initial sign of capitulation. Still, current volume levels are lower than in June of last year, when BTC settled at about $30,000.
"There is clear evidence that Bitcoin whale addresses are viewing yesterday's drop below $30k as an event to accumulate. We saw the highest amount of transactions exceeding $100k since January, and their supply of BTC held is rising again", Santiment reported.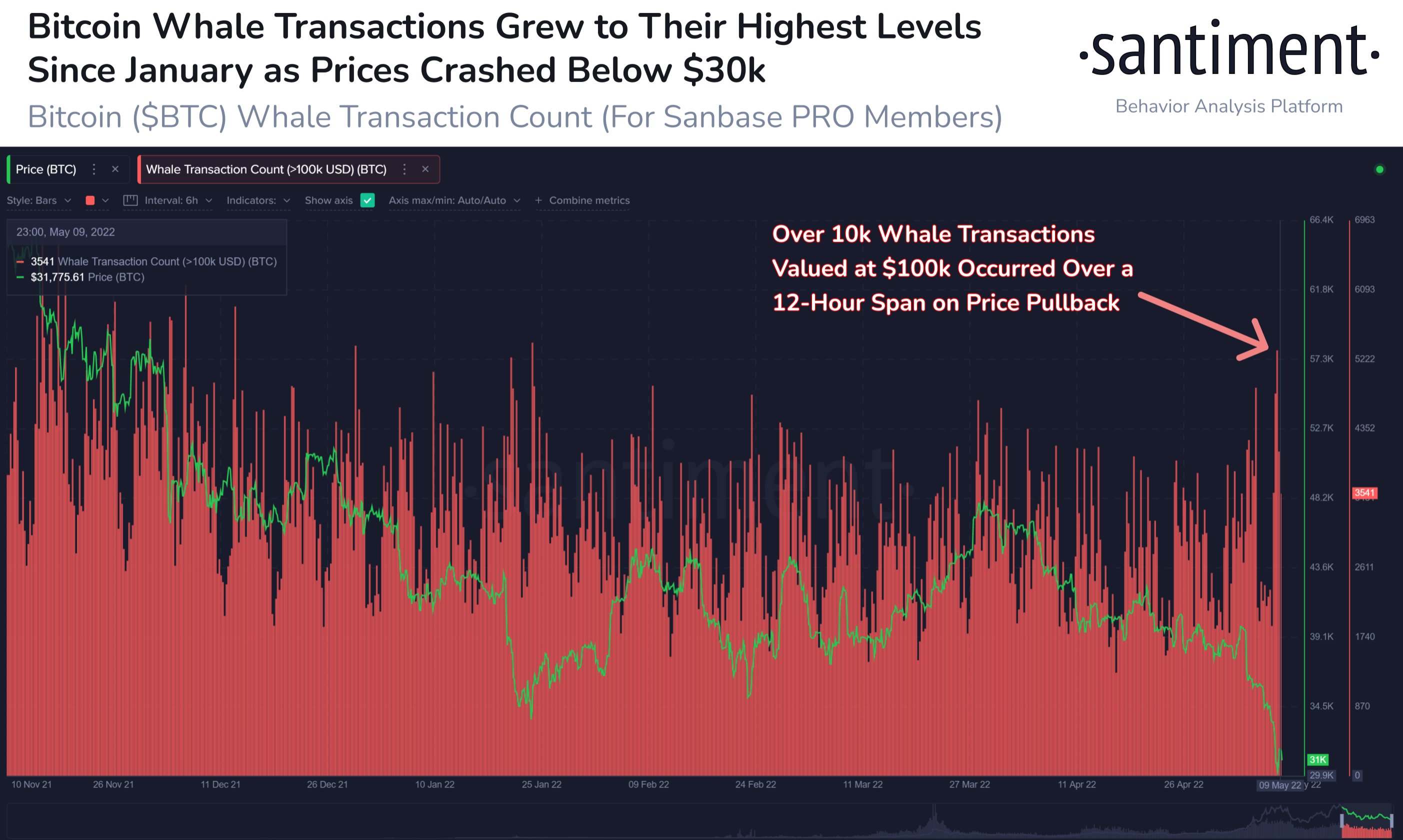 Bitcoin and ether trembled, but Terra's LUNA quaked yesterday. The native token of the Terra ecosystem was recently down over 53% over the past 24 hours after the organization's UST stablecoin continued to fall well short of its dollar peg and amid a report that the Luna Foundation Guard (LFG), the non-profit established to support the Terra network, was aiming to raise $1 billion to restore this parity. The decline followed a 30% drop. UST was recently in the red over 6%.
Ether, the second-largest crypto by market cap, outperformed over the same period, rising approximately 3.5%, and was changing hands at about $2,350. Other cryptos were mixed for much of the day, with AXS recently off over 6%, but CRO and meme coin SHIB in the green more than 8% and 10%, respectively.
The crypto industry continued to feel the shockwaves of wider geopolitical and economic turmoil.
The overall cryptocurrency market cap stands at $1.413 trillion, and Bitcoin's dominance rate is 41.7%.
Read more: