Bitcoin price rose after the Federal Reserve's preferred inflation gauge rose slower than expected last month
Bitcoin price has neared a critical level months after the June 13 sell-off. Investors should still watch for the movement of Bitcoin to exchanges. At the time of writing, BTC is changing hands at $20,757.
BTC/USD 4-hour chart | Source: TradingView
Bitcoin Price, Ether Press Higher as Momentum Increases
Bitcoin price was up about 0.3% over the past 24 hours, the latest surge in an upbeat week that saw the largest cryptocurrency by market capitalization climb about 8% in value. The spike came amid new hopes that the U.S. Federal Reserve would be able to scale back its monetary hawkishness sometime early next year and a few mildly encouraging economic indicators. The reason that matters is that it shows progress in the Fed's campaign to tamp down the pace of price increases, in turn signaling that it might be able to let up sooner rather than later in tightening monetary policy – seen as a negative for prices of risky assets, from stocks to BTC.
"With Bitcoin back above $20.7k, traders appear to be content with long-term holding as coins continue moving away from exchanges. With the ratio of BTC on exchanges down to 8.3%, it's the lowest seen in 4 years. October has been a big outflow month", Santiment reported.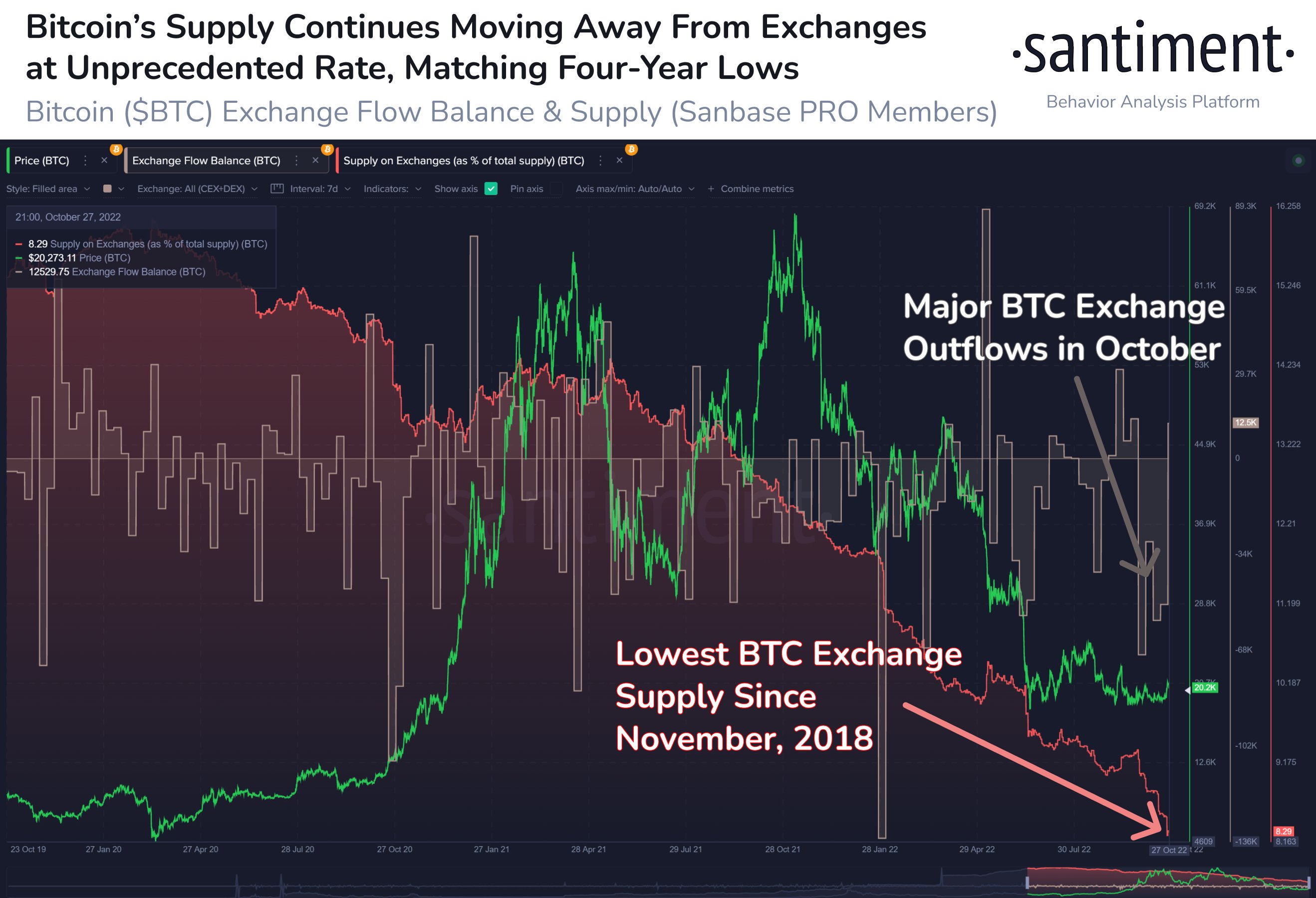 Ether's price recently increased 0.6% from Thursday same time and was up approximately 19% over the past week. As October closes, investors may wish to look back before taking stock of the current and likely future crypto climate.
Investors should also weigh on-chain analytics to ensure they are adopting a measured approach. Over the past week, large BTC holders have been moving coins onto exchanges. This isn't the best sign for investors with a bullish outlook because coins are often moved to exchanges to ready them for rapid sale. However, this trend may be a preventative measure ahead of the Nov. 10 consumer price index data. Still, the exchange move appears to have stabilized as of Oct. 25.
Read more: