Bitcoin price remained steady snugly above its most recent $16,000 support
Bitcoin price remained steady and snugly above its most recent $16,000 support as investors continued to shrug off the latest developments from the FTX collapse. The largest cryptocurrency by market capitalization was recently trading at $16,616.
BTC/USD 4-hour chart | Source: TradingView
Bitcoin price and Ether held steady at their most recent support levels
BTC is trading at about $16,600, roughly flat over the past 24 hours. BTC sank less than 2% for the week. Ether was almost equally unimpressed by the spreading FTX contagio and changing hands just above its recent $1,200 support, up slightly. The second largest crypto in market value rose a few ticks of a percentage point, although ETH was down almost 5% from a week ago.
"Ethereum is limboing just above the $1,200 psychological support level and is down a modest -3.3% in the past week. Sharks & whales, meanwhile, have rapidly added ETH to their bags, increasing their holdings by 3.52% in just the past 12 days", Santiment reported.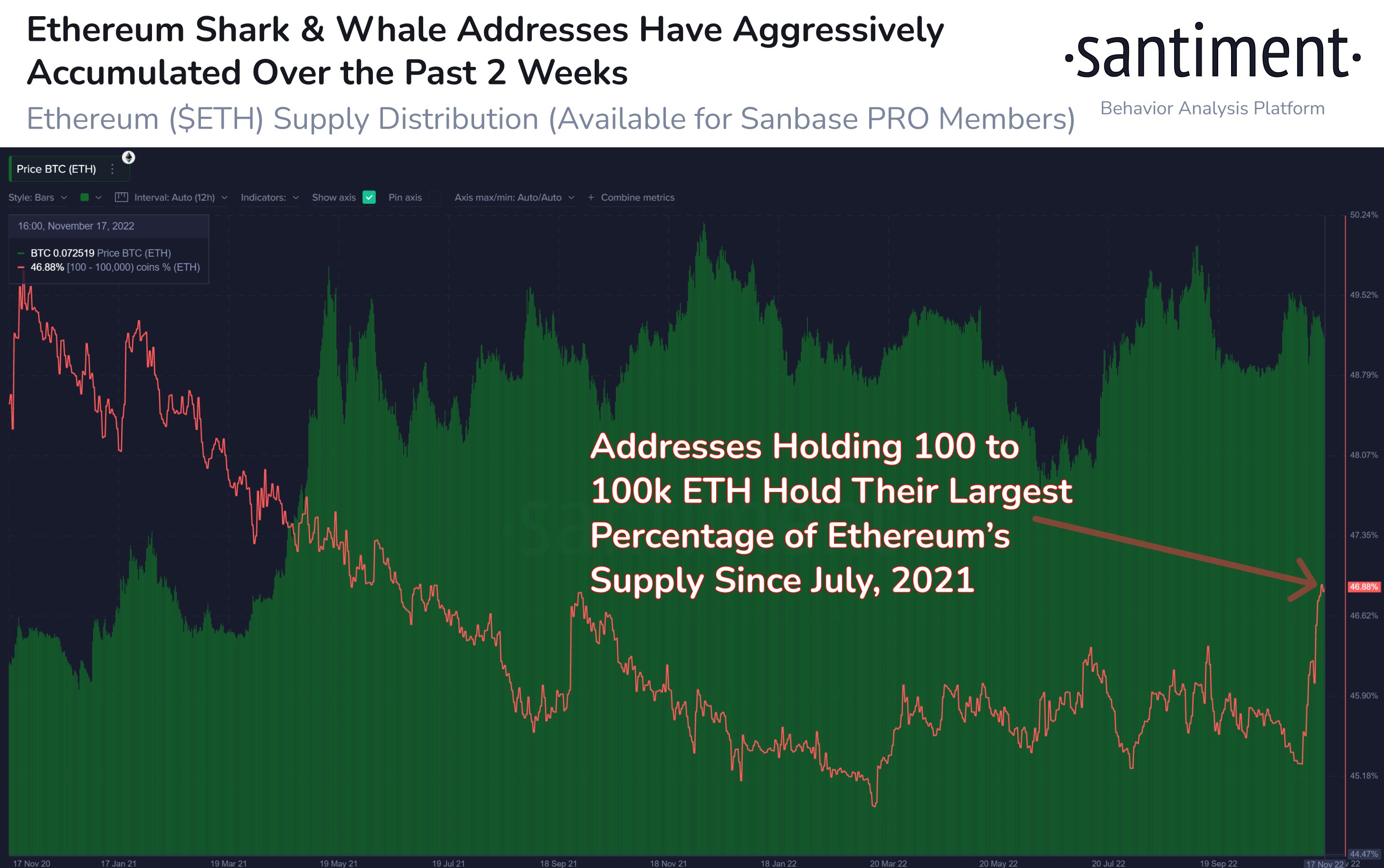 Sports fan tokens have offered a rare bright spot in the current market's gloom, rising amid soccer World Cup euphoria. The world's next big sporting event begins Sunday in Qatar. The native token of the Chiliz blockchain (CHZ), which powers the most significant sports fan token creator platform Socios.com, has surged 11% in the past 24 hours.
As AZCoin News reported, Emurgo, the founding entity of the Cardano blockchain, plans to launch USDA – the first fully fiat-backed, regulatory-compliant stablecoin – in early 2023. Alongside the tokenization of USD, Emurgo will soon enable the conversion of other stablecoins, such as USD Coin (USDC), and tether (USDT) to USDA, with long-term plans to enable conversion and swaps of cryptocurrencies such as Bitcoin (BTC), Ether (ETH) and other cryptocurrencies.
The overall cryptocurrency market cap stands at $831 trillion, and Bitcoin's dominance rate is 38.4%.
Read more: