Bitcoin price recently trading at roughly $20,200 after rising earlier in the day
Bitcoin price and Ether fell in Thursday morning trading in Asia along with all other top 10 cryptocurrencies by market capitalization, excluding stablecoins, as the U.S. Federal Reserve announced a fourth consecutive rate hike of 75 basis points on Wednesday. At the time of writing, BTC is changing hands at $20,308.
BTC/USD 4-hour chart | Source: TradingView
Bitcoin price and Ether fall with crypto top 10 as Fed raises rates 75 bps
The Fed unanimously voted to raise its benchmark interest rate by 75 basis points in its November meeting on Wednesday, bringing the total rate to a 15-year high of 3.75% to 4%. In the press conference announcing the raise, Fed Chair Jerome Powell said it was "very premature to talk about a pause" in interest rate rises; however, he seemed to suggest a slowing from the current pace could be in store in the next few Federal Open Market Committee meetings.
The Fed lifted interest rates from near zero in March to the current 3.25% as inflation reached a near 40-year high of 8.2% in September. The Fed has indicated it will continue this policy until inflation returns to a target range of 2%.
"Following the FOMC 75 bps hike, #crypto prices dumped hard alongside equities. We should likely continue to see huge swings in both directions throughout the week, and it's advisable to avoid emotionally charged trades following polarizing events", Santiment reported.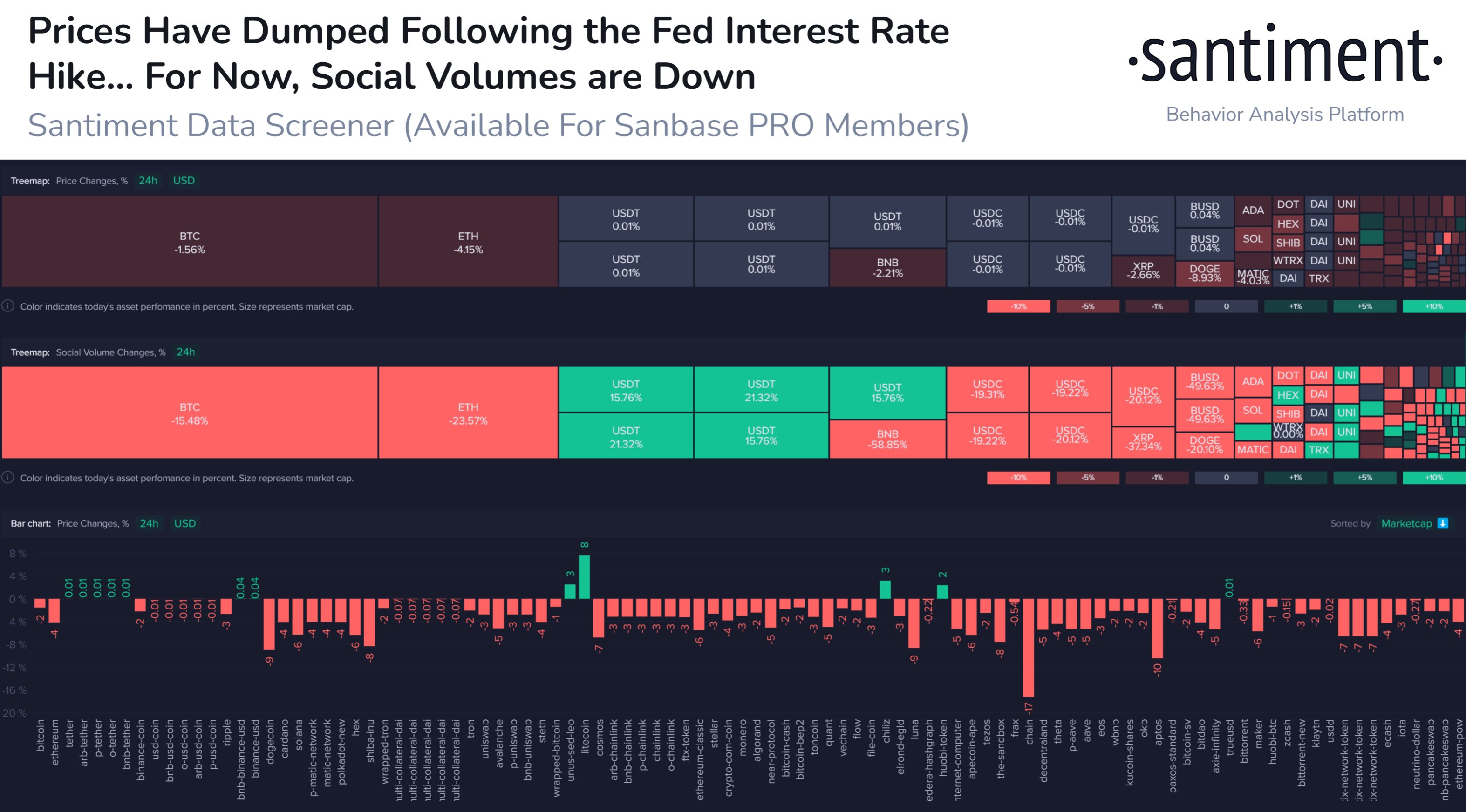 The largest cryptocurrency by market capitalization ticked down, but only slightly, following a fourth consecutive 75 bps increase. Ether, Dogecoin, and other significant altcoins didn't like the sound of that and tumbled well into the red Wednesday afternoon. ETH, the second largest cryptocurrency by market capitalization, was recently trading a few fractions above $1,500, down more than 4% over the past 24 hours but right around its perch of the past week. DOGE was down about 10% recently, returning some of its dramatic gains. The popular meme token traded above 12 cents, near its highest point in over six months.
Shiba Inu token fell 7.8% to $0.00001176, though it was still trading up 8.8% over the past seven days, while Dogecoin fell 9.4% to $0.12, though it was still up over 70% in the past week. Since purchasing Twitter, Elon Musk has tweeted pictures of Shiba Inu dogs — the breed of dog the Doge meme is based on — and has floated the idea of integrating Dogecoin as a payment method on the platform.
"Litecoin is currently on a nice run, and is temporarily decoupled from the crypto pack. We have seen that the amount of addresses with 1,000 or more LTC has grown rapidly since mid-June, and LTC's price vs. BTC has grown +51% since June 12th", Santiment reported.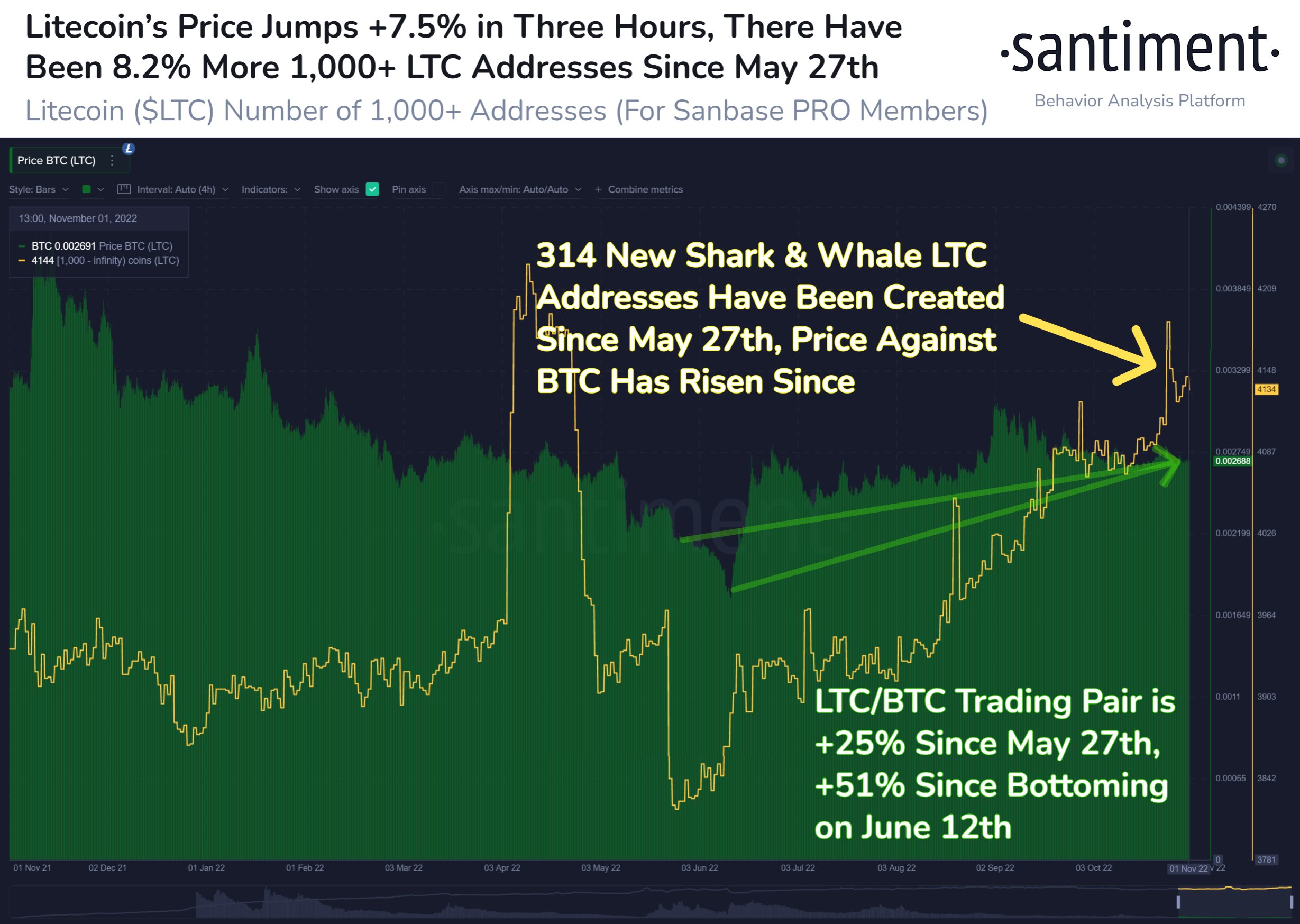 Sitting outside CoinMarketCap's list, Litecoin gained 10.1% to change hands at $60.52 after reaching a six-week high of $62.12 overnight. This follows payment services company MoneyGram International, Inc. announcing the integration of Bitcoin, Ethereum, and Litecoin trading on its app.
Read more: