Bitcoin price rallies late despite BlockFi bankruptcy protection filing, China protests
Crypto markets spent much of Monday in the red before a late-day rally sent most major tokens into positive territory, even as the industry continued to process the dual body blows of crypto lender BlockFi's Chapter 11 bankruptcy protection filing and widespread protests in China over severe Covid restrictions. Bitcoin price was recently trading at about $16,266, up the better part of a percentage point over the previous 24 hours but still below its weekend perch of $16,500.
BTC/USD 4-hour chart | Source: TradingView
Bitcoin and Ether rally but fell as U.S.-based crypto lender Blockfi filed for bankruptcy overnight
The largest cryptocurrency by market capitalization's resilience dovetailed with a broader slowdown in asset activity of all stripes as the U.S. celebrated its annual Thanksgiving holiday and a lull in lousy news related to crypto exchange FTX's implosion. The latter pause ended with BlockFi's petition.
"Bitcoin's whales have now spent 13 months dumping their cumulative holdings as prices have slid. However, following a big push down in the first 3 weeks of November as FTX news broke, 47,888 $BTC has been accumulated back in the past 5 days", Santiment reported.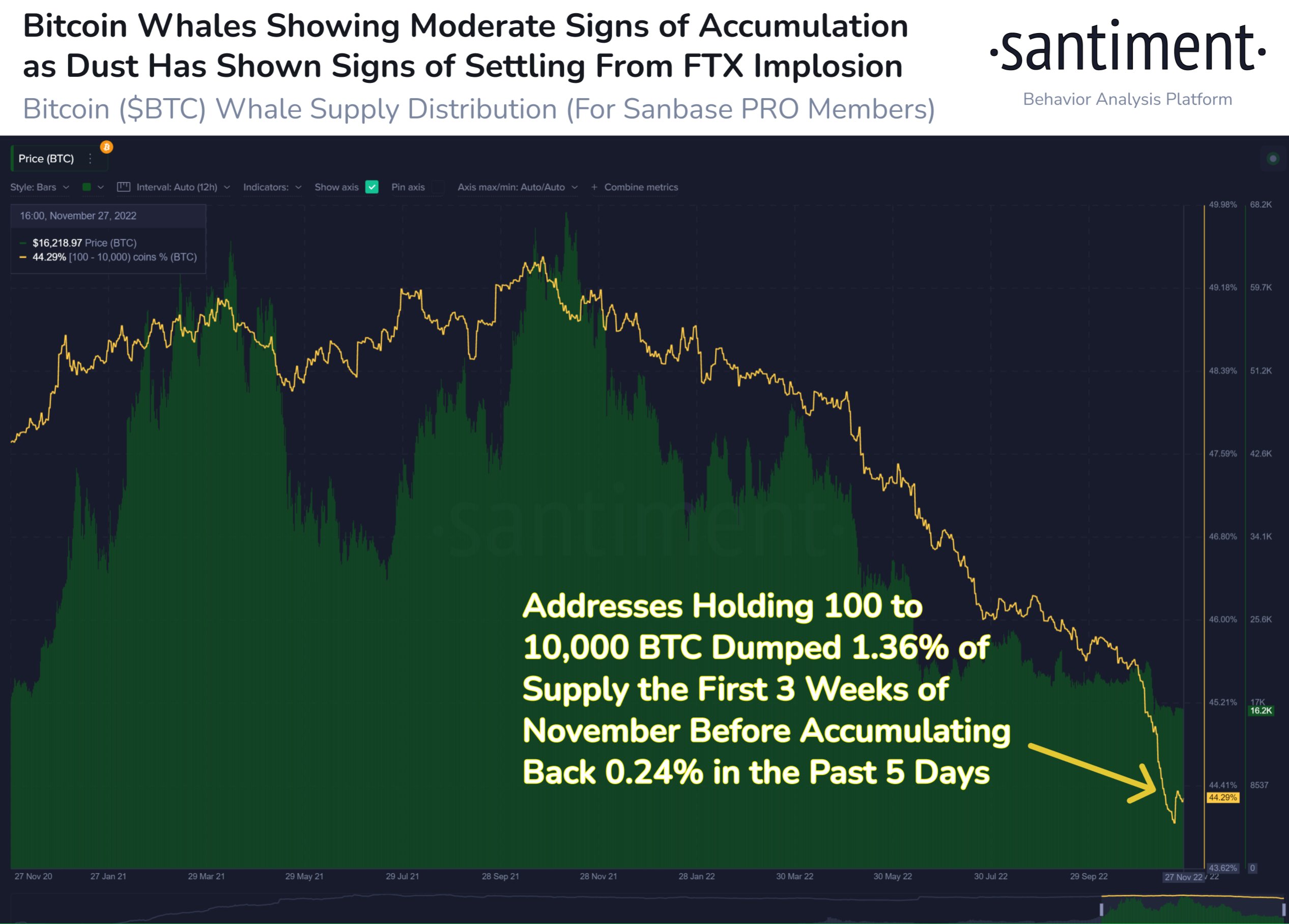 Ether was recently changing hands at about $1,175, up 1.3% from Sunday at the same time. Ether's price fell roughly 3% earlier in the day after a "whale" address moved 73,224 ETH, worth $85.7 million, to Binance during Asia trading hours, according to an analysis by on-chain researcher Lookonchain. Investors typically transfer coins to centralized exchanges when they intend to sell or use them as a margin in derivatives trading.
"Dogecoin pumps have often been a reliable reflection of crowd euphoria. When altcoin hype peaks, DOGE is commonly in the forefront. As this chart illustrates, major spikes in the meme coin can be useful to foreshadow upcoming Bitcoin drops", Santiment reported.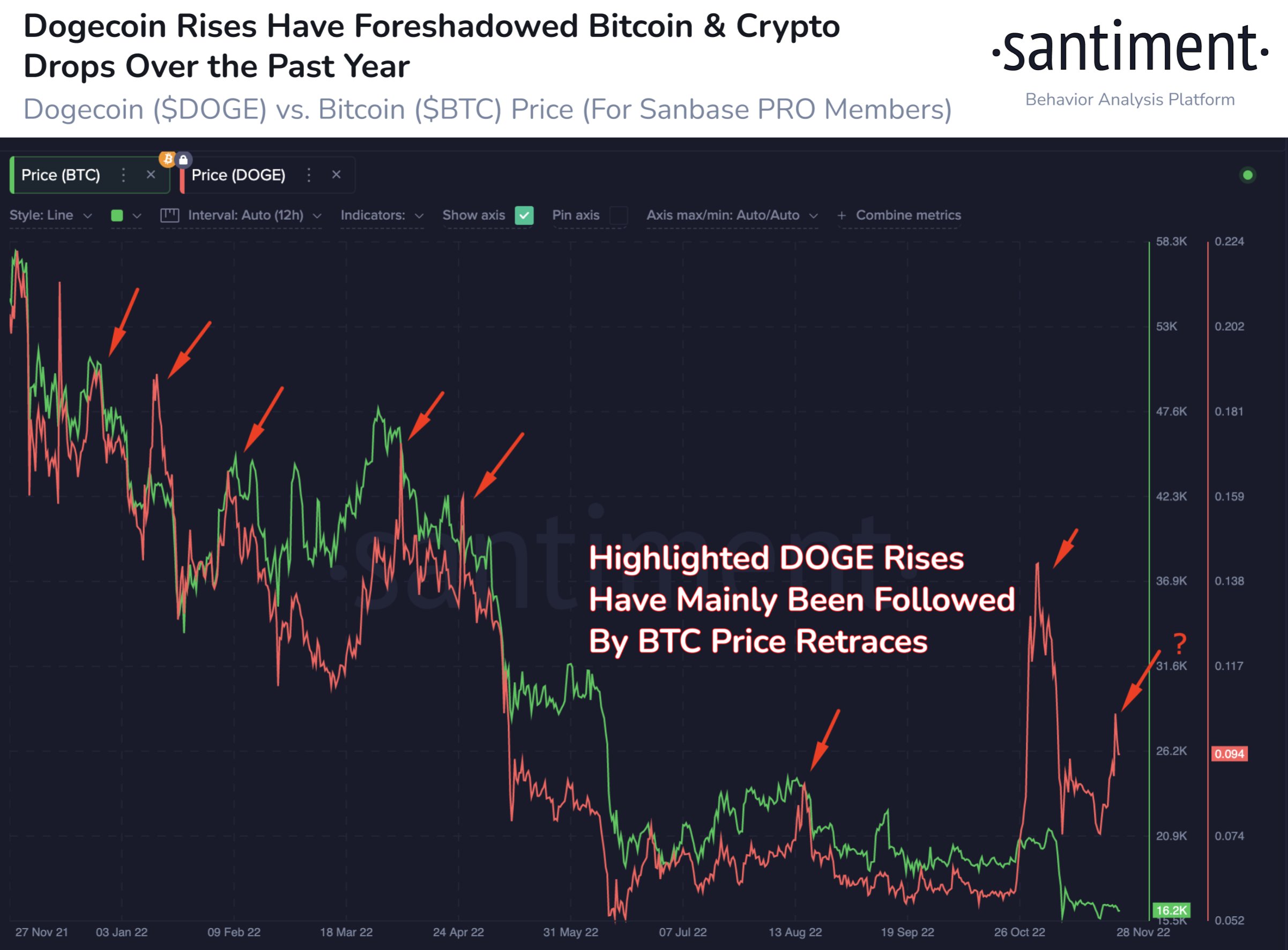 Most other cryptos were recently trading in the green, with popular meme coin DOGE up more than 5%, continuing an almost week-long surge whose spark remains unclear. DOGE alternative SHIB was up about 3%. The CoinDesk Market Index (CDI), an index measuring cryptos' performance, was roughly flat.
"Markets have mostly been favoring #altcoins over the past week, with many returning double digit positive return percentages. This has been enough to get traders excited for a #crypto turnaround. Euphoric sentiment has surged to a 3-month high", Santiment reported.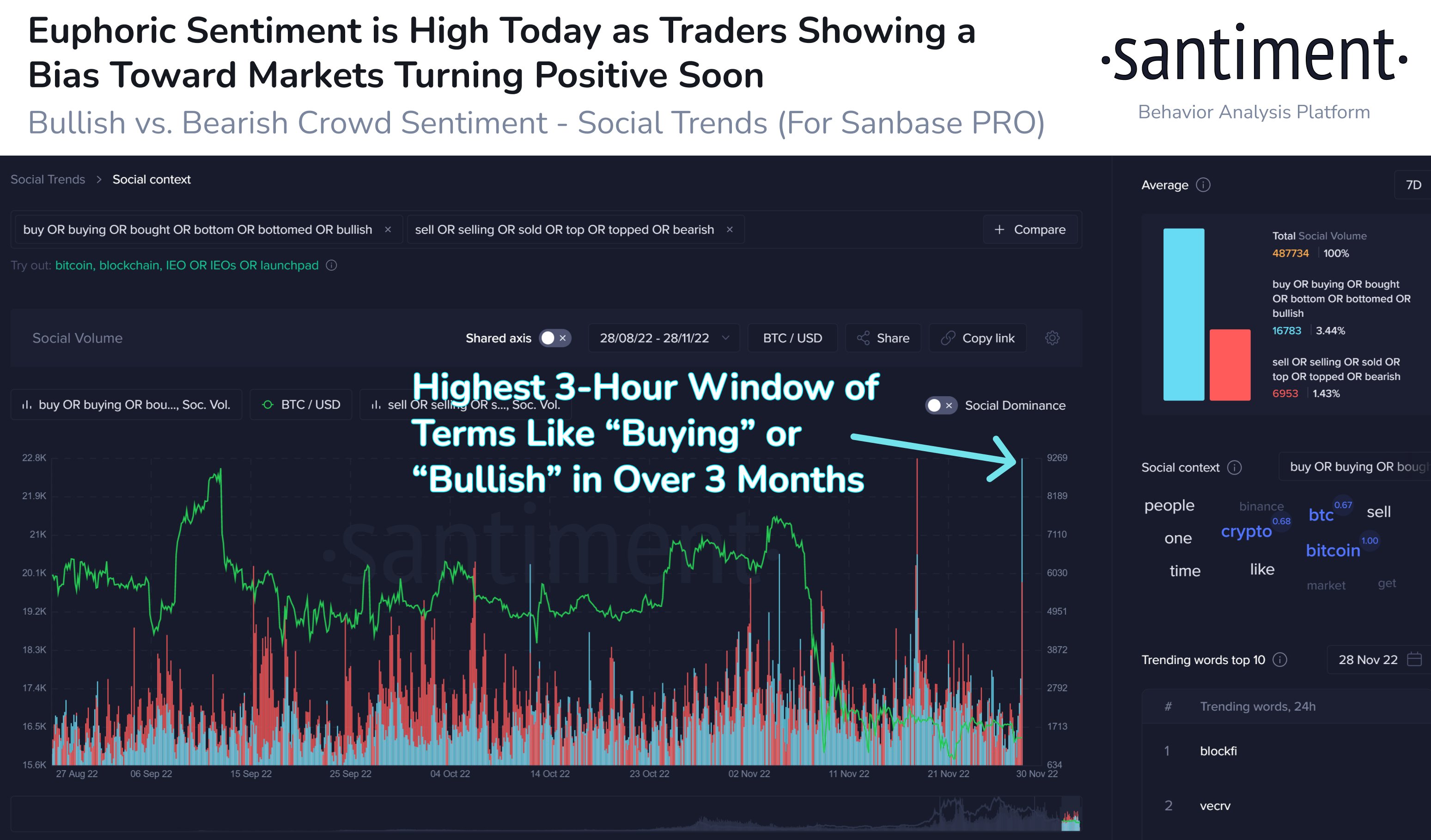 The protests across universities and at least eight cities in China erupted on Friday following a fire that claimed the lives of at least 10 people in an apartment building in Urumqi in the north-western region of Xinjiang. Many people were reportedly locked inside their homes due to China's zero-covid policy and unable to escape. China's police came out in force on Monday to try and prevent further protests, erecting barriers in cities where demonstrations were held and arresting people.
The Fed has been raising interest rates since March this year to try to slow inflation, raising them from near zero to a 15-year high of 3.75% to 4%, and have signaled that rates may end up exceeding 5%. The Fed has signaled that it will continue to raise rates until inflation reaches a target range of 2%. The consumer price index showed inflation was running at 7.7% in October, down from 8.2% in September.
Read more: