Bitcoin price is oversold and could see a short-term relief bounce
Bitcoin price experienced a sharp decline toward $25,402 yesterday. The cryptocurrency stabilized later but is still down by 20% over the past week. At the time of writing, BTC is changing hands at $
BTC/USD 4-hour chart | Source: TradingView
Bitcoin price stabilizes as altcoin underperform; expect more volatility
After hitting a new 16-month low earlier in the day, the largest cryptocurrency by market capitalization was recently trading at $29,100, up slightly over the past 24 hours. That was little comfort for investors who have watched it plunge with other digital assets the past few days, swept up with investor fears following the collapse of the terraUSD (UST) stablecoin against its 1:1 dollar peg. Bitcoin was already reeling from wider concerns about high inflation and geopolitical turmoil.
"In case there was any doubt on the seriousness of Tether losing its $1 peg, key whale addresses have dumped a total of $710M in $USDT today. This is the largest one-day dump from 100k to 10M $USDT addresses in crypto's largest stablecoin's history", Santiment reported.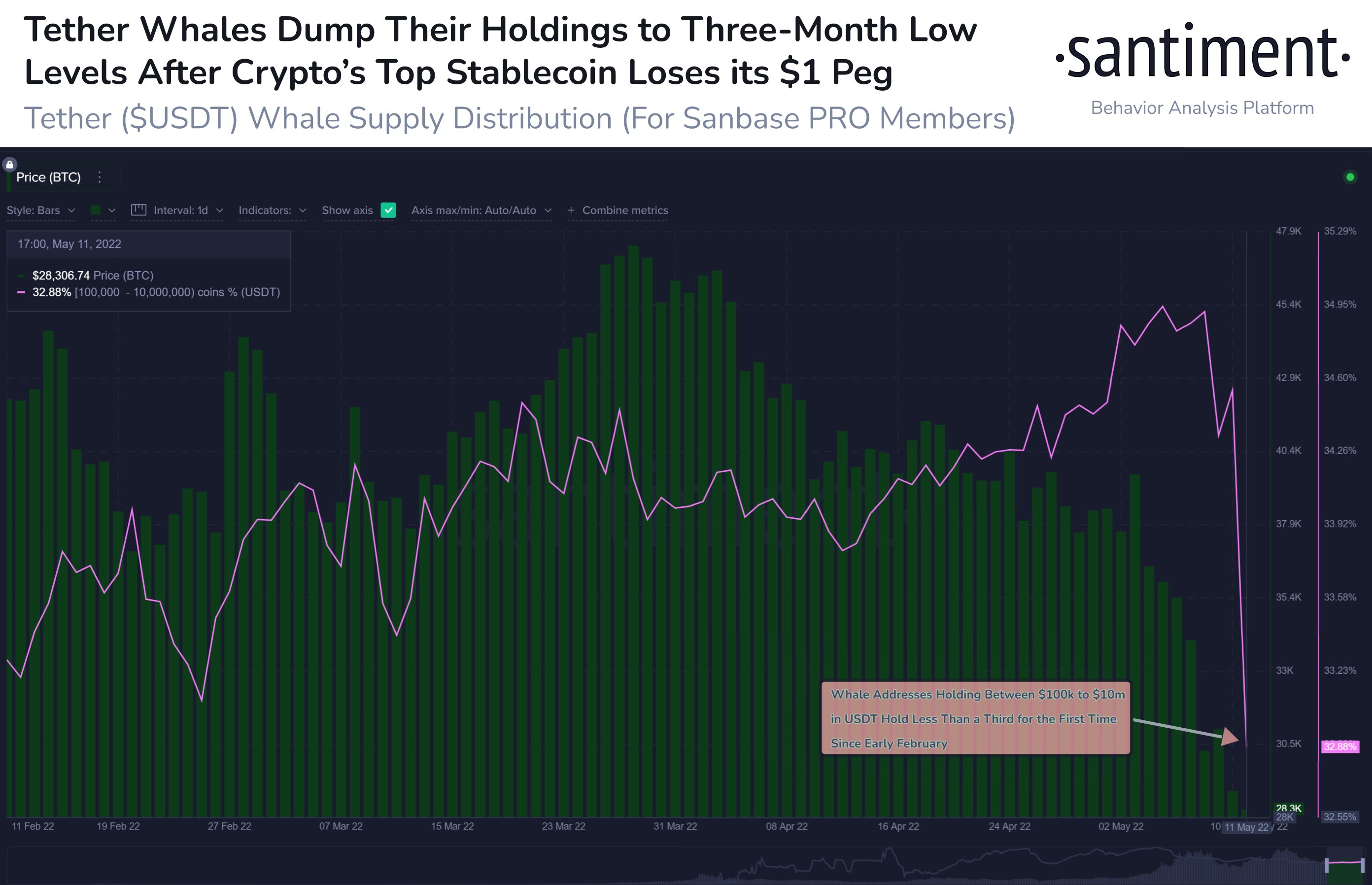 Bitcoin appears to be oversold on the charts, which typically precedes a short-term upswing. The cryptocurrency declined to $25,400 before quickly recovering above the $27,000 support level. The Relative Strength Index (RSI) on the daily chart is the most oversold since January, which preceded a 30% relief rally. This time, however, negative long-term momentum could cap upside moves around the $35,000 resistance level.
Further, BTC registered a countertrend reversal signal on the daily chart, according to DeMARK indicators. That means selling pressure could wane over the next few days as buyers return from the sidelines. Another daily close above $30,000 would confirm the countertrend signal, although there is a low chance of significant upside from here.
"Bitcoin is hovering just above 28k since dropping to these levels 12 hours ago. The silver lining to this -33% drop the past 3 weeks is that BTC's address activity has remained steady. The divergence between addresses & price is at a 16-month high", Santiment added.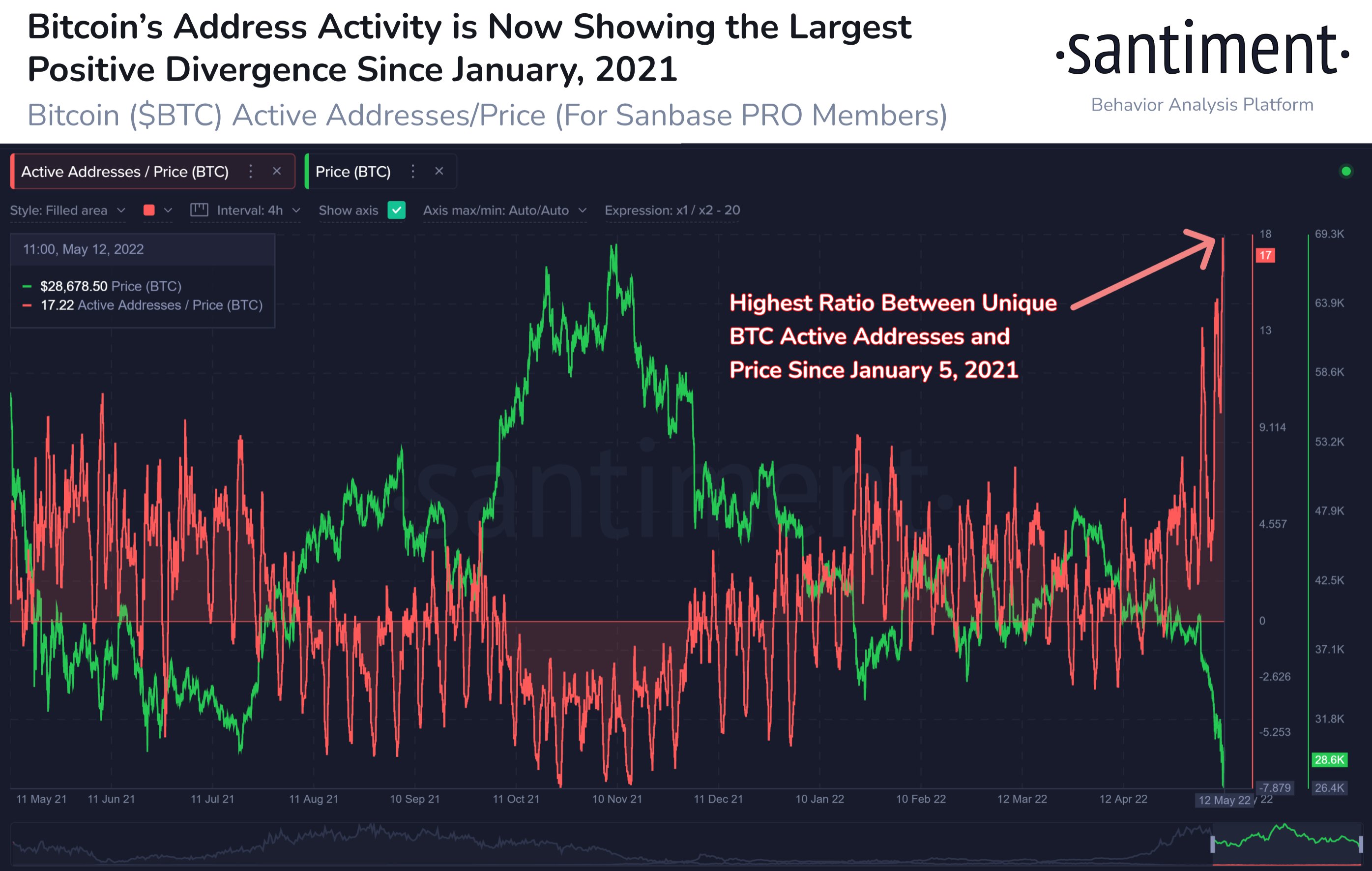 Still, other cryptocurrencies fared far worse, a sign of the risk-off environment that has investors veering away quickly from any asset with a whiff of risk. Ether was trading at about $1,960, off about 5% after dipping under $1,800 earlier in the day; for the first time since last July, it had sunk below $1,800. In a sea of major crypto red, SOL, CRO, ADA, and MATIC were each down roughly 10%. SAND and ATOM were off 14.5% and 9%, respectively.
Meanwhile, LUNA plunged below $0.2, prompting validators to briefly halted the network to implement a patch that would prevent new actors from staking on it, as AZCoin News reported. Just a month ago, LUNA had reached a high of $120. UST was recently trading at about $0.33, down about 54%.
The overall cryptocurrency market cap stands at $1.244 trillion, and Bitcoin's dominance rate is 44.9%.
Read more: