Bitcoin price is off nearly 55% from its November peak, 40% holders now underwater on their investments
At the time of writing, Bitcoin price is changing hands at around $31,000, down nearly 55% from its November peak. It is because of this that 40% of holders are now drowning in their investments.
40% of investors are now underwater as Bitcoin price dropped to $31,000
Glassnode has released a new report, showing that Bitcoin bulls remain under pressure this week, as the price falls back to $33.8k and network profitability drops ~10%. Weakness has appeared across ETF product lines, stablecoin supply shrinks, and investors rush to deposit funds on exchanges, largely in response to falling volatility.
The #Bitcoin market saw and extremely volatile week, with prices trading down to $33.8k, and an additional 10% of the network falling into loss.

We analyse the market reaction across the mempool, exchanges, derivatives and stablecoin supply contractions.https://t.co/WDuzlObVxK

— glassnode (@glassnode) May 9, 2022
As Bitcoin prices trade lower, the bulls remain under serious pressure to establish a floor of support, as network profitability continues to decline. The Bitcoin market is now -49.5% below the November all-time-high.
Whilst this represents a significant drawdown, it remains modest when compared to the ultimate lows of prior Bitcoin bear markets. July 2021 reached a drawdown of -54.2%, and the bear markets of 2015, 2018, and March 2020 capitulated at lows between -77.2% and -85.5% off the ATH.
According to Glassnode, prices would need to fall to around $33.6k to reach a similar pain threshold to previous bear markets, and drop overall profitability to around 60% of the network. All three metrics declined from ~72% to between 60% and 62% in profit. These levels are coincident with profitability seen in the late-2018, and late 2019-20 bear markets. However, it should be noted that both instances were prior to the final capitulation flush out event.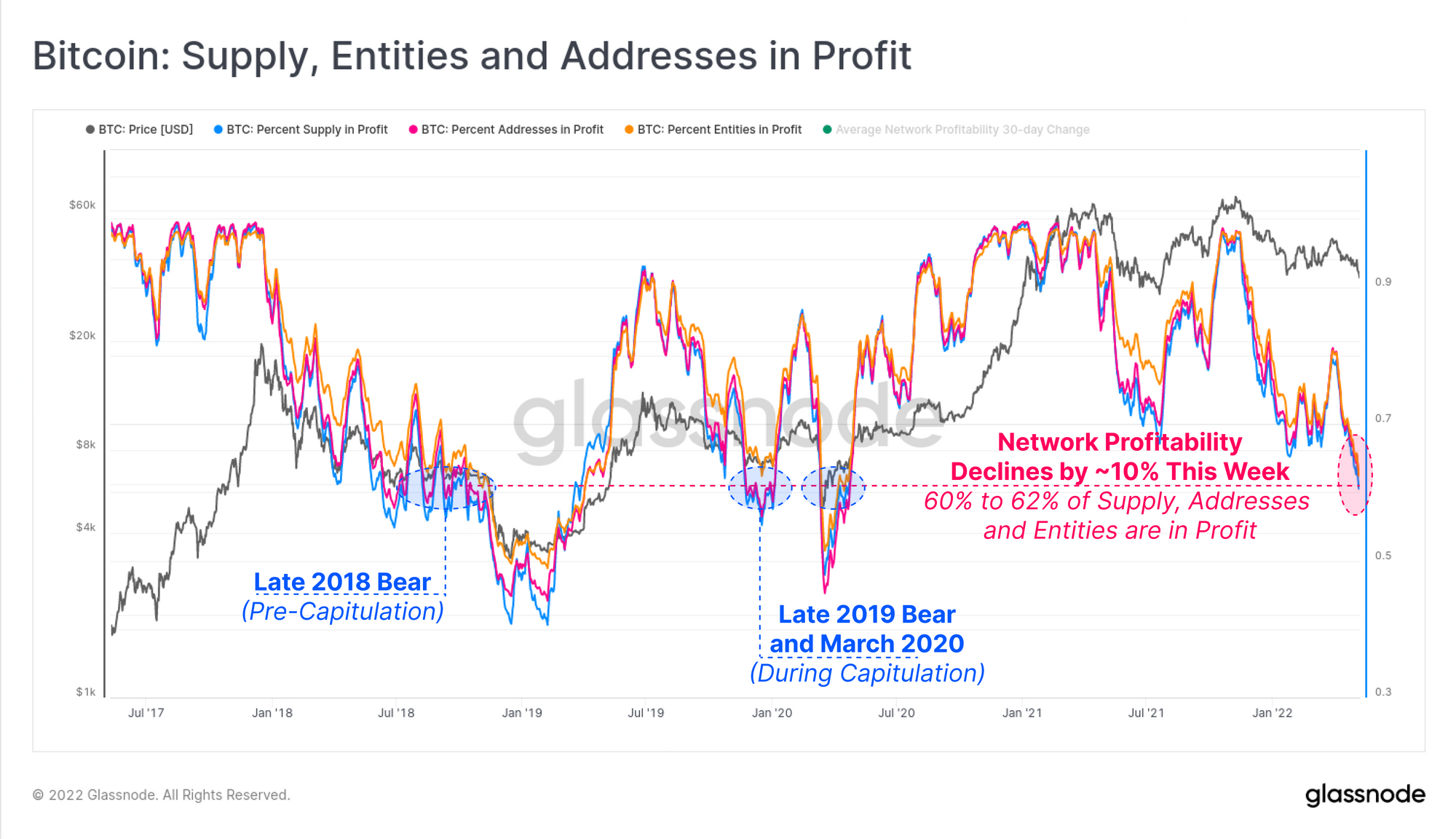 Over the last month, the percent of the Bitcoin network that has fallen into an unrealized loss is 15.5% on average.
"This decline in profitability is the fourth most severe over the last 3-years. This is compared with July, and December 2021, which both saw profitability declines of -18.1% to -19.1%. March 2020 remains the most significant in recent history, with -35.4% of the Bitcoin network falling into the red over just a few days", Santiment reported.
During last week's sell-off, more than $3.15 billion in value was moved into or out of exchanges, the largest amount since the market hit an all-time high in November 2021. According to the report, most of the wallet groups have eased their tendency to accumulate on-chain, referring to both small-scale and large-scale investors. Wallets with a balance of over 10,000 BTC have been a particularly significant distribution force over the past few weeks.
As the Bitcoin market matures, and more institutional capital enters the space, it has become increasingly apparent that the market responds to macroeconomic shocks and tighter monetary conditions. Wider markets responded in a volatile manner to the Federal Reserve's announcement of further rate hikes, which whilst expected, does confirm increasingly tight liquidity across markets.
Bitcoin remains highly correlated to the broader economic conditions, which suggests the road ahead may, unfortunately, be a rocky one, at least for the time being.
Read more: