Bitcoin price increased slightly today and the market also recorded the majority of coins increasing in price
Bitcoin price unexpectedly increased by 1.7% in the past 24 hours, causing a series of large-cap altcoins to surge, pushing the entire market capitalization to more than $836 billion. At the time of writing, BTC is changing hands at $16,883.
BTC/USD 4-hour chart | Source: TradingView
Bitcoin price today: Bitcoin is up 1.7%, the green market again
Bitcoin price increased to $ 16,481, creating growth momentum for a series of smaller-cap virtual currencies, helping the market to be filled with green. Many professional crypto analysts believe that the downtrend of Bitcoin and altcoins is ending. This means that the price of cryptocurrencies will enter a new bull cycle. According to an analyst nicknamed Dave the Wave, Bitcoin price is currently at the bottom of the logarithmic growth curve (LGC), which is at a critical support level and could rally again.
"Bitcoin's social dominance remains low, as traders are seemingly disinterested in crypto's top 1 while altcoins have had more movement these past couple weeks. One of the primary ingredients for ALL prices to surge is a high BTC social dominance", Santiment reported.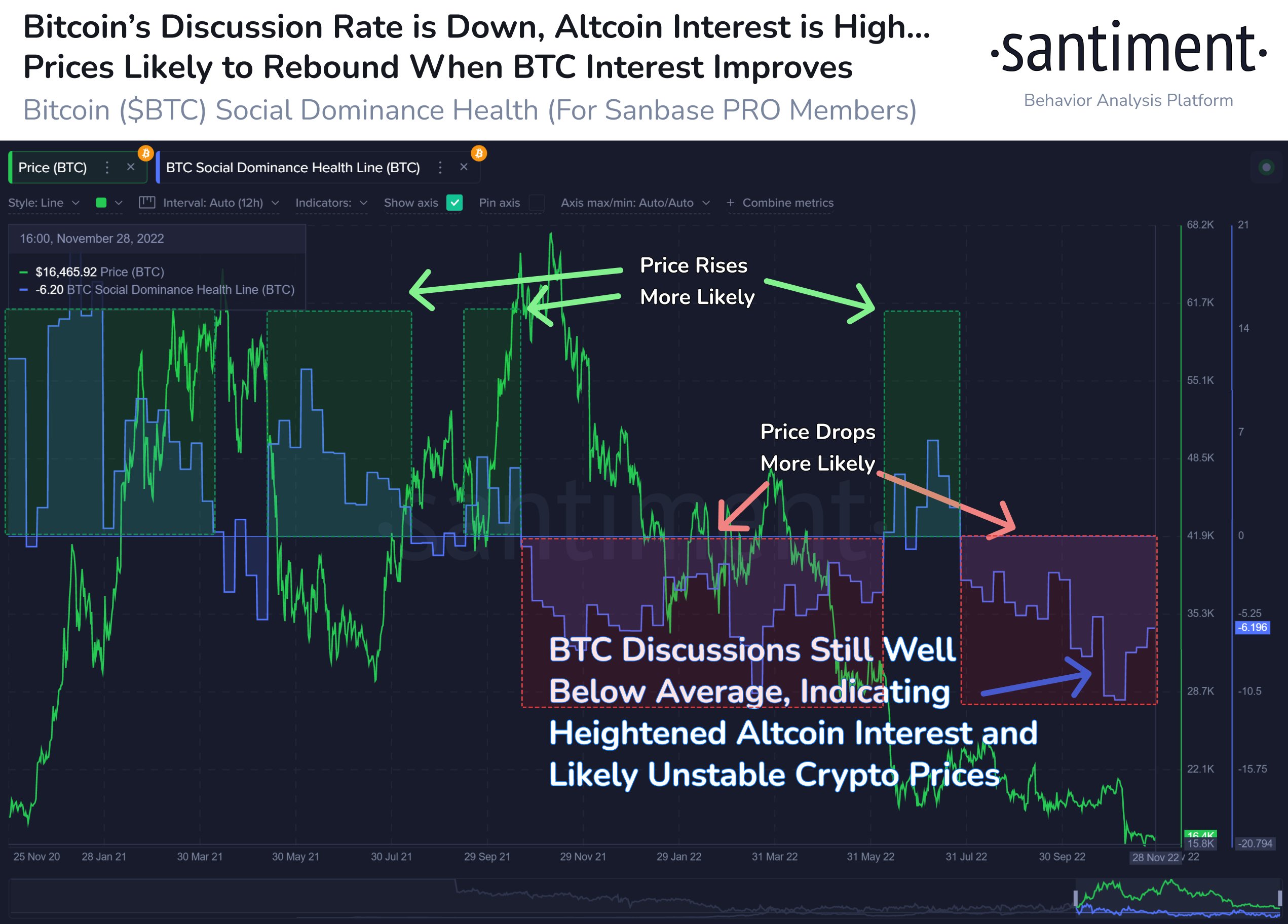 However, this may be premature optimism because, following the market movements in recent days, it can be seen that Bitcoin, in particular, and the crypto market in general, are "bogged down" by a series of bad news. Since the FTX crisis, investors have less and less prioritized storing assets on exchanges. Most investors who own one or more Bitcoins prefer to withdraw to their personal vaults and merge wallets.
Huobi Global's HT token jumped after the cryptocurrency exchange said it would airdrop a new digital token to be issued by the Caribbean island nation of Dominica. Huobi said the new "Dominica coin," or DMC, will be issued "in due time" on Huobi Prime, the exchange's exclusive token offering platform. According to a statement, users can complete their identity verification on Huobi with Dominica digital identification documents. The HT token was up 15% over the last 24 hours to $7.12 at the time of publication. It's up 40% over the past seven days.
The deal is noteworthy partly because of its connections to crypto billionaire Justin Sun. The Dominica tokens are set to be launched on Sun's Tron blockchain, and Sun recently acknowledged holding "tens of millions" of HT. Last month, Huobi named Sun the first member of a new global advisory board responsible for guiding the exchange's strategic layout and development.
Read more: