Bitcoin price holds on above $20,000; ether climbs
Bitcoin rested above $20,000 for a third consecutive day. The largest cryptocurrency by market capitalization was recently trading at about $20,600, up better than a percentage point. At the time of writing, the Bitcoin price is changing hands at $20,459.
BTC/USD 4-hour chart | Source: TradingView
Bitcoin price settles at $20,000 as Voyager files for bankruptcy
Bitcoin had plunged below the psychologically important barrier last week before a late weekend rally. Many analysts have adopted a clear-eyed view of the current crypto climate that has suffered the dual body blows of protocol fiascos and macroeconomic uncertainty. They do not see prices rising any time soon, barring an unexpected turn for the better in the ongoing battle with inflation.
"The average trader over the past 30 days has rebounded to a -3.5% return for BTC, +1.9% for ETH, +4.0% for BNB, and -2.9% for ADA. Generally, there is less risk being invested in assets where trader returns are still in the negative", Santiment reported.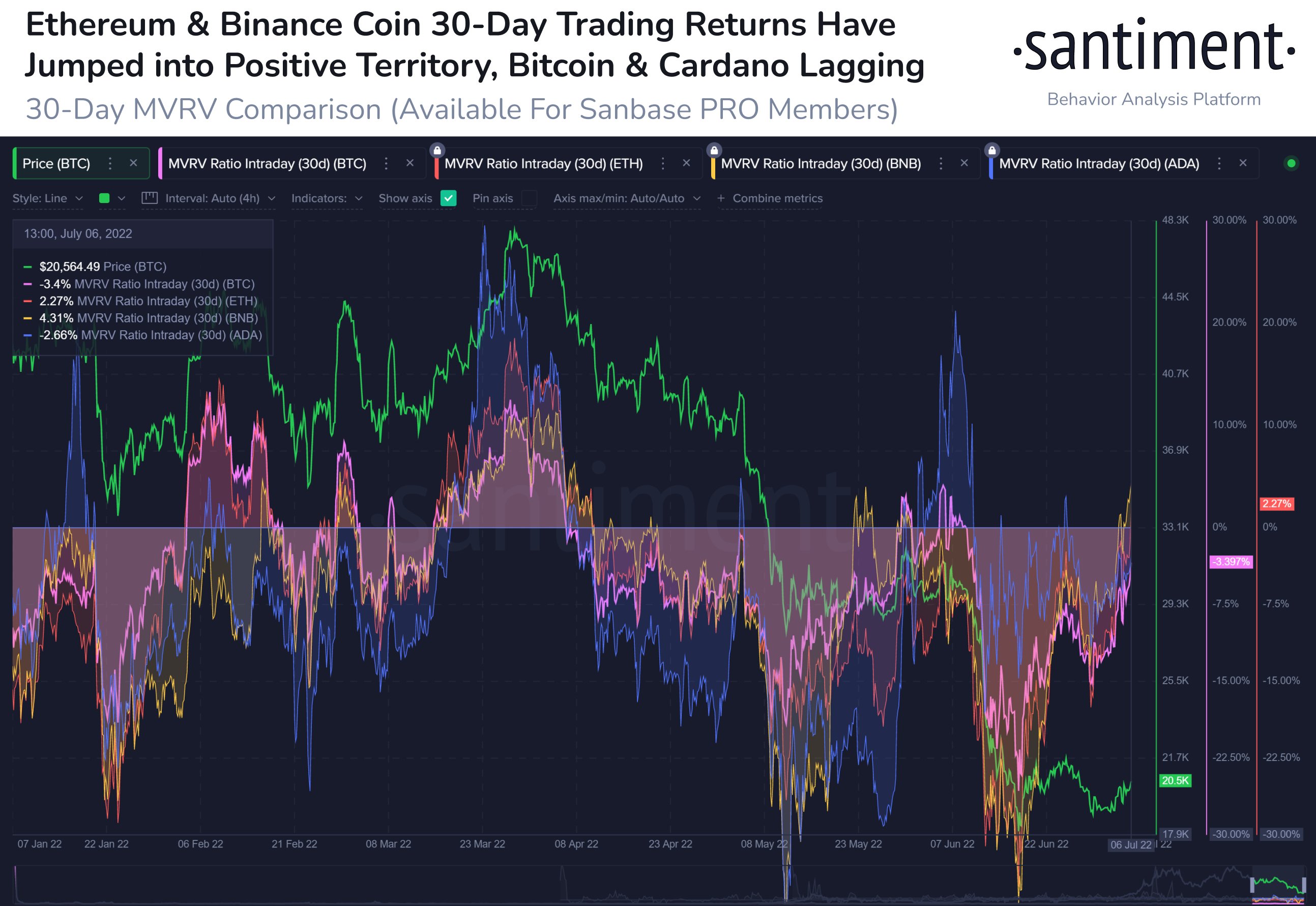 BTC leveled off to around $20,000, down 1% from its high of $20,720 the previous day. The oldest cryptocurrency has changed hands largely in the $18,000 to $21,000 range for most of the past month as investors gauge the impact of rising inflation and macroeconomic uncertainty.
The majority of altcoins were in the green with Avalanche's AVAX leading the charts, up 5.5% in the last 24 hours. Ether, the second-largest crypto by market cap, was recently trading at roughly $1,190, up more than 5%. Other major cryptos also traded slightly higher with STORJ rising nearly 6% at one point and RUNE climbing more than 5%. Troubled crypto lenders CEL token dropped over 8%.
Today's positive crypto market movements were overshadowed by crypto lender Voyager's filing for Chapter 11 bankruptcy protection late Tuesday. Voyager's decision is part of the domino effect of crypto hedge fund Three Arrows Capital's liquidity problems. The Singapore-based firm filed for Chapter 15 bankruptcy on Friday. In Voyager's case, according to writer Frances Coppola, nearly 50% of total assets were from its loan book and nearly 60% of the loan book consisted of loans to Three Arrows Capital.
Crypto companies – and lenders in particular – have faced solvency issues in recent weeks, with several stopping customers from withdrawing their funds. Celsius started this trend last month, announcing in mid-June that it would suspend withdrawals. CoinLoan, CoinFLEX, and Voyager itself all announced restrictions or outright halts on withdrawals in recent days, Nikhilesh De and Danny Nelson reported Wednesday. Voyager's VGX token plummeted to a low of 20 cents within hours of filing for bankruptcy and is now trading at around $0.21, 12% down in the last 24 hours.
Read more: