Bitcoin price holds above $20,000; altcoins are mixed
Bitcoin price recently traded just above $20,100, roughly flat for the past 24 hours. The largest cryptocurrency by market capitalization reclaimed its perch above the $20,000 threshold. At the time of writing, BTC is changing hands at $20,507.
BTC/USD 4-hour chart | Source: TradingView
Bitcoin price remains above $20,000
A couple of Monday midday dips notwithstanding, bitcoin clung stubbornly to the perch above $20,000 it reassumed during the weekend. The largest cryptocurrency by market capitalization was recently trading at about $20,400, roughly flat over the past 24 hours. Bitcoin had surged on Sunday after a pause in the ongoing flood of bad economic, geopolitical, and industry news that plagued all digital assets, although markets remain unsettled.
"Bitcoin's plummet to $17.7k this weekend brought out the most discussion related to the top 1 market cap asset in 2022. We often see major price reversals correlate precisely with high social volume rates, and BTC has jumped +15.8% since", Santiment reported.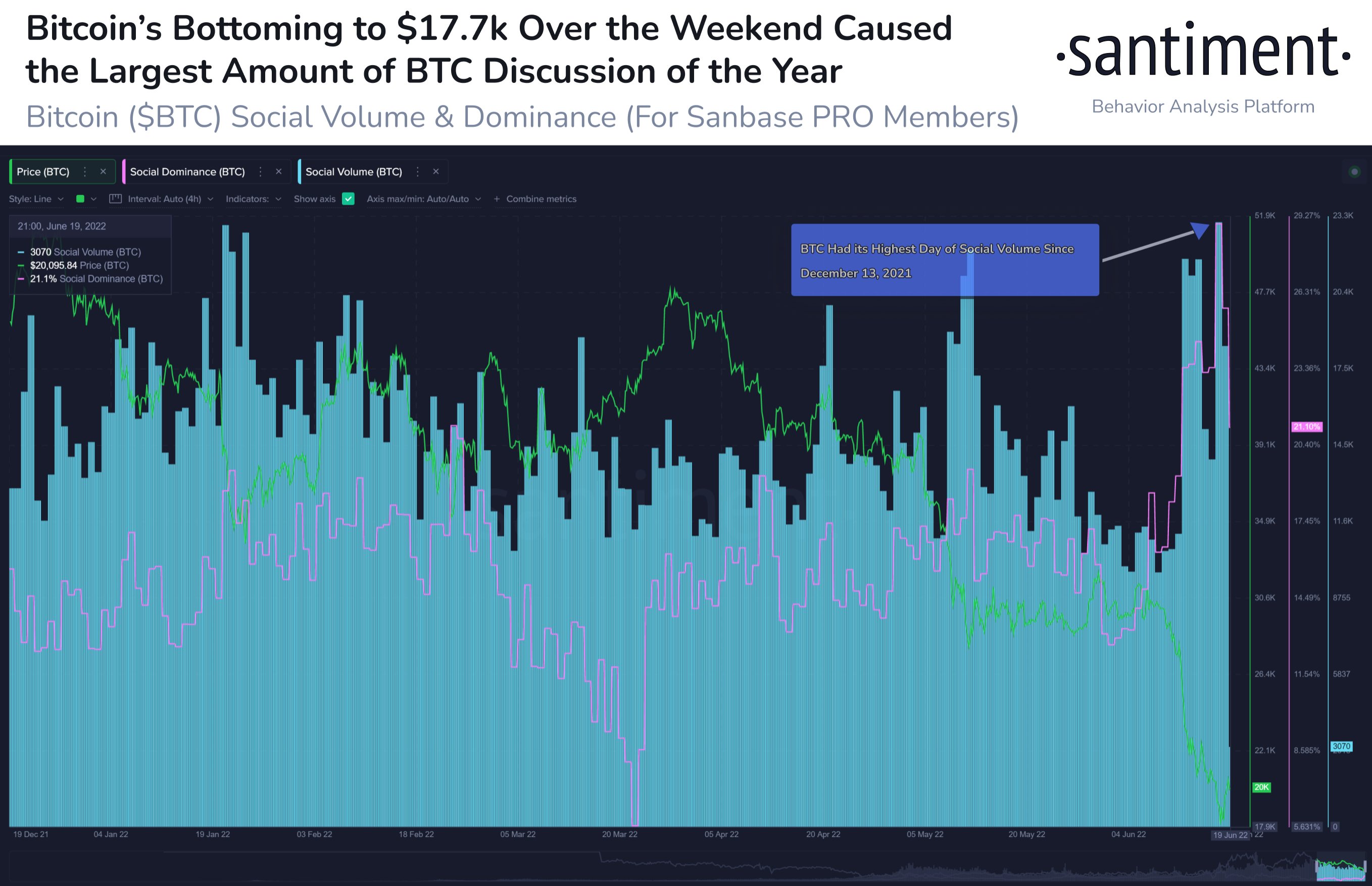 Ether (ETH), the second-largest crypto by market cap, recently traded for just over $1,100, a slight increase over the same period.
"Ethereum is back up to $1,130 after sitting as low as $895 just over 50 hours ago. Are you more bullish or bearish on ETH's short-term price outlook after the mild recovery?", Santiment reported.
Most other major cryptos were in the green amid light trading. Altcoins were mixed with FTT up over 9% at one point but XLM and XRP slightly down. DOGE rose earlier in the day after Tesla founder Elon Musk tweeted that he would "Keep supporting Dogecoin", as AZCoin News reported, but was in the red by the afternoon.
Cryptos received a sliver of good news when the CEO of Hong Kong-based cryptocurrency exchange Hoo.com tweeted early Monday that his company would open withdrawals for some tokens after announcing in a blog post that it would be delaying withdrawals for 24 to 72 hours. Still, the mood about crypto was downbeat.
The overall cryptocurrency market cap stands at $902 trillion, and Bitcoin's dominance rate is 43.3%.
Read more: