Bitcoin price hits its lowest point since December 2020 amid UST's implosion
Bitcoin price fell to $27,700 at a new 16-month low before regaining some ground, but it was still part of a mass sell-off of digital assets triggered by terraUSD (UST) stablecoin implosion against its 1:1 dollar peg. At the time of writing, BTC is changing hands at $28,902.
BTC/USD 4-hour chart | Source: TradingView
Bitcoin price at 16-month low as UST collapse shows risks of 'Algo' stablecoins
The largest cryptocurrency by market capitalization was recently trading at $28,500, down about 7%, although it fared better than most other major cryptos, underscoring its status as a less risky option during tumultuous times for the wider digital assets market.
"The amount of unique Bitcoin moving between addresses on a daily basis has climbed above 300k this week. We haven't seen this level of activity on the BTC network since February. Bulls and bears are the most polarized we've seen in quite some time", Santiment reported.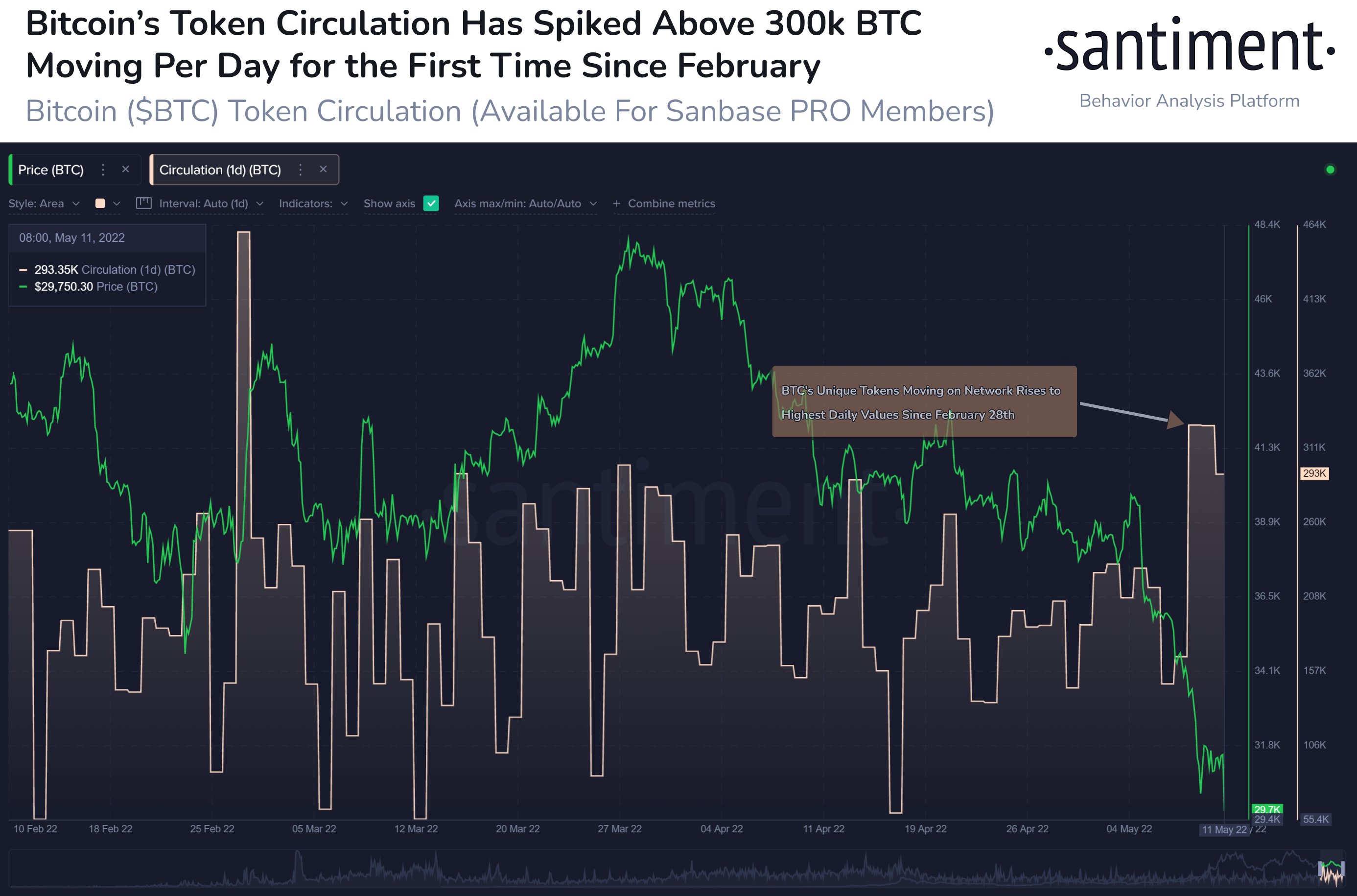 Bitcoin is down by 5% over the past 24 hours and is trading at the bottom of a year-long price range. The cryptocurrency could find support between $27,000 and $30,000, although negative momentum signals point to additional breakdowns. The Relative Strength Index (RSI) on the daily chart is deeply oversold, similar to what occurred on Jan. 24 of this year and May 20 of last year. Still, in a downtrend, oversold conditions can persist for a few weeks before an upswing in price occurs.
On the weekly chart, the RSI is the most oversold since March 2020, which preceded a strong rally. This time, however, long-term momentum has deteriorated, suggesting limited upside beyond the upper $40,000-$45,000 resistance zone. For now, a relief rally could be brief, especially given the strong break below $35,000 last week.
The second-largest crypto by market cap, Ether, was also off, declining approximately 11% over the same period to roughly $2,050. The charts were darker red and included AVAX, SOL, and SAND, which recently dropped 36%, 33%, and 31%, respectively. Popular meme coins SHIB and DOGE tumbled about 29% and 26%, respectively.
"Ethereum has fallen to $2,230, and this mild dip has once again caused an uptick in trader engagement. Gas usage has hit an 11-day high, and transaction volume tends to increase at prices below $2,300. The last gas rise marked a short-term bottom", Santiment added.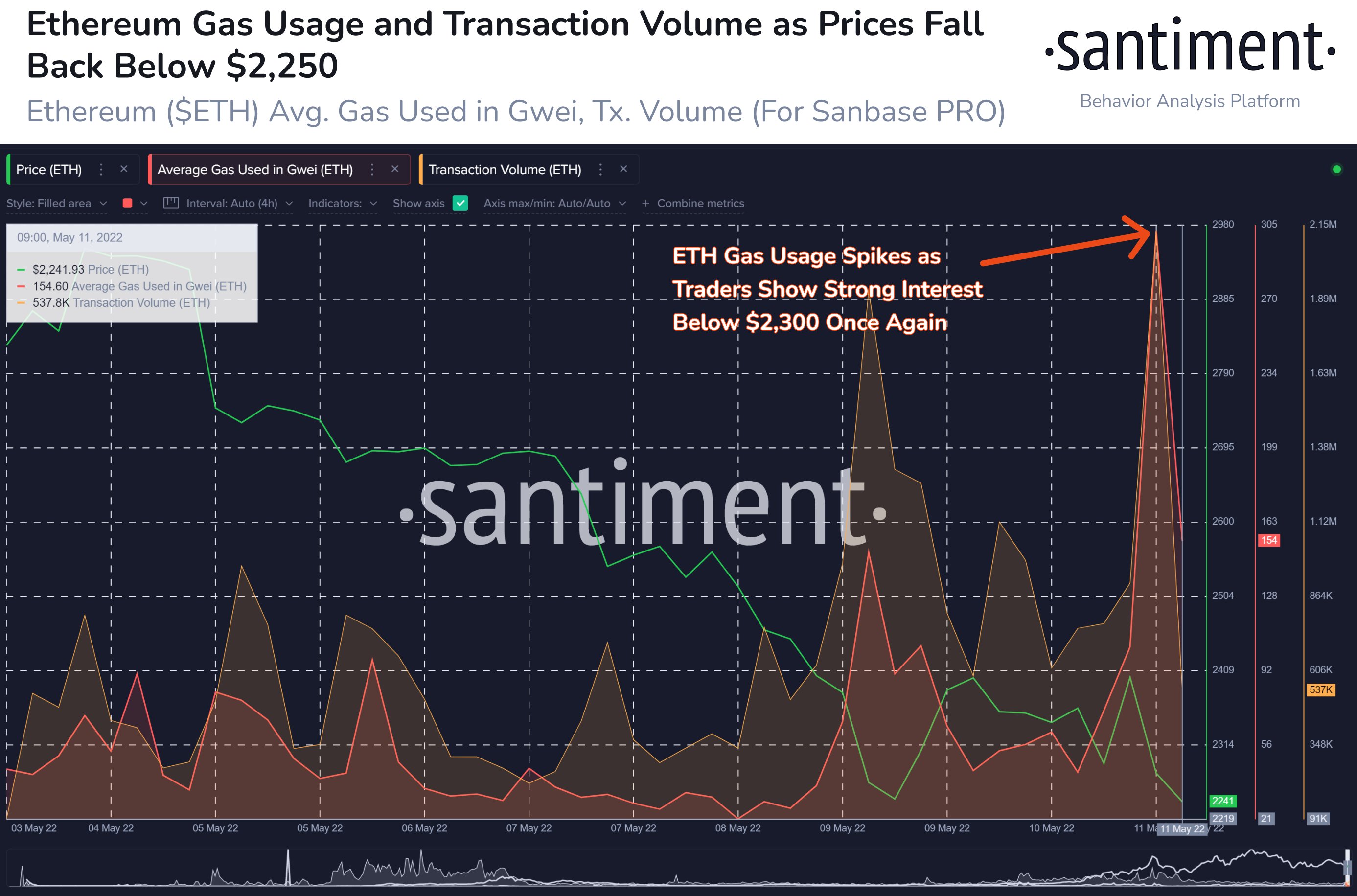 Terra (LUNA), which was created as a buffer against UST stablecoin, plunged 96% at one point after the Luna Foundation Guard, the non-profit established to support the Terra network, moved its reserves to bitcoin exchanges to defend the dollar peg. UST dropped as low as 23 cents before recovering to 77 cents later. Stable it wasn't.
The crypto market's shrinking market cap that is. Down 12% over the course of just the past 24 hours, it now sits at $1.24 trillion, its lowest point this year. The overall cryptocurrency market cap stands at $1.283 trillion, and Bitcoin's dominance rate is 43.8%.
Read more: