Bitcoin price has fallen for four straight days, but as market volatility ebbs, price slide doesn't look like much to worry about
Bitcoin price has fallen for four straight days, but the smallish scope of the price decline offers a reminder of how listless digital-asset markets have suddenly become. Declining volatility in the cryptocurrency's price shows how far digital-asset markets have come since the nervy days of mid-June. At the time of writing, BTC is changing hands at $23,024.
BTC/USD 4-hour chart | Source: TradingView
Bitcoin Price Starts the Month in Negative Territory
Bitcoin started the week with a drop of 3% on lower-than-average volume. The cryptocurrency is down 51% year to date. The coin's dominance, a metric that measures the market cap of BTC relative to the rest of the cryptocurrency market, sits at 42%, compared with 40% on Jan. 1 and 41.8% on April 1.
"Bitcoin jumped +18% in July after Santiment feed's NVT model's growing bullish divergence in May & June finally saw a price bounce come to fruition. With a neutral signal now as prices have risen and token circulation has declined slightly, August can move in either direction", Santiment reported.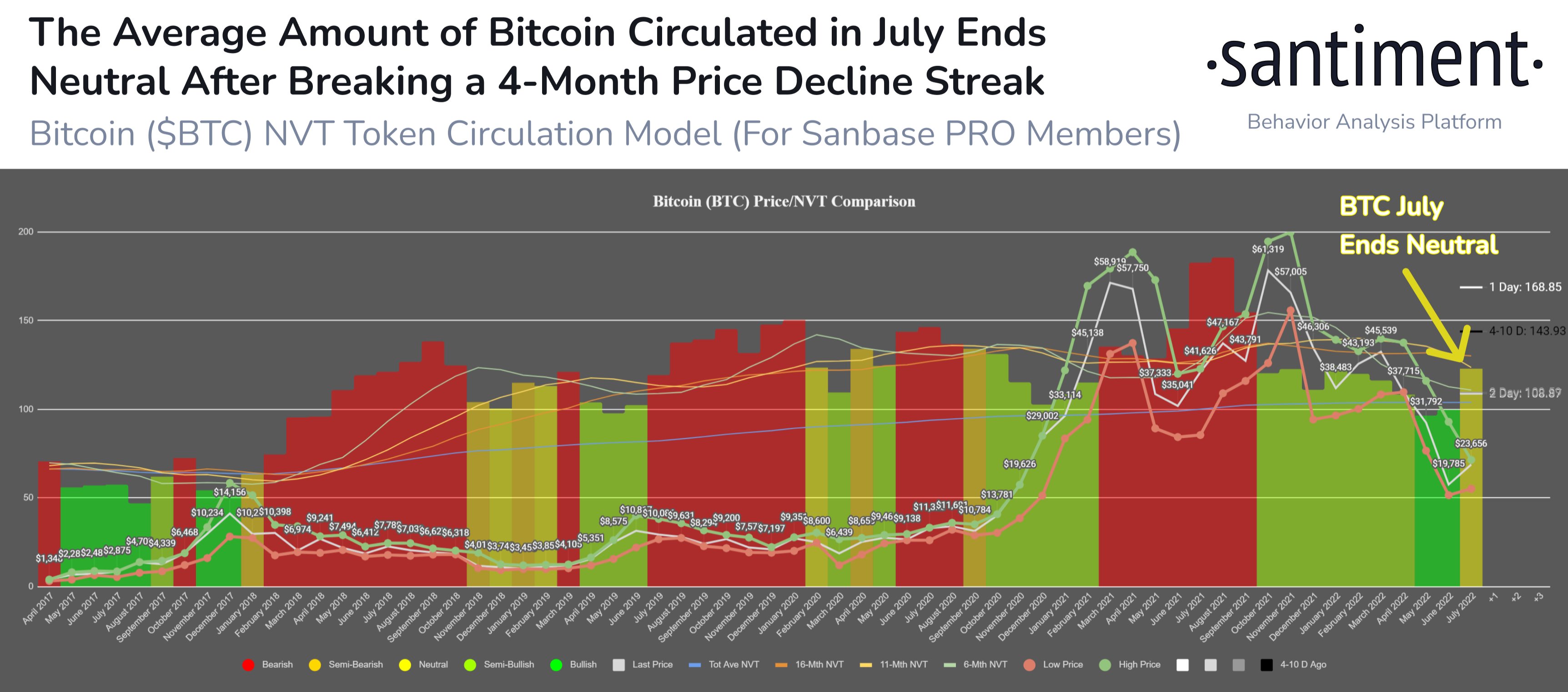 Bitcoin was lower for a fourth straight day, but there wasn't much to panic about because the price drops have been pretty modest by the standards of usually-volatile cryptocurrency markets: Over the four-day slide, the cumulative price drop is less than 4%. That's pretty harmless for an asset whose price has been known to fall 16% in a single day.
The listlessness might be a sign that the Northern Hemisphere is entering the dog days of summer, during a (largely) post-pandemic stretch when many people really are taking vacations for the first time in years. Or it might be a sign of just how little there is in the way of any firm direction in markets, torn between the angst of wondering if the U.S. economy meets the definition of a recession and if the Federal Reserve must still keep ratcheting monetary policy tighter to wring out inflation trending at its fastest in four decades. The trading volume is light.
Ether's (ETH) price declined 4.5% on Monday, following a 9% increase last week. Ether has overtaken industry leader bitcoin in the options market for the first time on record. The put-call ratio has dipped to a yearly low, indicating bullish momentum. Altcoins fell on Monday, as well, with Polkadot (DOT) down 8.5% and Cosmos (ATOM) down 7%.
Chiliz has acquired a 24.5% stake in Barca Studios, the Spanish soccer giant's digital-content creation arm. Chiliz's CHZ token is up 10% over the past 24 hours. The overall cryptocurrency market cap stands at $1,068 trillion, and Bitcoin's dominance rate is 41.3%.
Read more: