Bitcoin price gains ground hovering just above $20,000
On a day of fireworks and bombast in the U.S., crypto had a little to celebrate as well. Bitcoin crept back over the $20,000 threshold that has been a psychological observation point since the start of the summer for investors gauging the length of the current bear market. At the time of writing, the Bitcoin price is changing hands at $20,246.
BTC/USD 4-hour chart | Source: TradingView
Bitcoin price gains ground but lingers under $20,000
The largest cryptocurrency by market capitalization was recently trading at about $20,300, up 5% over the past 24 hours. Bitcoin plummeted below $19,000 at one point last week before regaining ground during a Friday rally.
The crypto Fear & Greed Index remained wedged in extreme fear territory as the industry absorbed its latest body blows, and analysts remained downcast about prices for at least the near-term, short of convincing evidence that inflation is under control and the global economy will not fall into recession. Bitcoin and ether are off more than 5% and 6% from their highs early last week, and most other cryptos are also well in the red over the same period.
Ether rose even more in Monday trading along with several other major altcoins as investors seemed more receptive to risk. The second-largest cryptocurrency by market cap was changing hands at more than $1,150, a nearly 8% gain over the previous day.
"Ethereum's price has rebounded mildly to ~$1,120 on America's birthday. This said, ETH continues to move rapidly back onto exchanges and is close to breaking 2022 highs. There is a higher risk of a selloff while coins are rising on exchange wallets", Santiment reported.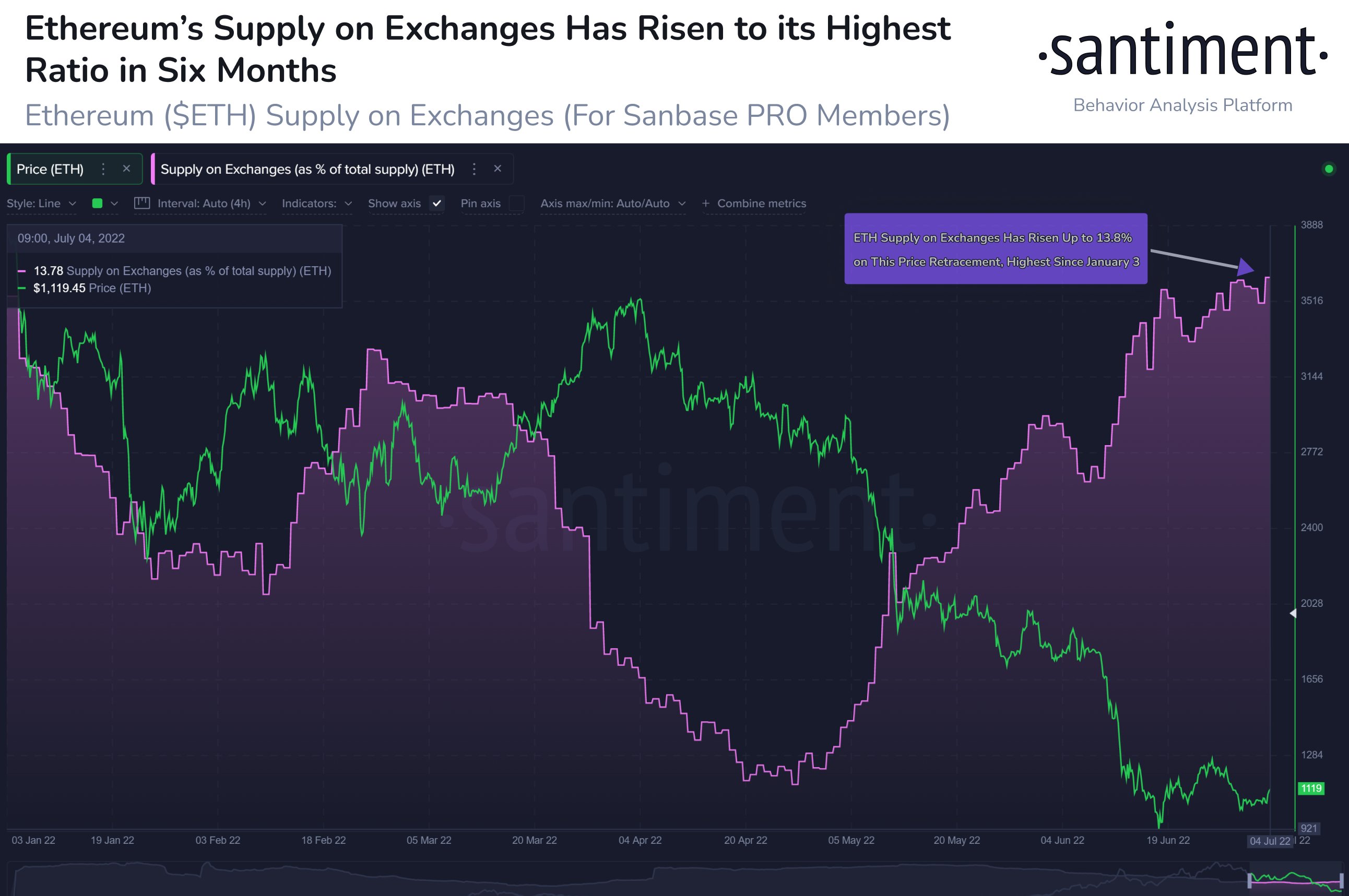 Among other major cryptos, SOL and SAND jumped more than 9% and 8%, respectively. The overall cryptocurrency market cap stands at $911 trillion, and Bitcoin's dominance rate is 42.4%.
Read more: