Bitcoin price finally fell below $20,000, trading around $18,000
Bitcoin finally dropped below $20,000. An hour later, Ethereum followed it and dropped below $1,000. Those numbers are seen as the dreaded key support for the top two coins by market capitalization. At the time of writing, the Bitcoin price is changing hands at $18,353.
BTC/USD 4-hour chart | Source: TradingView
Crypto market tumbles as Bitcoin price breaks previous cycle's highs
But by 5:15 a.m. EST, the two began slowly climbing back again, seemingly to avoid the immediate slide many were anticipating if $20,000 and $1,000 were to break. Some may have hoped $18,979 and $987 would be the lows of this crash.
No such luck: things took a turn for the worse around midday. Bitcoin and Ethereum have dropped another significant step, with BTC going down to $17,772 by 4:30 p.m. EST on CoinMarketCap and ETH to $898 by 4:15 p.m. The current crypto winter differs from 2018 in that cryptocurrencies are rising alongside tech stocks as the broader economy looks shaky, inflation soars, and a full-blown recession looks imminent.
As crypto-fans look for a bottom (and some wait to buy back), things could get much worse before they get better. The carnage has been highlighted by crypto company failures or alarms about insolvency, from freezing withdrawals in degrees Celsius to Babel Finance doing the same to investors withdrawing from Three Arrows Capital. Grayscale's GBTC trades at an all-time discount to Bitcoin's spot price.
"Bitcoin's supply on exchanges has dropped rapidly. After an uptick of panic sells in early May, this is indicative of hodlers who stuck with BTC through this downfall being content with volatile markets at this point, and willing to ride it out", Santiment reported.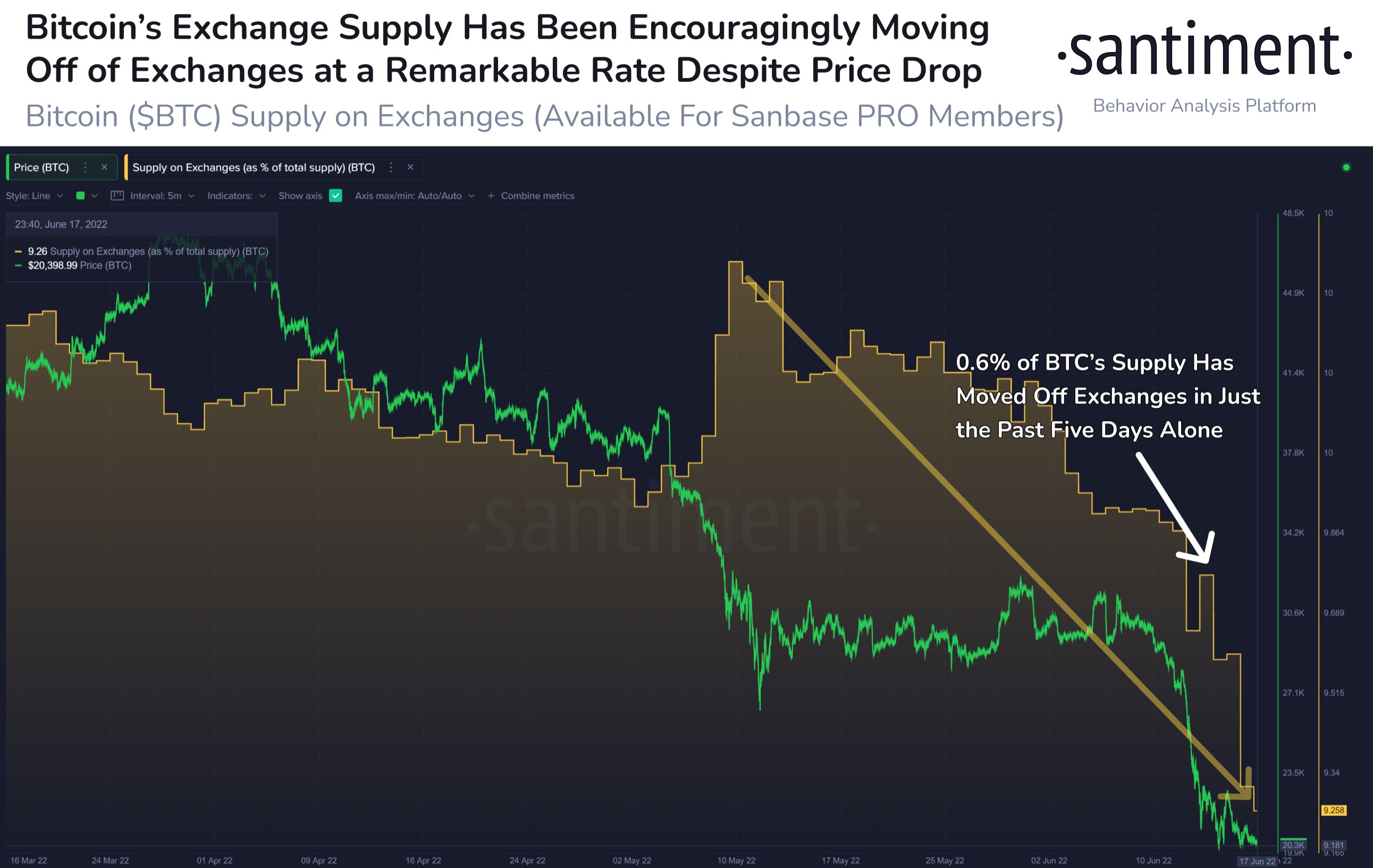 Bitcoin fell below the $18,500 price level for the first time Saturday, failing to rebound to the $20,000 to $23,000 range it had been steadily trading in last week. Bitcoin's market capitalization slumped to about $350 billion, a 73% decline from its November all-time high. The price drop of bitcoin also marks the breach of a significant price level – bitcoin's all-time high from the previous crypto cycle.
Bitcoin has historically experienced asymptotic price run-ups followed by steep crashes, typically played out over several months to two years. Cryptocurrency traders and speculators refer to these periods as "cycles" and often reference historical price levels when setting new price targets. Some crypto traders have theorized that bitcoin would not fall below its previous cycle's highs, a theory that held during the 2018 drawdown but has now been disproven for the current cycle.
During Bitcoin's 2017 run up, it reached a then-high of $19,783 in December 2017 before falling back down to the four-digits range just one month later. During the 2013-2014 cycle, bitcoin reached an all-time high of $1,127 at the time, a level that the cryptocurrency successfully defended during its 2018 drawdown.
Bitcoin's price drop Saturday morning also brought down the broader cryptocurrency market, with Ether tumbling 12.4% to $948, well below its 2017-2018 cycle highs of $1,448. Other major cryptocurrencies saw declines of a smaller magnitude, with Solana's SOL dropping 8.6% to $29.08, Cardano's ADA falling 9.1% to 44 cents Ripple's XRP declining 6.1% to 30 cents over the past 24 hours.
The overall cryptocurrency market cap stands at $825 trillion, and Bitcoin's dominance rate is 42.9%.
Read more: