Bitcoin price fell slightly but held steady above $21,000; Ether remains over $1,200
Expectations for bitcoin's collapse below $20,000 over the weekend were premature. While down more than a percentage point over the past 24 hours, the largest cryptocurrency by market capitalization was trading well over $21,000, still up from the panicky levels to which it fell last weekend at one point. At the time of writing, the Bitcoin price is changing hands at $21,115.
BTC/USD 4-hour chart | Source: TradingView
Bitcoin price holds above $21,000; altcoins are mixed
Investors continued to find comfort in faint signs that the U.S. economy was cooling and that the Federal Reserve might be able to tone down its monetary hawkishness later in the year. Bitcoin has correlated increasingly to macroeconomic trends, which have worsened considerably over the past nine months.
"As prices gradually fell on Sunday, traders have shown that though they may proclaim to be buying the dip, they are shorting more on these mini drops. Interestingly, this only applies to altcoins right now, indicating that Bitcoin is being flocked to as the safe haven", Santiment reported.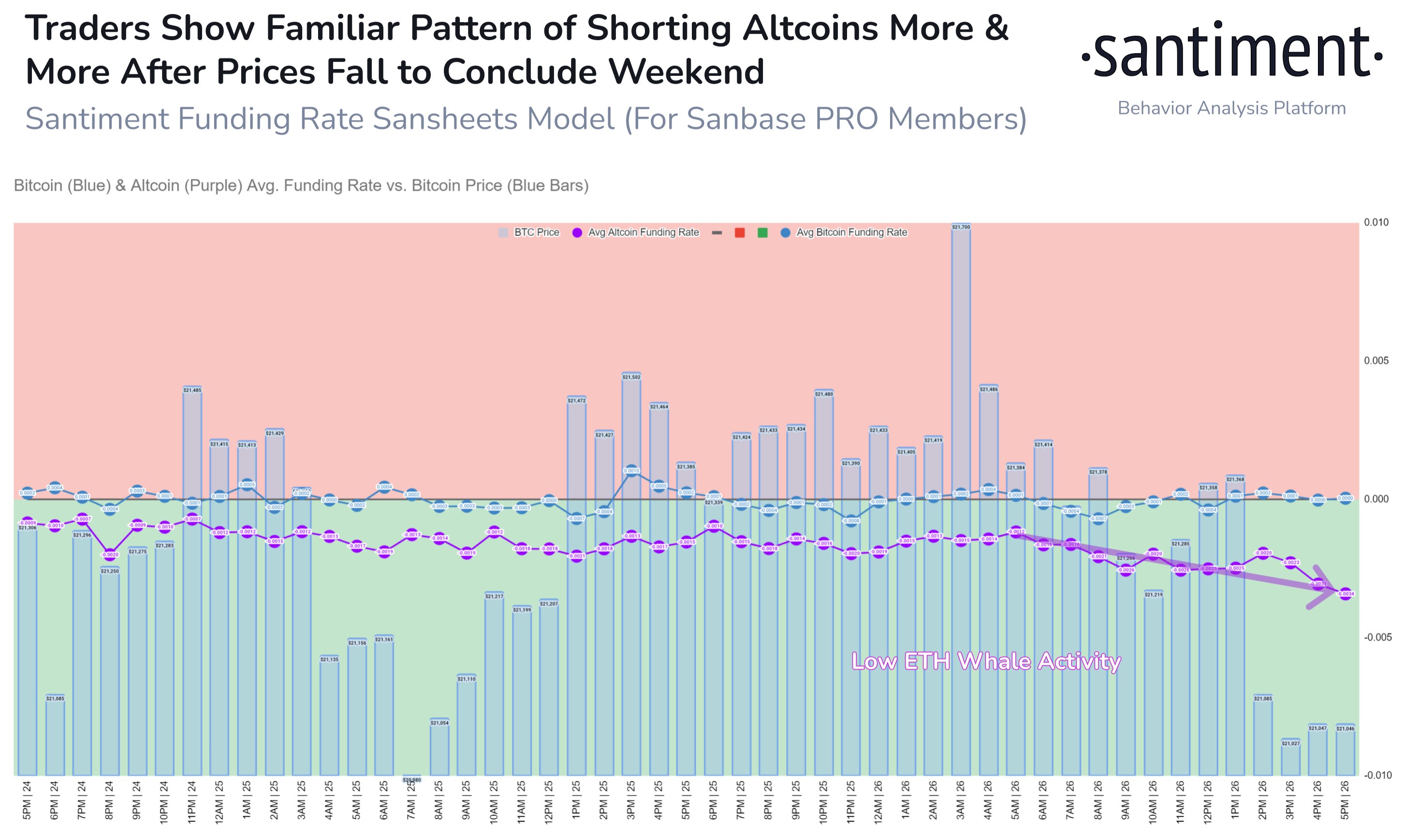 Source: Santiment
Ether, the second-largest crypto by market cap, was changing hands above $1,200, down about 2.5% during the past day. Trading for both digital assets was light as is typical for weekends. The Bitcoin Fear and Greed Index measuring market sentiment remained well within the extreme fear territory.
Other major altcoins were mixed over the weekend with popular memecoin DOGE rising more than 10% at one point, and Monero's privacy coin XRM up nearly 6%. GALA and MANA sank over 8% and 7%. Polygon's MATIC, which rose more than 25% over a 24-hour period starting last Wednesday after launching a new privacy product for decentralized autonomous organizations (DAOs), fell slightly.
The overall cryptocurrency market cap stands at $950 trillion, and Bitcoin's dominance rate is 42.4%.
Read more: