Bitcoin price, Ether, and other major cryptocurrencies surge late to ride into the green
Battered but unbowed by FTX fallout, Bitcoin rose late from the depths of red to regain its foothold snugly above $16,000. The largest cryptocurrency by market capitalization was recently holding steady at about $16,600, up nearly 2% over the past 24 hours, even as crypto market observers believe it could dip to lower levels. Earlier in the day, Bitcoin price had dipped to about $15,850, below its most recent support. At the time of writing, BTC is changing hands at $16,837.
BTC/USD 4-hour chart | Source: TradingView
Bitcoin Price, Ether Rise Late Despite FTX Fatigue
Bitcoin, ether, and most other major cryptos were holding steady, even as investors wrestled with the widening gloom from exchange giant FTX's implosion. The largest cryptocurrency by market capitalization was recently holding steady above its most recent $16,000 support, up a fraction of a percentage point over the past 24 hours. However, some crypto market observers believe that it could dip to lower levels.
Ether recently changed hands at about $1,200, up roughly 3%. The second-largest crypto in market value and other major altcoins have been reckoning with the aftershocks of crypto exchange FTX's balance sheet vulnerabilities and consequent filing for chapter 11 bankruptcy protection. On Friday, the centerpiece of erstwhile crypto wunderkind Sam Bankman Fried's crypto empire suffered hacks accounting for about $600 million in outflows. Regulators are ratcheting up their scrutiny of the exchange and its sibling, Alameda Research, whose heavy balance sheet allocation of FTX's FTT token sparked FTX's rapid unraveling.
"With the biggest exchange collapse since Mt.Gox shifting crypto's landscape, other exchanges are receiving an increased focus – both for their solvency/transparency, as well as their upside as a potential FTX replacement for trading", Santiment reported.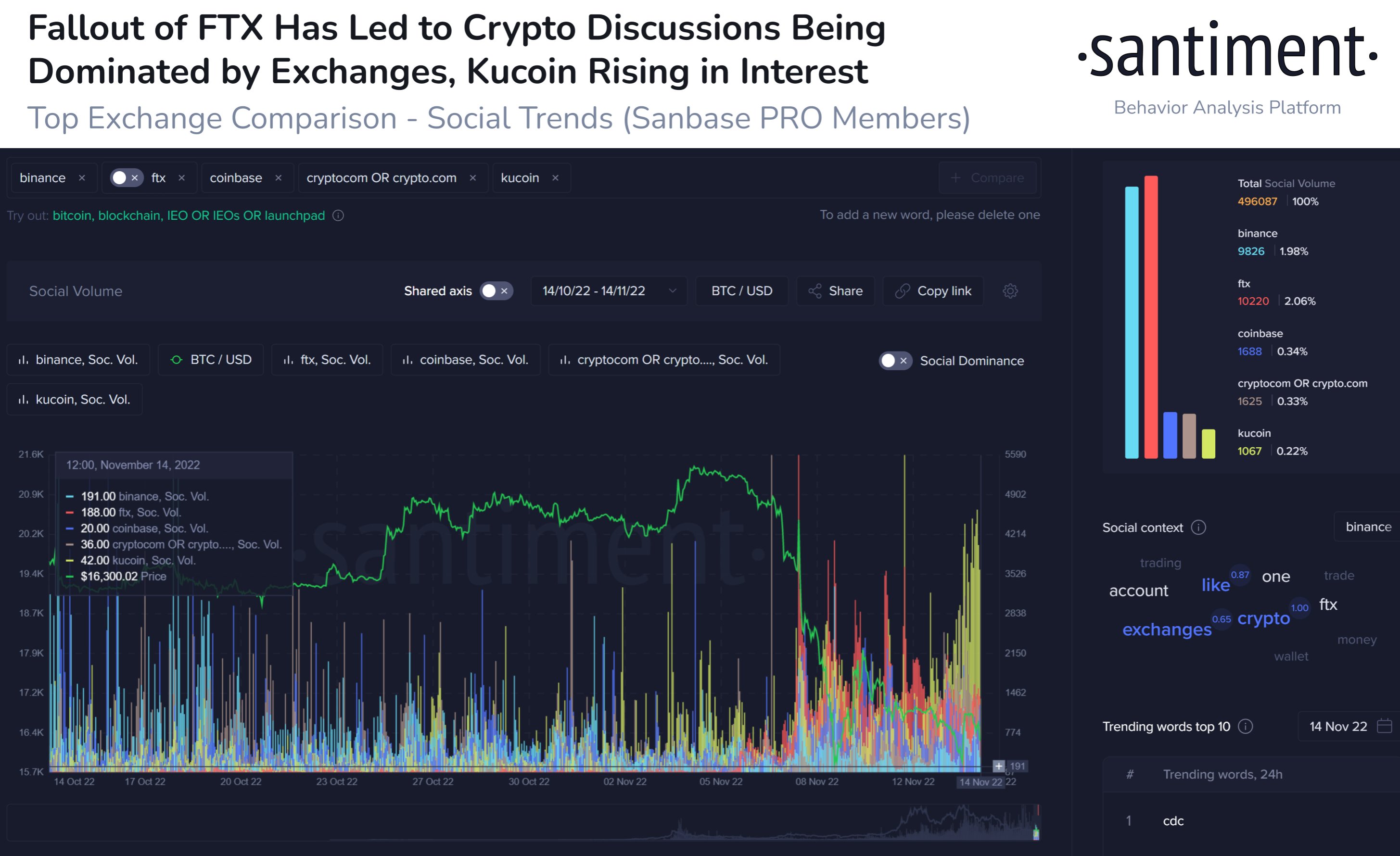 SRM led a rogues' gallery of tokens in the red, recently falling close to 20%. On Saturday, Defi protocols across the Solana ecosystem began unplugging from Serum for fear that they didn't know who wielded control – a concern fueled by the late-Friday hack at FTX. The Solana Foundation said Monday it has tens of millions of dollars in cryptocurrencies stranded on FTX and 3.24 million common stock shares in Sam Bankman-Fried's bankrupt crypto exchange. Nevertheless, its SOL token rose about 10%.
Embattled crypto lender Celsius' CEL token was down nearly as much, while FTX's FTT coin fell more than 13% to $1.27, a fraction of its pricing near $36 earlier in the year. XRP was recently up more than 10%. The overall cryptocurrency market cap stands at $844 trillion, and Bitcoin's dominance rate is 38.2%.
Read more: