Bitcoin price erasing most of the gains from the past five days
Bitcoin price fell almost 10% with Ether close behind as the August U.S. consumer price index, a key inflation indicator, came in higher than expected overnight, driving down equity markets and pointing to more aggressive interest rate increases by the Federal Reserve. All cryptocurrencies in the top 10 by market capitalization fell. At the time of writing, BTC is changing hands at $20,283.
BTC/USD 4-hour chart | Source: TradingView
Bitcoin price, Ether drop on CPI report, Solana biggest loser, Dogecoin back in top 10
Bitcoin fell 10% in the past 24 hours to trade at $20,283 erasing most of the gains from the past five days. Volume was robust, with trading volumes approximately seven times higher than its average 20-day volume. The largest cryptocurrency by market cap fell below $21,000.
"After a brutal CPI report on disappointing inflation news Tuesday, Bitcoin fell alongside the S&P 500's biggest daily drop in two years. The correlation between the sectors remains high, and crypto typically thrives best with zero equity reliance", Santiment reported.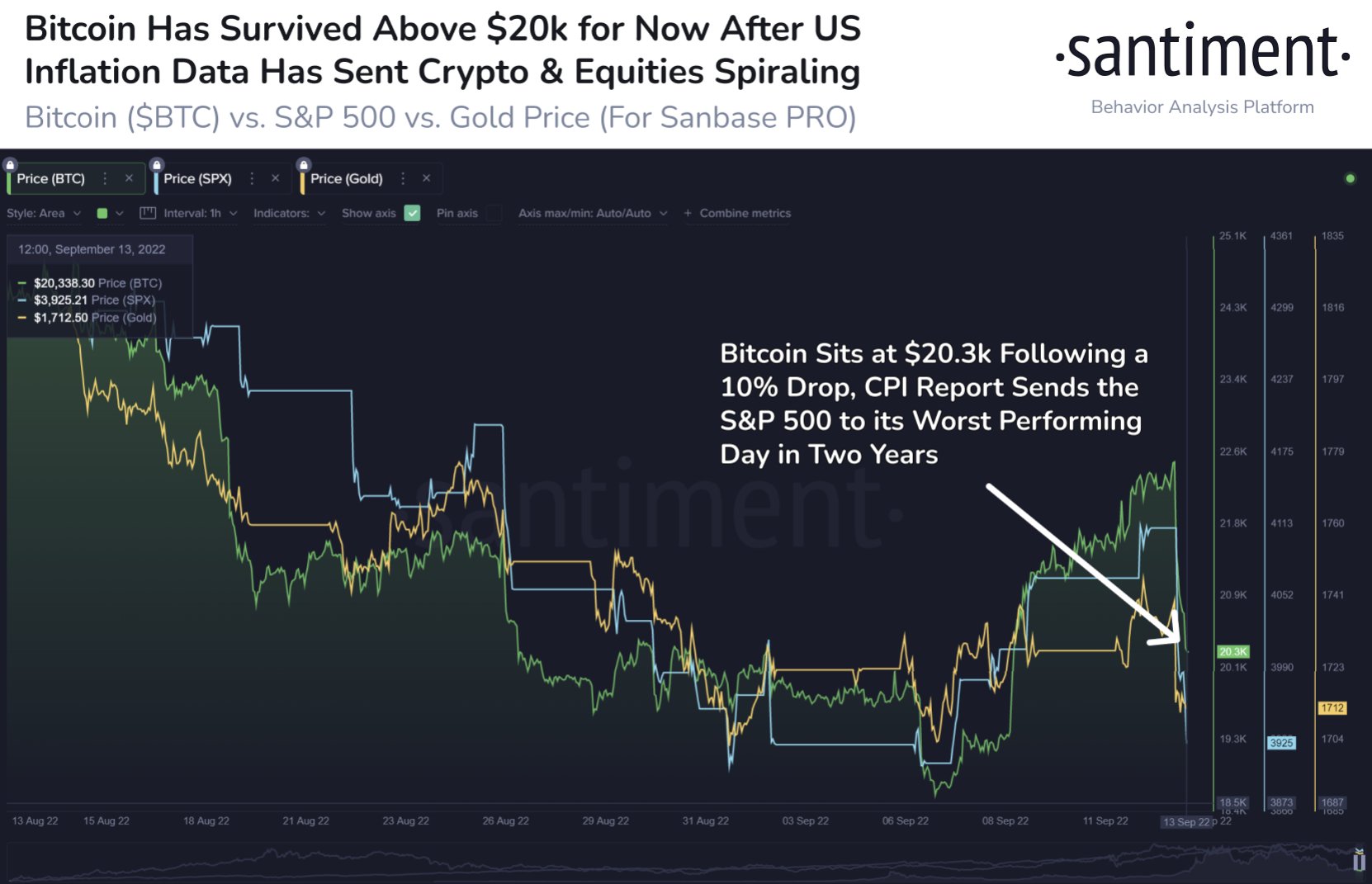 Ether price moved in concert with BTC, falling 6% and more recently about 8%. The second-largest cryptocurrency by market cap also traded on higher-than-average volume. ETH's decline comes ahead of its much-anticipated Merge upgrade from a Proof-of-Work (PoW) to a Proof-of-Stake (PoS) consensus mechanism, now expected to occur around September 15.
Solana saw the biggest losses in CoinMarketCap's top 10, falling 12% to $33.02. XRP and Cardano were also hit hard, both losing over 7.3% to bring Cardano to $0.464 and XRP to $0.33. Dogecoin rejoined the top 10, losing 6.6% to change hands at $0.059, but overtaking Polkadot on the list which fell 7.7% to $7.07.
August inflation was up 8.3% on the year, driven in part by supply chain shortages across multiple industries caused by Russia's invasion of Ukraine and China's commitment to a zero Covid policy, which has shut down large portions of the country's manufacturing capacity.
Investors were expecting the Fed to raise interest rates by 75 basis points at its meeting on September 20-21, but following the CPI report, the likelihood of a 100-basis-point hike has risen to 33%, which would be the largest since 1984. Interest rates in the U.S. are currently 2.25% – 2.5%.
The overall cryptocurrency market cap stands at $991 trillion, and Bitcoin's dominance rate is 39.2%.
Read more: