Bitcoin price dump below $30,000, altcoins also down 5% on the day
Bitcoin price was down by 3% over the past 24 hours as volatility continued. The cryptocurrency has traded in a tight price range over the past month, but so far has avoided a significant dip below $30,000 since May 12. At the time of writing, BTC is changing hands at $29,706.
BTC/USD 4-hour chart | Source: TradingView
Bitcoin price dump amid lower volatility
The Bitcoin Dominance ticked higher on Monday. That suggests a lower appetite for risk among crypto traders despite short-term price bounces. For now, bearish sentiment among crypto traders is starting to wane. The Bitcoin Fear & Greed Index has stabilized over the past month, similar to what occurred in late January, which preceded a brief rise in crypto prices.
Bitcoin's current price jump is similar to what occurred last weekend. This time, however, the rise in short liquidations is less extreme. But as AZCoin News mentioned, the U.S. Securities and Exchange Commission has reportedly launched an investigation into Binance's BNB. And this news pull the whole market down.
"As Bitcoin hovers around $31.4k to end Monday's mildly positive day, our community is monitoring whether crowd optimism picks up. If so, there's a higher chance of prices staying down. If skepticism continues, there's a greater historic chance of a rise", Santiment reported.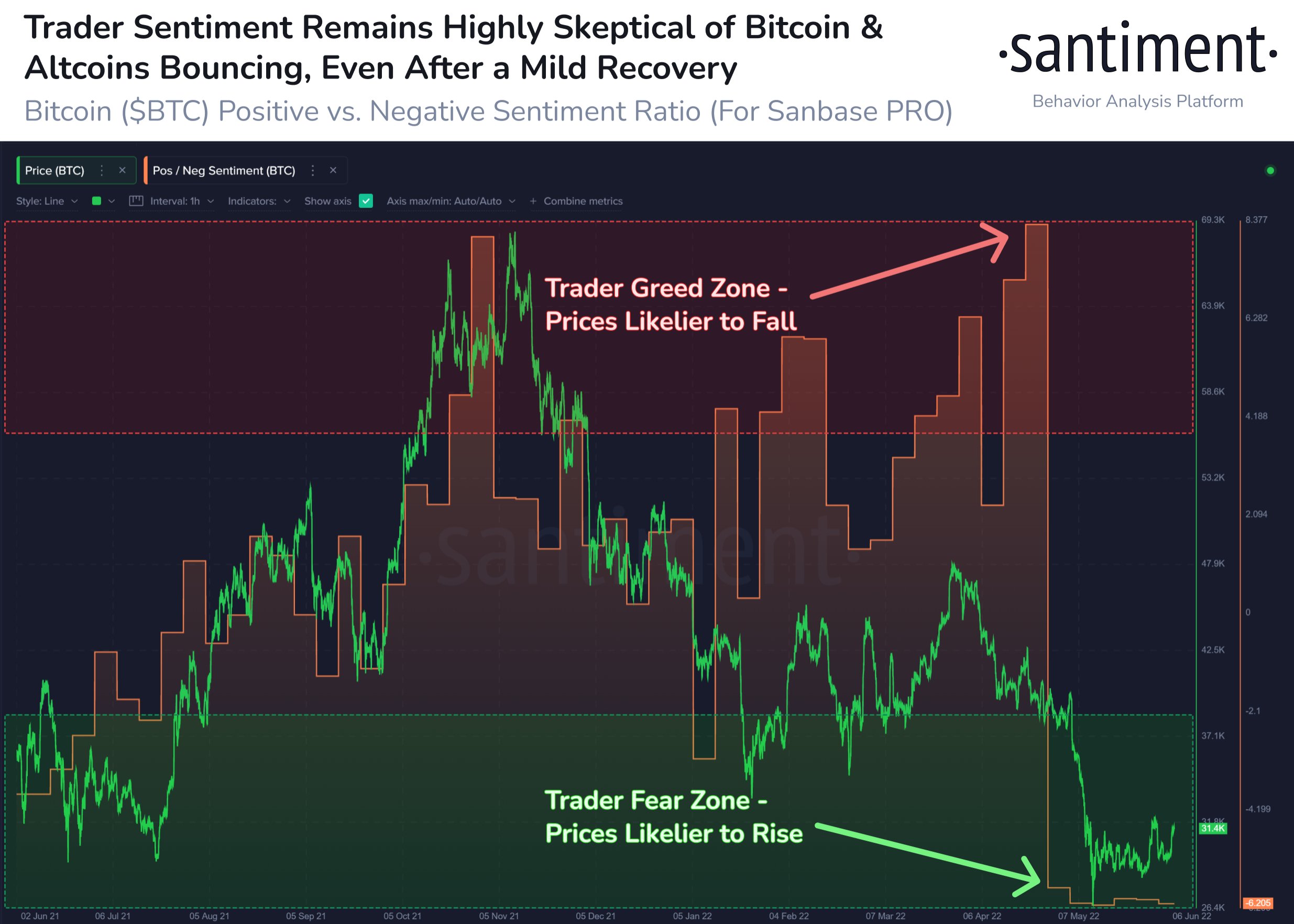 Bitcoin experienced another relief bounce over the past 24 hours, similar to what occurred last weekend. The cryptocurrency is holding support above $27,000 and $30,000, which could keep short-term buyers active. That suggests the current price range remains intact, which is typical after several weeks of negative returns.
The recent downtrend in price has stabilized above the May 12 low at $25,338, which contributed to rising momentum on the daily chart. For example, the 14-day relative strength index (RSI) returned above the 50 neutral mark Monday after reaching extreme oversold levels on May 9. Still, momentum remains negative on the weekly and monthly charts, which means an upswing in BTC could be limited. The next resistance zone is between $33,000 and $35,000.
Ether, the second largest crypto by market caps, was changing hands at roughly $1,748, down about 5% over the same period. Other major altcoins that had risen significantly earlier in the day, including SOL and ADA were more recently about flat, as investors wrestled with a few positive economic signs and the months-long flow of more troubling news.
The overall cryptocurrency market cap stands at $1.227 trillion, and Bitcoin's dominance rate is 46.6%.
Read more: