Bitcoin price dropped for the seventh consecutive day as it crossed the $22,500 mark
Bitcoin price and ether kept sliding, but barely. Meanwhile, a corporate partnership announcement was enough to send Coinbase shares soaring (and short-sellers running for shelter). At the time of writing, BTC is changing hands at $23,090.
BTC/USD 4-hour chart | Source: TradingView
Bitcoin Price Falls on Lower Volume and Decreased Volatility
Neither Bitcoin nor Ether got much of a boost from the news of a move deeper into cryptocurrencies by the giant traditional money manager BlackRock. But Coinbase shares sure got a boost, rocketing higher in what looked like a short squeeze. The slide came even as positive news emerged from Coinbase earlier today regarding a new partnership with BlackRock to allow more institutional investors to allocate money to cryptocurrencies.
The price movement might be more of a reflection of hawkish remarks made by Cleveland Federal Reserve President Loretta Mester earlier in the day. She said that the Federal Reserve will continue to raise interest rates, most likely to a rate of over 4%. Bitcoin price went up last week whenFed Chair Jerome Powell's press conference was received by investors as rather dovish.
"As Bitcoin hovers right around $23k here in the first week of August, we see a continued trend of growing numbers of addresses popping up that hold between 10 to 1,000 $BTC. In the past 2 months, 2,428 new addresses of this size have returned", Santiment reported.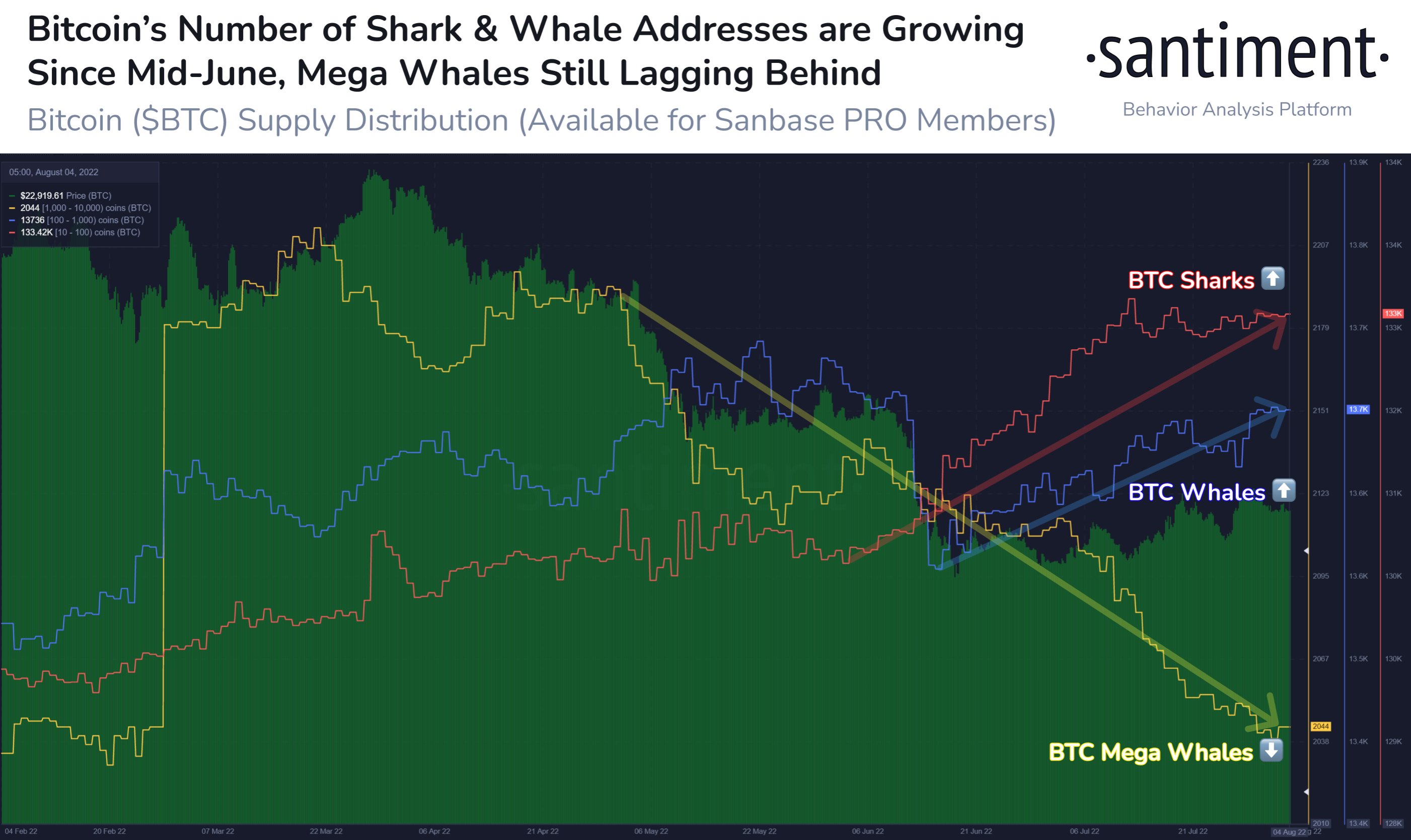 BTC and ETH appear to be in a short-term downward trend, as they both have shown seven consecutive negative candles. Ether (ETH) ended the day slightly lower, trading at $1,644.62 at press time. Among cryptocurrencies, Flow (FLOW), a blockchain created by Dapper Labs, was abig winner, up more than 37% over the past 24 hours after the social-media giant Meta, owner of Facebook, announced that its platform Instagram will be adding support for NFTs built on the Flow blockchain.
"Ethereum Layer 2 being on the horizon, & the Optimism coming with it has created a potential "dump and pump" scenario for OP. Our latest quick take covers Elliot Waves setups, as well as trading & social volume, for the now 87th largest crypto asset", Santiment added.

The overall cryptocurrency market cap stands at $1,075 trillion, and Bitcoin's dominance rate is 40.8%.
Read more: