Bitcoin price continued to trade sideways, indicating a pause in bearish sentiment among traders
Bitcoin price and altcoins traveled sideways for the second consecutive day. The largest cryptocurrency by market capitalization was recently trading at about $29,704, up slightly and about where it stood 24 and 48 hours earlier.
BTC/USD 4-hour chart | Source: TradingView
Bitcoin and altcoins trade sideways
Several crypto market analysts say that bitcoin will remain in the $28,500 to $30,500 range it has held since the collapse of the TerraUSD (UST stablecoin) two weeks ago until investors have clarity on how the current uncertain environment of high inflation and sagging economic indicators will resolve itself. According to minutes released Wednesday of their last meeting, Federal Reserve officials indicated that they would have to raise interest rates by 0.5% in each of their next two meetings. The U.S. central bank hiked the rate by the same increment on May 4 but has continued to face criticism for not adopting more hawkish monetary remedies sooner to tame rising prices.
"As Bitcoin continues treading water at 29.6k, the amount of key whale addresses (holding 100 to 1k BTC) continues rising after the massive dumping from late January. We've historically seen a correlation between price & this tier's address quantity", Santiment reported.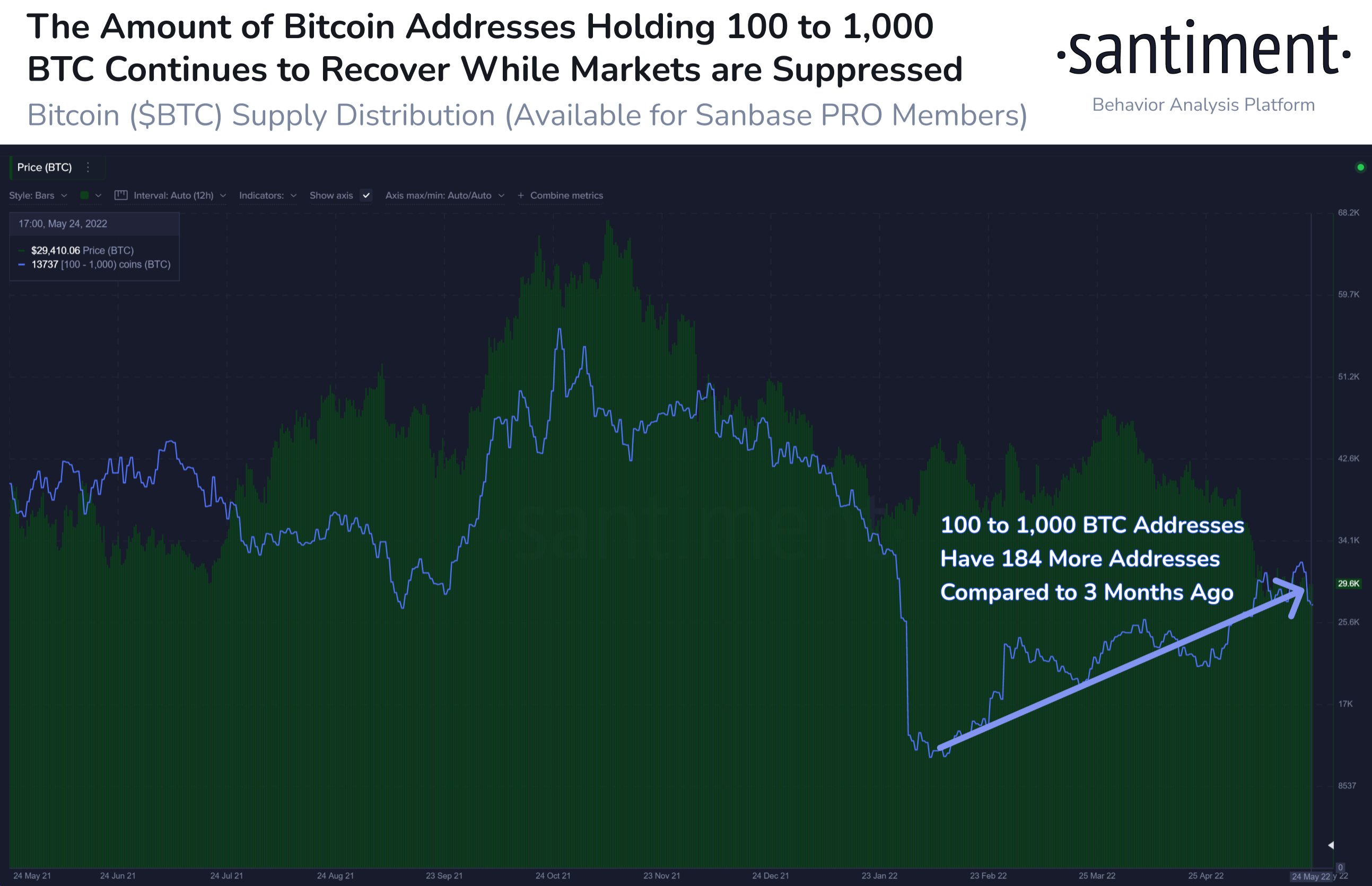 Source: Santiment
Bitcoin is in a consolidation phase, defined by a tight price range with low trading volume. So far, the cryptocurrency has struggled to make a decisive move above $30,000, which is near the top of its recent range. That means buyers could remain active above the $27,500 support level.
The sharp down move on May 12 toward $25,300 occurred on high volume, which could be a sign of capitulation, albeit less significant than in the previous sell-off. Still, despite room for a price bounce, the upside appears limited because of negative momentum readings on the weekly and monthly charts.
Most altcoins traded higher, paring losses from last week. The second-largest crypto by market cap, Ether was down over a percentage point, still trading a little below the $2,000 level it has held much of this week. Other cryptos were mixed, some rising a little and others falling. For example, Decentraland (MANA) was up by 3% over the past 24 hours and has been roughly flat over the past week. Meanwhile, The Sandbox's (SAND) rose by 7%. MANA and SAND are metaverse tokens used to exchange value in a virtual game setting. TRX was also recently up more than 5%.
The overall cryptocurrency market cap stands at $1.267 trillion, and Bitcoin's dominance rate is 44.7%.
Read more: