Bitcoin price continued its recent rally, up to $24K, Ether and other major cryptos also rose
Bitcoin price continued its ascension today, rising 3% on average volume. The largest cryptocurrency by market capitalization surpassed $24,000 earlier in the day and remained above that threshold in the afternoon. But at the time of writing, BTC dropped slightly and is changing hands at $23,843.
BTC/USD 4-hour chart | Source: TradingView
Bitcoin Price Climbs Above $24,000
BTC's hourly charts show that the bulk of the push higher occurred between 10 a.m. and 12 p.m. UTC time before the price steadied. Bitcoin's gains have for the most part dovetailed with traditional markets. Yesterday, the Dow Jones Industrial Average rose 0.09%. The tech-heavy Nasdaq Composite Index, meanwhile, fell 0.10% and the S&P 500 slipped 0.12%. Correlations between BTC and the three indexes remain above 0.60, indicating a strong relationship between BTC price movements and stocks.
Correlations range between -1 and 1, with higher figures signaling a stronger relationship. Investors often consider those correlations when the price movement in one group of assets outpaces the price movement in another. Because BTC's spike occurred outside of U.S. trading hours, traders may be watching whether the cryptocurrency's price continues to align with equities.
Ether (ETH) was recently up 3.5%. ETH followed a similar pattern, hitting a two-month high above $1,800 earlier in the day before taking a foothold slightly below this level. The second largest crypto by market cap was recently up over 4% over the previous day.
"Ethereum has jumped above $1,800 for the first time in two months today. Powered by a steadily rising rate of unique addresses interacting on the ETH network, continued recovery will depend on BTC staying relatively stable, & mitigated trader FOMO", Santiment reported.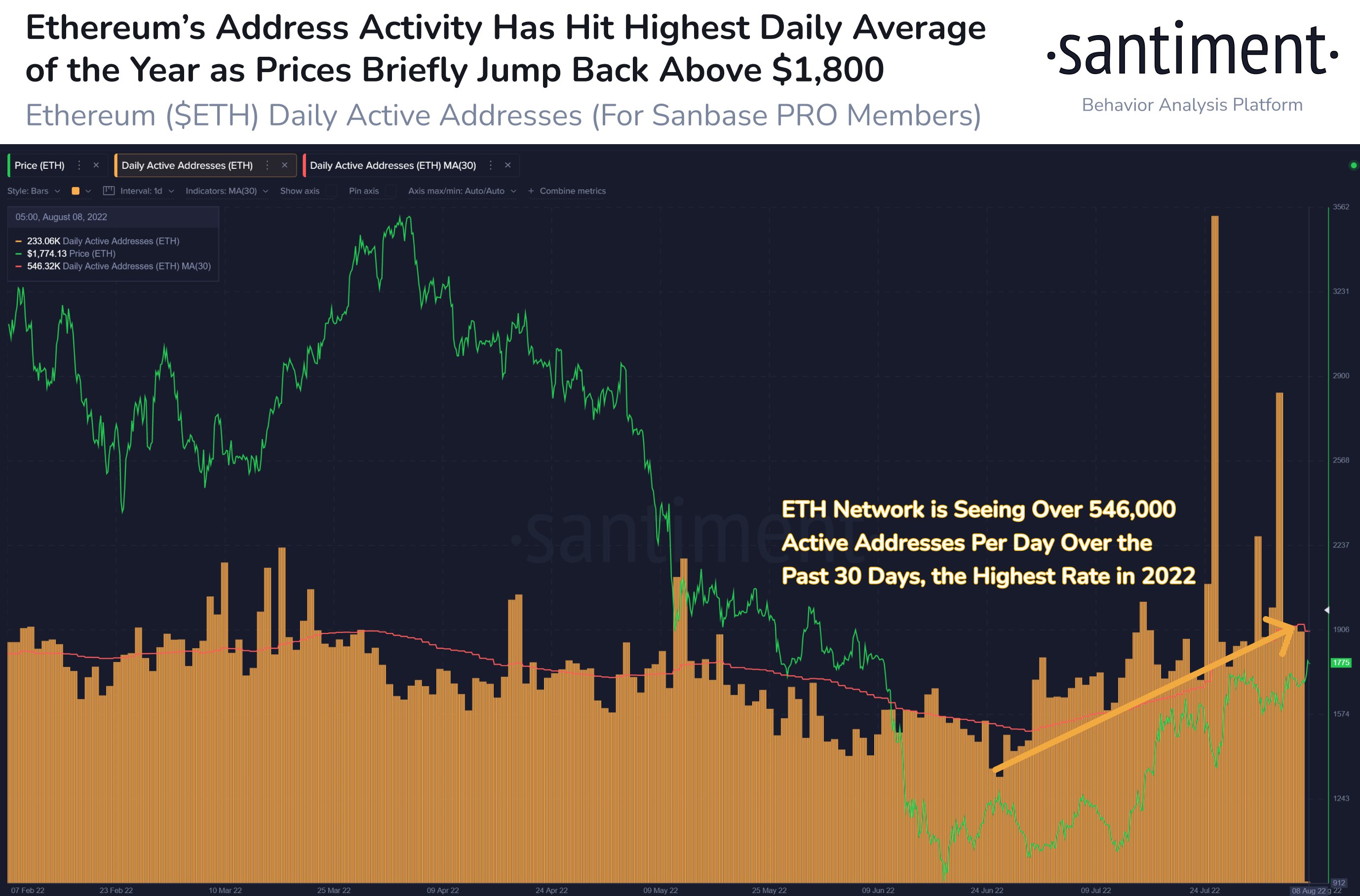 Most of the increase also came during overnight hours in the U.S. Altcoins rose, as well, with avalanche (AVAX) up 2% and chainlink (LINK), up 9%. The overall cryptocurrency market cap stands at $1,123 trillion, and Bitcoin's dominance rate is 40.5%.
Read more: