Bitcoin price closed lower but remaining in the same narrow bands they've occupied for more than a week
Bitcoin and Ether increased in Monday trading, countering equity markets that closed lower but remained in the same narrow bands they've occupied for more than a week. The largest cryptocurrency by market capitalization recently traded above $19,200, a more than 2% gain over the past 24 hours. Bitcoin price has been tangoing with the $19,000 threshold for eight days, dipping and rising according to the winds of the latest economic indicators.
BTC/USD 4-hour chart | Source: TradingView
Bitcoin price back above $19,000
The Bitcoin price rose 1.9% on strong volume, regaining a portion of the 2.52% it lost over the weekend. The uptick in volume on Monday's push higher is an additional positive sign. Still, BTC continues to trade in a relatively tight range, alternating between up and down days. Currently, BTC is trading above the psychologically important $19,000 mark.
Ether rose 2.6% and is maintaining a strong 30-day correlation coefficient (0.78) to BTC's price. Correlations range between 1.0 and -1.0, with the former implying a direct relationship and the latter implying a completely inverse relationship. Given their strong relationship, it's unsurprising that ETH moved in tandem with BTC in direction and volume over the weekend. ETH reclaimed the psychologically important $1,300 mark. The supply for the second-largest cryptocurrency by market capitalization has increased by 8,400 ETH since transitioning to a proof-of-stake consensus mechanism. Absent the switch, estimates indicate that ETH supply would have grown by over 140,000 ETH over the same time frame.
"If you base your portfolio around assets that receive solid development activity on Github, then Polkadot & Kusama is worth looking into. Over the past 30 days, the assets have 14.3% more non-spam submissions than the next largest asset, Cardano", Santiment reported.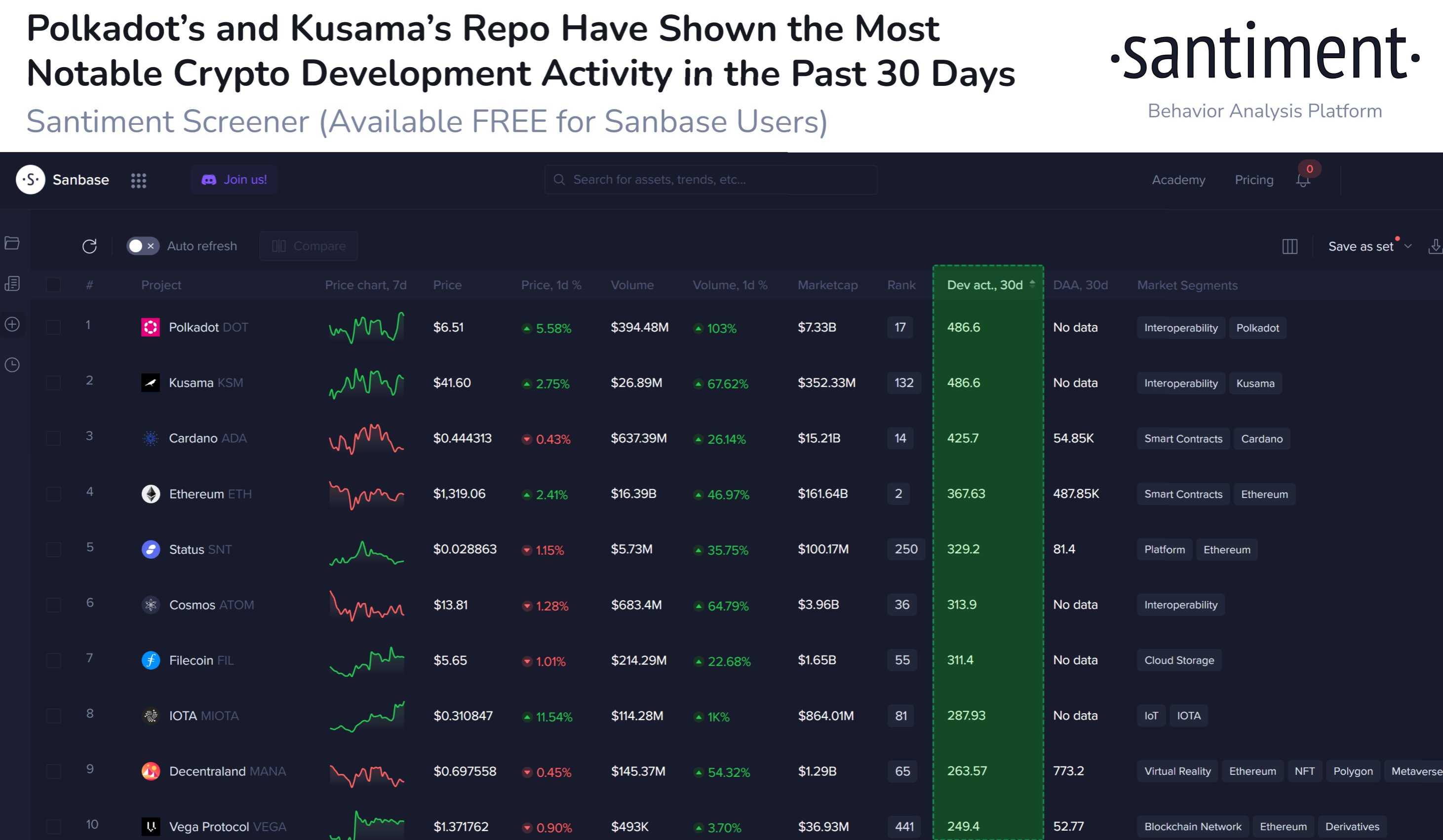 Most other major cryptos were largely in the green, with DOT and BSV recently up more than 6% and 5%, respectively. XRP fell 4.9% to US$0.46, though it is still trading up more than 20% over the past seven days. While the token seems to be losing steam, its recent gains were driven by developments in the lawsuit between the token's issuer, Ripple Labs Inc., and the U.S. Securities and Exchange Commission. One development is speculation the case may be resolved by a summary judgment rather than a trial. The overall cryptocurrency market cap stands at $957 trillion, and Bitcoin's dominance rate is 39.5%.
Read more: