Bitcoin price clears $21,500 on a good day for crypto market
Investors seem to have really liked the Federal Open Market Committee minutes from last month. The minutes, released late Wednesday, allayed at least some fears of the U.S. central bank's commitment to tightening its monetary policy. Bitcoin price was recently trading at about $21,600, up more than 6% over the past 24 hours and outpacing all major altcoins at one point. At the time of writing, BTC is changing hands at $22,104.
BTC/USD 4-hour chart | Source: TradingView
Bitcoin price soars past $21,500
Since dipping below $18,500 last Thursday, the largest cryptocurrency, has risen over 16%, amid what many analysts see as just a temporary lull in investor anxiety.
"Bitcoin dominance is back on the menu on a healthy Thursday price surge. We've seen BTC continue to moving from exchanges for nearly 4 years, and this trend hasn't stopped even with the 8-month price retrace. Meanwhile, USDT buying power is rising", Santiment reported.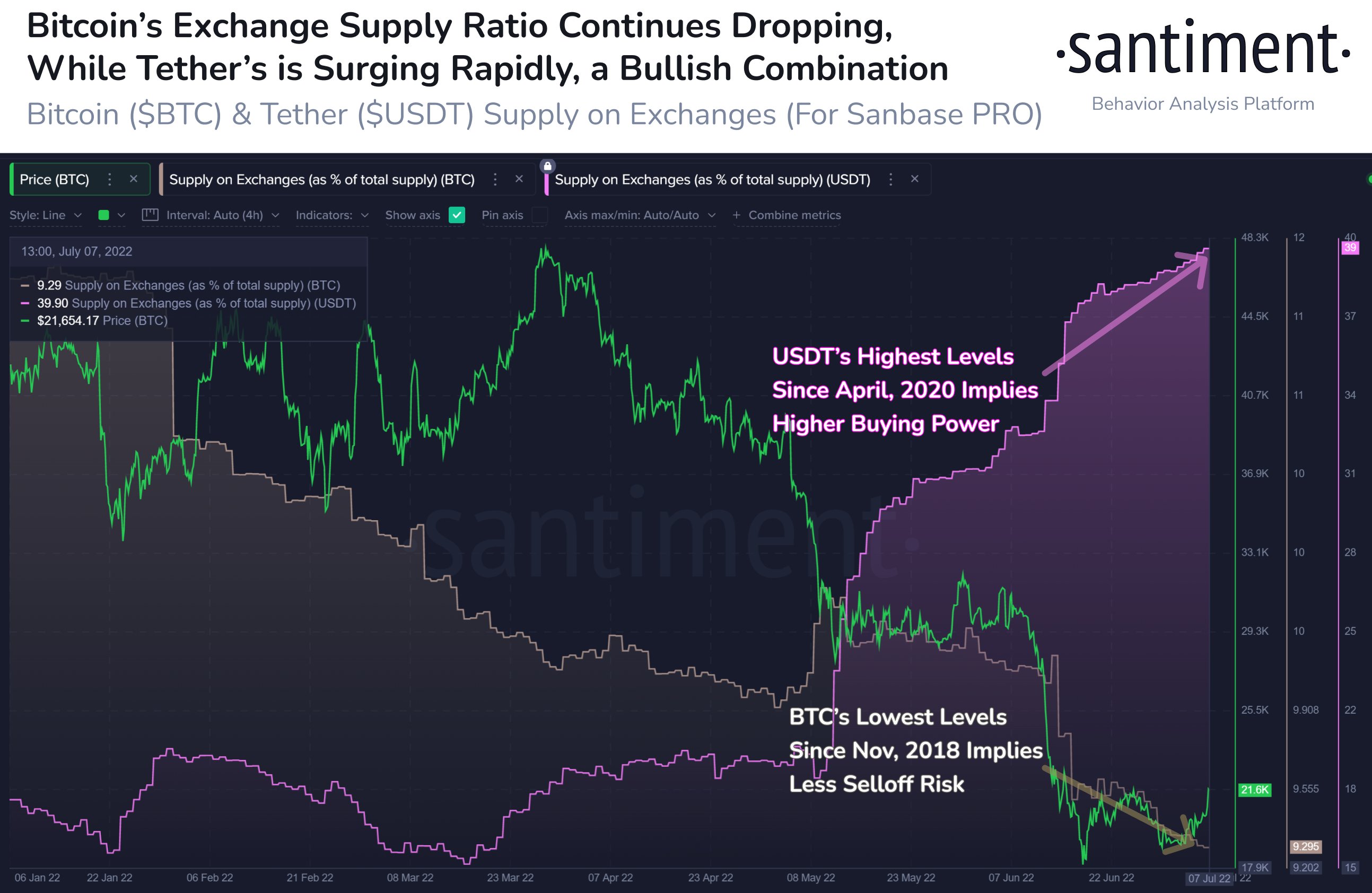 Ether, the second-largest crypto by market cap, has risen similarly over the same period and was changing hands above $1,200. Ether's price seemed to benefit from optimism about the coming Ethereum Merge that will see the protocol move from a proof-of-work to a proof-of-stake protocol. The stewards of the TON Foundation created a new $90 million ecosystem fund, continuing recent attempts to get the Telegram-founded blockchain project back into gear.
Other major cryptocurrencies were firmly in the green, with SOL and CRO rising nearly 5% and 6%, respectively at one point. Most major altcoins also gained with Internet Computer's ICP and Polygon's MATIC leading the charts, both up over 10% for the same period.
The overall cryptocurrency market cap stands at $962 trillion, and Bitcoin's dominance rate is 43.1%.
Read more: