Bitcoin price and other cryptos tumble
So much for the rebound. Cryptos, which had risen Wednesday after U.S. Federal Reserve Chair Jerome Powell struck a determined inflationary tone, returned their gains Thursday amid fresh investor worries about rising prices, global tumult, and a looming recession. Bitcoin price was recently trading just above $20,300, down more than 10% over the previous 24 hours, raising questions about whether it might soon break support at $20,000 and spur a fresh round of liquidations. At the time of writing, BTC is changing hands at $20,555.
BTC/USD 4-hour chart | Source: TradingView
Bitcoin price sinks toward $20,000
Cryptocurrency prices, which have correlated with stocks in recent months, once again tracked major equity indexes.
"As crypto's bearmarket continues, we're watching Tether's continued drop in percentage of ownership from large addresses. Addresses holding $100k to $10m in USDT have dropped -50.5% of their coins since their peak hold of the supply 18 months ago", Santiment reported.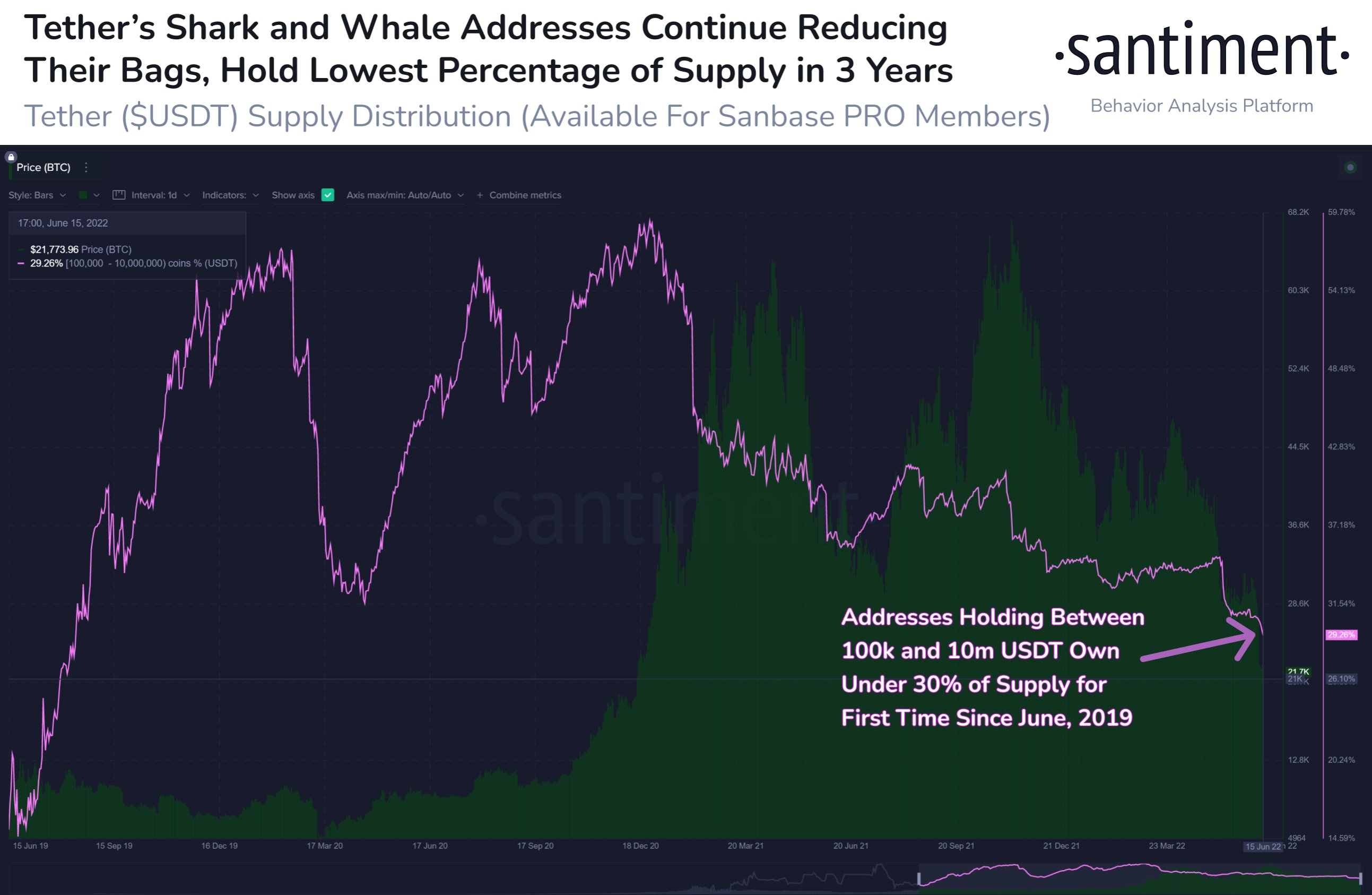 Ether, the second-largest crypto by market cap after bitcoin, was testing the $1,050 waters where it last waded over a year ago, and was off over 15%. Other altcoins assumed various shades of red, with DOT and UNI recently down over 16% and 13%, respectively.
In market downturns, cash will always be king. That was true for firms battling liquidations at the height of the 2008 financial crisis, and firms caught in the crossfire of this summer's crypto meltdown.
Singapore-based Three Arrows Capital is now at the center of everyone's attention. The crypto hedge fund has historically been one of the industry's most prolific investors in new protocols and is also a large borrower. But now it's in trouble: Facing $400 million in liquidations on its positions, it's now ghosting its counterparties and liquidity providers. Messari's fund profiler says the firm is down approximately 58% on the year, which has no doubt compounded its problems. On-chain data suggests the fund is trying to pay down debt by liquidating staked Ether.
The overall cryptocurrency market cap stands at $896 trillion, and Bitcoin's dominance rate is 44%.
Read more: