Bitcoin price and Ether have lost their momentum
Bitcoin price fell 2%, its fourth consecutive daily decline. The largest cryptocurrency by market capitalization has dropped 6% since crossing $25,000 briefly on Aug. 14. At the time of writing, BTC is changing hands at $23,439.
BTC/USD 4-hour chart | Source: TradingView
Bitcoin Price, Ether Slide for Fourth Consecutive Day
BTC's hourly chart implies that traders are reacting to both overbought and oversold readings of the Relative Strength Index (RSI) indicator. Following a 1% increase at 10:00 UTC, BTC declined 2.6% on higher-than-average volume an hour later. The decline followed a 67.1 RSI reading, just shy of 70.
The RSI is a widely used crypto market indicator that measures price momentum. A reading of 70 implies that an asset is overbought (i.e., overvalued), while a reading of 30 implies that an asset is oversold.
Over the last 10 trading days, there have been approximately eight instances where BTC's hourly RSI has surpassed the current level of 67. The price of BTC, 12 hours following those oversold readings, declined seven out of eight times by an average of close to 1.3%.
"The amount of Bitcoin addresses holding between 100 to 10,000 BTC ($2.3m to $233m) has reached its largest quantity since June 11th. We look to this tier of large addresses as confidence from large active holders, and this increase is encouraging", Santiment reported.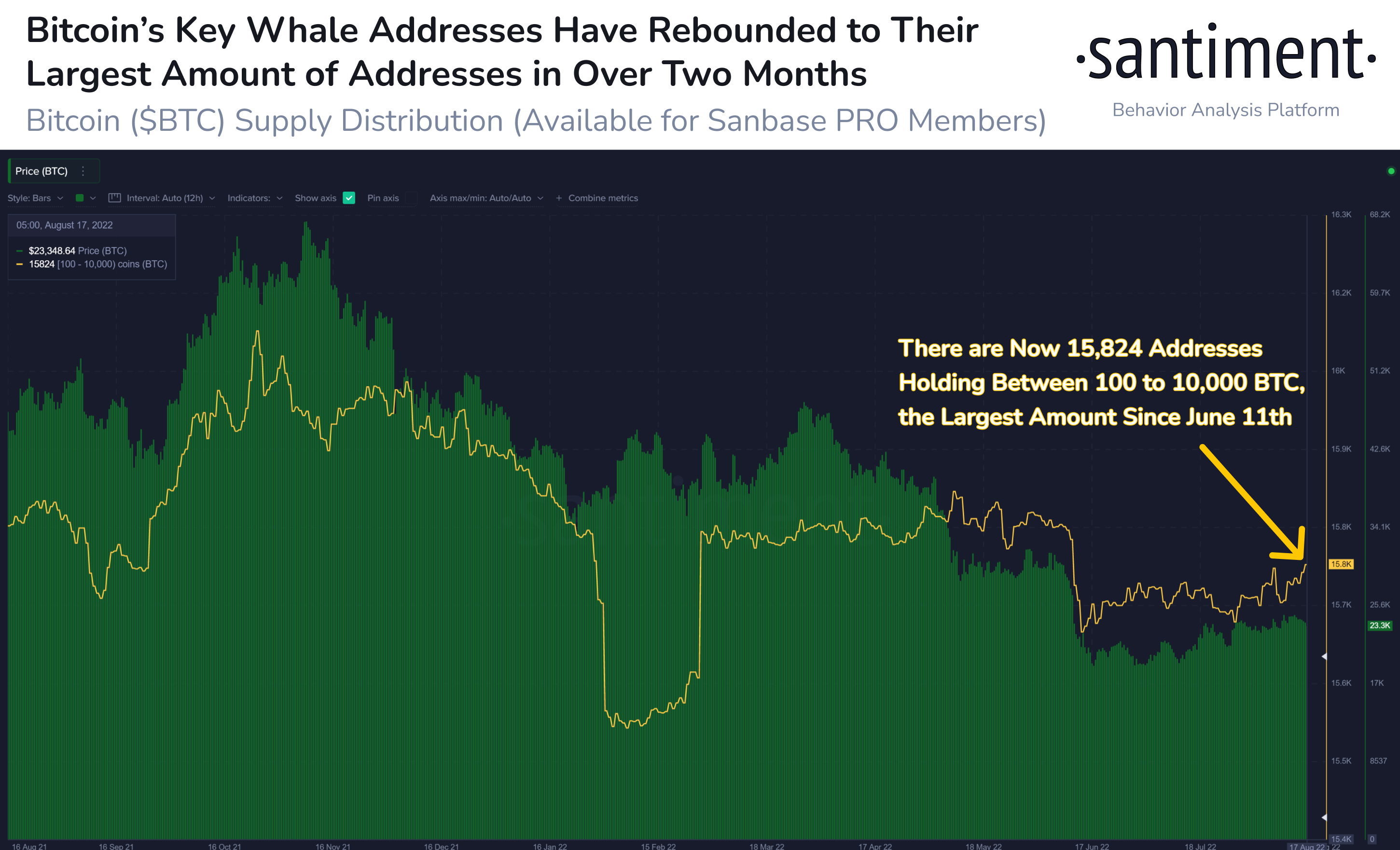 Source: Santiment 
Bitcoin and ether dropped for a fourth straight day as investors continued to puzzle over recent, often opposing economic indicators and corporate earnings reports. On Wednesday, markets wrestled with U.S. Federal Reserve's minutes from last month's meeting of its Federal Open Market Committee (FOMC), which is central bankers' typically obtuse language indicated that the Fed would continue raising interest rates but seemed open to downward adjustments in the near future.
Cryptos already bleeding red initially responded with a big shrug.
BTC was recently trading at about $23,400, down about 2.5% over the past 24 hours and well off the $25,000 level, it reached on Sunday for the first time since late spring. ETH was recently trading hands at about $1,850, off roughly 2.8% over the same period after topping $2,000 multiple times over the past week.
The second-largest cryptocurrency by market capitalization has been soaring in recent weeks amid hot anticipation of the Merge, which will shift the Ethereum blockchain from proof-of-work to the faster, more energy-efficient proof-of-stake protocol. Other cryptos were largely in the red. AAVE was down more than 8% at one point, and the popular meme coins, DOGE and SHIB, which had surged over the past few days, were each off more than 5%.
Read more: